Gibson worked alongside Walt Disney during the development of Disneyland, and his sculptures were used to create the faces on characters in rides such as "Pirates of the Caribbean" and "Haunted Mansion" as well as the "Enchanted Tiki Room" show.
He also sculpted "Partners," a statue of Walt Disney holding the hand of Mickey Mouse that sits in front of the castles at Disneyland and Walt Disney World, among other places.
Family friend Carla Larissa Fallberg wrote on Facebook that Gibson had watched "101 Dalmatians" -- a film he worked on as an animator -- with his grandson "before he took his final nap."
Although an animator, Gibson's hobby was sculpture. Walt Disney saw one of Gibson's art exhibitions and in 1954 asked him to work on Disneyland, a year before the theme park would open.
Gibson initially wasn't crazy about leaving animation to work in theme parks.
"I didn't think it was that important, but then I was told Walt was expecting me to work on these projects," he said, according to the company. "So I said to myself, 'what the heck' and went (to Walt Disney Imagineering). I was never sorry after that."
"Blaine Gibson was one of the most important storytellers among all the great talents on Walt Disney's team of Imagineers," Marty Sklar, former vice-chairman of Walt Disney Imagineering, told the Orange County Register. "He showed all of us how to make our Disney park show characters so realistic you never had to guess the role of any three-dimensional figure in our attractions."
Along with working on Disneyland, Gibson did sculpture work for some of the Disney exhibits at the 1964 World's Fair, including a sculpture of Abraham Lincoln used to produce the audio-animatronic featured in "Great Moments With Mr. Lincoln."
Since then, he directed the sculpture of every U.S. President used in the Hall of Presidents at Walt Disney World up to George W. Bush.
Gibson retired in 1983 after 45 years with the company, but continued to work as a consultant and completed the "Partners" statue in 1993.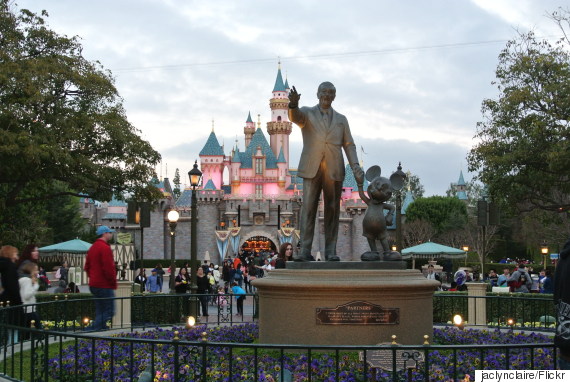 Gibson is the recipient of two of the company's biggest honors. In 1992, a window was dedicated to him on Main Street, USA in Disneyland:
Popular in the Community