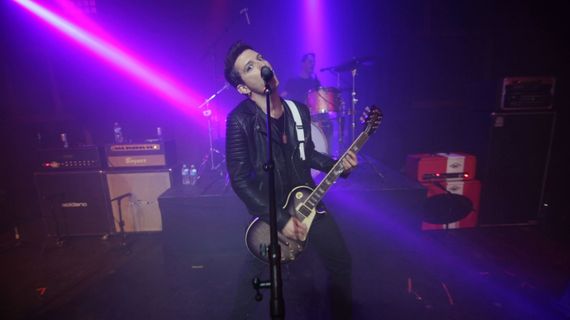 Blair Gilley always dreamed of being a rock star. From the first time he picked up a guitar at age eleven, he fantasized about performing in stadiums filled with screaming fans, like his idols Billie Joe Armstrong and Nikki Sixx.
After almost two decades of writing music and touring the country with various bands, Gilley's new album, If It's Just For Tonight, tells the story of his new dream: balancing music with more important things in life. Namely, his family, his faith, and his friends.
"If you asked me in the past who I am, my reply would have been 'a musician.' My answer today is, 'I'm a Christian, a father, a husband-to-be, and a musician for life,'" says the Louisiana native who now calls Nashville home.
The new album is the most meaningful - and the most personal - of Gilley's career. Beyond chronicling the ups and downs of the past few years of his life, the 15-song collection is the result of a 2013 Kickstarter campaign in which Gilley's fans pledged more than $20,000 for the album's creation.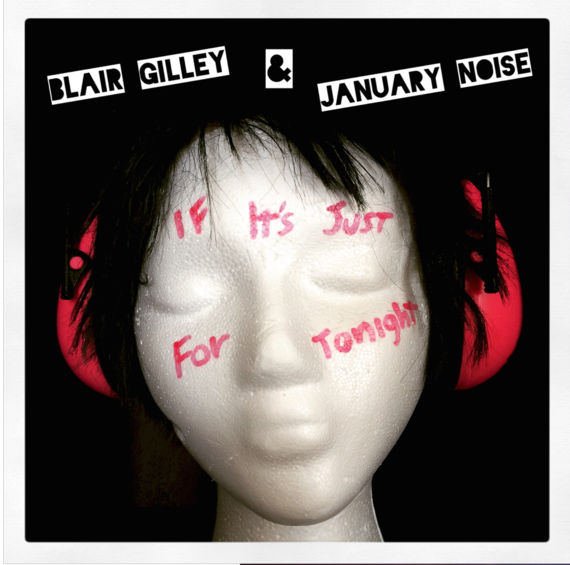 "I just want to tell my story through my eyes for anyone who can relate or wants to hear it," Gilley says. "I've got a lot of stories to tell. I'm not trying to be a huge star or write the next mega-pop hit. I'm not delusional. I'm so fortunate to be making a living and supporting my family doing something that I love."
I spoke with Gilley about the new album, his new band, January Noise, the roller-coaster years he's had since work on this album began, and what fans can look for next from this talented singer-songwriter.
This album seems to be the soundtrack to the last five years of your life.
Absolutely. The last five years brought more shift and change in my life than any of the preceding years. In January 2010, my dad passed away from pancreatic cancer. It was shortly after Patrick Swayze died from it and right before Steve jobs passed away from it, so his type of cancer was all over the news. Also that year, my marriage ended and I lost a major-label record deal when my band, Flight Case For Sushi, broke up. After those three events happening back-to-back-to-back, I found myself lost and in a strange, directionless place I had never been in.
I floated around Nashville for a while, playing gigs and writing. Although I wanted to focus on a solo career, other opportunities kept coming my way. I played guitar in several bands, including a great tour with rising country star Chase Rice. Ultimately I discovered that I had to focus on my own music, no matter what opportunities it meant saying "no" to.
The most important thing that happened during this time was meeting a beautiful girl named Robin and having a daughter, Olivia Blaire, who is two. All of these events comprising the last five years of my life are summed up on this record. Robin and I even do a duet together on the track "Anything I Am."
This album was partially funded by a Kickstarter campaign, correct?
Yes. It was one of the best and strangest experiences of my career. I had mixed emotions, because it's not my character to ask people for anything monetarily. It took some serious self-reflection to launch the campaign, but some of the contributors' emails really turned my perspective around. One in particular from the day of the Boston Marathon bombing hit me like a ton of bricks. The supporter, Maggie, said instead of focusing on the pain and anger everyone was feeling around that horrible tragedy, she had been thinking about the things that unite us and remind us of what we have in common, and the things that carry us through the hard times and help us celebrate the good times. She said my music did that for her, and that it was important to make music to reach people like her. That gave me a renewed sense to write music to hit people at the heart level.

If you had to choose a favorite song on the album, which is it and why?
That's a tough question, but I think it's "Maybe You Should Go Home." It's about a girl (imagine that) who has, more than once, made a few bad life choices. In the song she deals with the push and pull of life and morality and starts questioning said choices. Maybe it's about growing up or coming of age, or maybe it's just about getting on track with what really matters in life.
Your new band is called January Noise. Where did you come up with the name?
January always seems to be a very noisy time in my life. Several life-altering and "noisy" events, including my father's death, happened in January. Also, ironically, several unexplained loud noises were heard all across the world in January of last year. After already having the name in mind and researching these occurrences, it all felt like it was meant to be. The month is also the time in people's live for a new beginning, and that's what this band is for me.
You went from playing large venues with Chase Rice to much smaller venues with January Noise. Has your approach to engaging the crowd shifted?
Yes, of course. I'm way better at it and work a lot harder when it's my band and my music! I've always had a strong presence on stage. I rarely ever pat myself on the back, but that's one thing I can say confidently. It comes natural and is part of my love for music. I can't dance to save my life, but put a guitar or mic in front of me, and I'm all in and all over the place. Arenas and large venues are great, but I truly did miss that connection with the audience. To be playing my music, music I truly love, in smaller places where the audience is right in your face it what I longed for and missed when I was on tour last year. I feel like I have a new lease on life and everything has been like new again.
You released this record independently. Do you plan on continuing the independent route?
You know, that's such a hard and crazy question to answer in today's music business and with where I'm at in my career. The bottom line is I'm making the music I want to make and getting to tour and play it to an increasing fan base, and I'm making a living a supporting a family with it. Now that I've lived a little and lived out a few of my preconceived dreams, I think what I'm currently doing is living the American Dream.
You're very hands-on, which is key for an independent musician these days. Beyond writing and performing, what else are you involved in on a weekly basis?
I run the show and spread myself way too thin, which is why it took so long to put the record out. Music is my full-time job. At the beginning of the week, I'm doing the books, advancing shows, writing, and recording. The middle to the end of the week I'm on the road. Even out there, you'll find me at Starbucks on the phone booking shows, sending out emails, or editing music videos and album artwork.
Popular in the Community