Almost ninety years ago, an emergency crisis of unconscionable human suffering, government neglect and coal company lawlessness compelled thousands of coal miners and impoverished World War I veterans to tramp through the back roads of West Virginia and attempt to liberate terrorized mining camps that had been denied any right to union organizing.
While it took another 12 years of tragic deprivation in the coalfields for President Franklin D. Roosevelt to sign the National Industrial Recovery Act of 1933, granting all coal miners and laborers the legal right to join a union without repercussions, a group of besieged residents from the central Appalachian coalfields is holding a press conference in Washington, DC today to deliver a similarly urgent message of an emergency crisis of unconscionable human suffering, government neglect and coal company lawlessness to the Obama administration and the US Congress:

If the safety, health and civil rights of all Americans are protected by the same laws, then our nation's President and lawmakers are obliged by the staggering health and human rights crises and mounting deathtoll in the central Appalachian coalfields to call for an immediate moratorium on all mountaintop removal operations.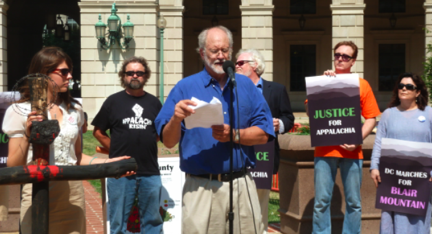 Allen Johnson, with Christians for the Mountains, speaks with other Appalachian residents at Washington DC press conference, photo courtesy of Elizabeth Judge
With that same Blair Mountain battlefield area now threatened by strip-mining destruction, hundreds of marchers are peacefully re-enacting the historic March on Blair Mountain this week in a nonviolent celebration to remind the nation that the safety and health of coal miners and coal mining communities must be placed above the profit interests of union-busting absentee coal companies.
It's time to bring the mountaintop removal war on Appalachia to an end.
While providing less than 5-8 percent of our national coal production, the millions of pounds of daily explosives detonated for mountaintop removal operations in West Virginia, Kentucky, southwest Virginia and eastern Tennessee account for the most egregious human rights and environmental violations in our nation--and the unrecognized reality of regulated manslaughter.
While EPA administrator Lisa Jackson has openly acknowledged the unacceptable health consequences of mountaintop removal, the Obama administration has chosen to follow an admittedly failed compliance policy and 40-year rap sheet of criminally neglectful regulatory practices that have left central Appalachian communities in desperate ruin.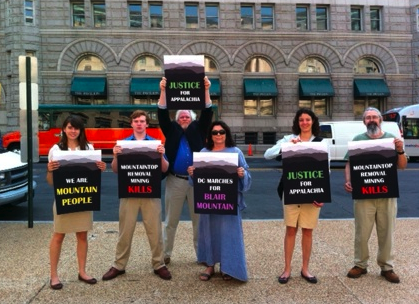 Appalachian residents in Washington, DC, photo courtesy of Bob Kincaid
"Mountaintop removal is a serious threat to America's water supply," says Coal River Valley resident and Vietnam veteran Bo Webb. Living under the fallout of lethal silica and coal dust explosions, Webb has called for mandated health surveys to measure the impact of strip-mining operations on affected residents prior to any blasting. Webb adds: "Mountaintop removal eliminates jobs. It eliminates entire mountain communities in Appalachia. It is killing real people. In the interest of public health, it is the duty of every member of Congress to end this horrific crime."
The tombstone of 22-year-old Joshua McCormick -- who succumbed to kidney cancer in 2009 in the Prenter Hollow area in West Virginia, one of the most lethal coal slurry-contaminated and Clean Water Act-violated places in the nation -- remains a landmark no less important than Blair Mountain in the government's failure to enforce the Clean Water Act.
As a survivor of the Martin County, Kentucky coal slurry impoundment break in 2000, one of the worst environmental crime coverups in modern history, Mickey McCoy watched 300 million gallons of toxic coal sludge drown his area's waterways and settlements. With violation-ridden mountaintop removal blasting legally taking place near similar faulty slurry impoundments across the region, threatening the lives of thousands of residents like irresponsible accidents waiting to happen, McCoy simply concludes: "Mountaintop removal is annihilating an entire culture, and politicians who support this genocide need to be charged as accessories to murder."
Exaggerated claims? In memory of Jeremy Davidson, who was crushed to death by a boulder dislodged by a mountaintop removal operation in Virginia in 2004, McCoy's fellow Kentuckians and children have written poems begging for the coal companies and government regulators "to show mercy on the culture we love."
With nearly 1.5 million acres of American geography erased from our maps by mountaintop removal operations, Appalachia is dealing with an emergency situation of historic proportions.
Will it take a catastrophic disaster and display of dead bodies for the nation to deal with the mountaintop removal crisis?
As the forced removal of citizens from Twilight and Lindytown in West Virginia and scores of historic coal-rich settlements across Appalachia and the nation testify -- -as the largest forced removal of American citizens since the mid-19th century -- McCoy's charges of historicide and oblivion can be verified by the ruins of razed and abandoned communities.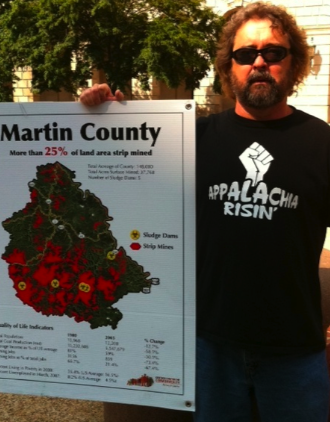 Eastern Kentucky activist Mickey McCoy with Martin County poster, photo courtesy of Bob Kincaid
This is why the protection of Blair Mountain's history is so critical: War veterans and coal miners died on that battlefield in 1921 to protect our nation's most sacred rights of life, liberty and true democracy. After shameless political machinations, the return of the Blair Mountain battlefield to the National Registry must be accompanied by an immediate moratorium of all mountaintop removal operations until the health and safety and human rights of affected citizens today -- like the afflicted coal miners in 1921 -- are guaranteed.
"For generations," says West Virginia filmmaker Mari-Lynn Evans, "Appalachians have been enslaved by the coal industry and their political allies. Our ancient mountains are being destroyed and our people are being sacrificed for corporate greed and political ambition. Our very survival as a culture depends on the EPA. We are here today to call upon them to regulate this rogue industry and save our home -- Appalachia."
Related
Popular in the Community