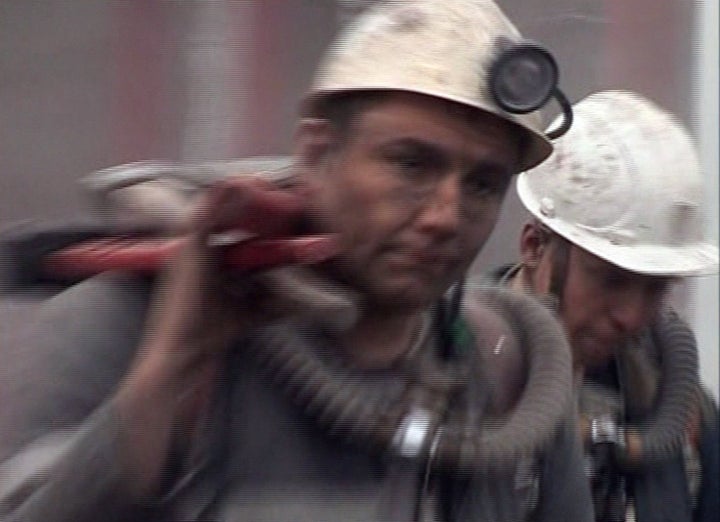 A week long protest calling for the preservation of West Virginia's Blair Mountain has rehashed conflicts within a coal mining community torn between the need for profits and the desire to preserve the past.
The protest, arranged by environmental activist group Appalachia Rising, aims to preserve Blair Mountain, strengthen labor rights, end mountaintop removal mining and invest in sustainable job creation in the Appalachian region. It included a five-day trek that emulated the 1921 march of 10,000 people from Marmet to Blair, an event that ultimately led to a battle over miners' inability to join labor unions. Over 300 people participated in this year's march, which spanned a distance of over 50 miles.
More than 1,500 people are expected to ascend Blair Mountain on Saturday for the culmination of the protest. Notable guests expected to attend include environmentalist Robert F. Kennedy Jr., actress Ashley Judd, author Denise Giardina and singers Emmylou Harris and Kathy Mattea.
While environmentalists, historians and union supporters are calling for the preservation of the mountain because of its historical significance, groups like the West Virginia Coal Association and Alpha Natural Resources are adamant in their desire to mine the area around Blair.
"What good is a mountain just to have a mountain?" asked Jason Bostic, vice president of the WVCA. "It's steep and rugged terrain, and I don't know a lot of tourists who would visit. Would it be better to implement measures protecting the space, or to harvest artifacts from Blair Mountain -- which is private property, by the way -- and put those in a proper setting like a museum where descendants of those involved can go to understand what truly happened?"
Blair Mountain is a symbolically important site. Ninety years ago, it was the site of what is now known as the Battle of Blair Mountain, where 10,000 coal miners fought mine operators for the right to form a union in what was the largest armed uprising in the U.S. since the Civil War. Hundreds of miners and scores of soldiers in the private militias hired by the coal companies were killed in a battle many consider to be one of the primary catalysts for America's early 20th century labor movement.
The mountain was added to the National Register of Historic Places in March 2009, but was delisted December of that year because of protests from coal operators who wanted to mine the area. Since 1991, six mountaintop removal mining permits have been issued around Blair Mountain, protest organizers told HuffPost in May. No mining has yet occurred on the historic battlefield, but a site formerly owned by Massey Energy is now encroaching on it.
Massey and its former chairman and CEO, Don Blankenship, had already developed a negative reputation within the coal mining community thanks to a number of violations, controversial work practices and accidents -- most notably the Upper Big Branch mine explosion in April 2010 that killed 29 miners. Blankenship stepped down from his position in December of that year, and in January 2011, Alpha Natural Resources agreed to buy out the troubled company.
The WVCA, which counts Alpha Natural Resources as a member, opposes this week's protests but has no plans to actively counter-protest, according to Bostic. "We're not in the confrontation business," he said, noting that his organization's concern was for the workers and the communities surrounding the area where Blair Mountain is located.
"The folks who are marching to save it and trying to help the people in the communities surrounding Blair aren't from there, and that's pretty damn offensive," Bostic said. "But there's other aspects of this, not the least of which is the social fabric of the mining communities. You take the mine away, and the social fabric deteriorates pretty quickly. If you save Blair Mountain you'll watch the entire social and economic structure of that community dry up."
Unlike Alpha, the United Mine Workers of America -- the largest labor union for coal miners and an organization that helped pioneer modern-day labor laws -- opposes mining around Blair Mountain. This isn't the first time the UMWA has disagreed with Alpha; earlier this year, the organization openly questioned Alpha's choice to hire top-level Massey executives.
The UMWA has filed legal briefs and contacted the National Register of Historic Places to support the protection of Blair Mountain. However, the organization chose to separate itself from this week's events because participants are arguing for the elimination of mountaintop removal coal mining altogether.
"With the work we've been doing from a legal standpoint, we believe we're showing our support [for Blair Mountain]," said Paul Smith, director of communications for the UMWA. "Do we have to get out there and have a rally and a picket line every time we want to show our support? I'm not sure we need to do that. It's important preserving Blair Mountain, but at the same time, the decisions aren't going to be made walking down the side of a road. We want to be in the area where decisions are going to be made when it comes to preserving it."
Despite a lack of involvement from the UMWA, Smith noted that several local branches and individuals involved with the organization have chosen to support this event.
Kenneth White of Cabin Creek, W.Va., is a retired former coal miner who has been a member of the UMWA for 42 years, 16 of which he spent working as a district representative for the union. Though White isn't participating in the march, he has expressed his support for the event and the preservation of Blair Mountain because of its historical significance and meaning to all labor unions.
"We shouldn't have to fight to try and preserve history -- that's what's irritating about it," he said. "We've got to fight for everything we get, and everything we've gotten, it wasn't just given to us. Somebody gave their blood for it."
"I think it's sad [the coal companies] will put the dollar over history," White added.
Related
Popular in the Community