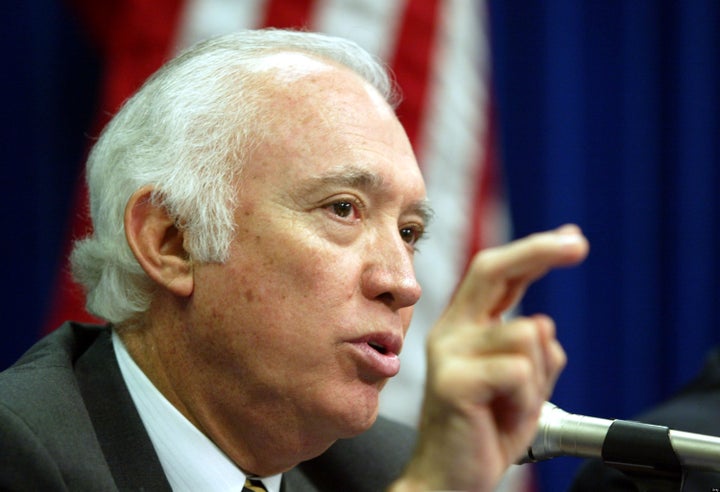 Nearly three weeks after the 2010 midterm elections, another Democrat has been swept out by the Republican wave.
Rep. Solomon Ortiz (D-TX) conceded to Republican challenger Blake Farenthold on Monday night. After serving 27 years in the House, the 73-year-old Ortiz called on Monday to congratulate his opponent and acknowledge that the remaining margin (just a few hundred votes) was insurmountable. A recount had been completed earlier that day.
According to the Associated Press, "Farenthold is the former owner of a computer consulting business and a self-described 'sidekick' on local talk radio. He received strong support from tea party activists in a district that stretches from Corpus Christi on the Gulf Coast to Brownsville on the border with Mexico."
Ortiz released the following statement:
This afternoon, the manual recount of votes cast in the race for U.S. Representative of the 27th District of Texas was concluded. After a careful, tedious and meticulous manual recount in six South Texas counties, each candidate gained a handful of votes. I continue to stress the importance of ensuring every vote was counted and every person's voice was heard. I decided to request a recount after many of my supporters and constituents contacted me and asked me to do so. I carried on with their request to ensure the integrity of the election was not compromised.

Today that process was completed as we recounted more than 106,000 votes in San Patricio, Nueces, Kleberg, Kenedy, Willacy and Cameron Counties. Although I gained votes during the manual recount, I did not surpass my opponent's lead. Therefore, with great respect and admiration in the Democratic process, I congratulate my opponent, Mr. R. Blake Farenthold, in his election to the 27th Congressional District of Texas in the U.S. House of Representatives.

I wish him well. I ask Mr. Farenthold, as I have done so for the past 27 years, to represent every one of his constituents in this Congressional District. I respectfully urge him to continue to: spur economic growth in South Texas; reduce the unemployment rate; help working families succeed; provide affordable health care for all Americans; secure our U.S.-Mexico border from violence and drug war; and ensure America can continue to be a land of freedom, opportunity and prosperity for all. Again, I wish him good luck.

To my supporters, those who have been with me since I was first elected to office in 1964 at the age of 27, from the very bottom of my heart, I thank you for standing by me and with me through it all. Words cannot tell how much I appreciate the love and support you have show me and my family over the years. Thank you for the good memories and endless accomplishments; thank you for your vote of confidence and for believing in me; thank you for your love and words of encouragement.

As this process comes to an end, I am at ease and peace with myself, my family, my colleagues in Congress, my constituents, life and most importantly, I am at ease with God. I truly believe that through our work and significant contributions during my years of service in Congress, we leave South Texas better than before.

I leave the national stage, certain of having done the right thing for those I represented. In the thousands of votes I cast in Congress for the 27th Congressional District of Texas, time and time again, I voted as my constituents asked me to do so. But just as important, I voted with my heart and for the best interest of all the people and communities I have had the pleasure of representing. I stand behind each and every one of those votes today and always will.

I end this campaign - and my public service - with a favorite verse from poet Robert Frost's 'The Road Not Taken'.
"I shall be telling this with a sigh
"Somewhere ages and ages hence:
"Two roads diverged in a wood, and I--
"I took the one less traveled by,
"And that has made all the difference."
It certainly has made all the difference.

U.S. Congressman Solomon P. Ortiz
27th Congressional District of Texas
REAL LIFE. REAL NEWS. REAL VOICES.
Help us tell more of the stories that matter from voices that too often remain unheard.