The congressman's posts, which were brought to the attention of The Huffington Post by a Democratic source, were made on the website FlyerTalk from 2006 to 2010, before he was elected to Congress later that year.
"I get upgraded," Farenthold wrote in a thread about upgrades. "It's my seat. I can give it to my wife if I like, or if I'm traveling alone the hot redhead in 12B in hopes of......"
In a thread about when it is acceptable to eat alone, he wrote that "Hotel bars are for cocktails only ...unless you are single and looking (or are in Las Vegas where what happens in Vegas stays in Vegas)." His list of exceptions to those rules included Hooters and "Room service when hungover."
And, in a thread about best and worst cabin crews, he described a flight after he spent a week in Russia in 1992.
"[The flight attendant] thought after 4 vodka shots (they were serving caviar) I'd had enough and cut me off for the rest of the flight," he wrote. "She said she'd get in trouble if I appeared over served at customs. At 250 lbs and a week in Russia, 4 vodkas wasn't even a good start on being over served.."
He also tweeted in 2009, when he was a radio host, about making sexist remarks and "talkin' trash" about his wife, asking his followers if their spouses are "unbearable" when they are sick.
Farenthold spokesman Kurt Bardella told HuffPost in an email:
As anyone can see, this entire platform is designed to host an open and relaxed conversational environment -- at one point a representative from United Airlines even provides a post requesting feedback about their expanded drink offerings. These postings are talking about traveling experiences that millions of Americans experience every day -- utilizing the concierge for a restaurant recommendation, inviting out-of-town guests to dinner so they don't spend the evening alone in a hotel room, and yes, like many normal people who will be traveling during the holiday season -- enjoying some in-flight drinks. Quite frankly, it's a bit of a reach to try and selectively pull out postings from before he was even elected to Congress, before he was in public life and draw the line that this provides validity to something that's going on more than five years later.
The congressman posted on the FlyerTalk website more than 400 times in the four years he was active, and his profile lists "US Congressman" as his occupation. He even referred to the website last year during a congressional hearing on the proposed merger of American Airlines and US Airways.
The suit against Farenthold was filed by his former communications director, Lauren Greene, and alleges that the congressman and his chief of staff created a hostile work environment, sexually harassed her and wrongfully fired her. In documents first discovered by The National Law Journal, Greene also alleges that Farenthold "regularly drank to excess" and admitted to another employee that he had "sexual fantasies" and "wet dreams" about her.
Bardella replied to reports of the suit by saying the congressman's office did not discriminate on the basis of sex.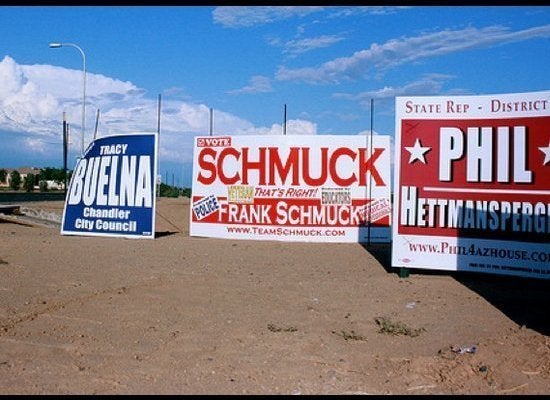 Unfortunate Politician Names
Popular in the Community