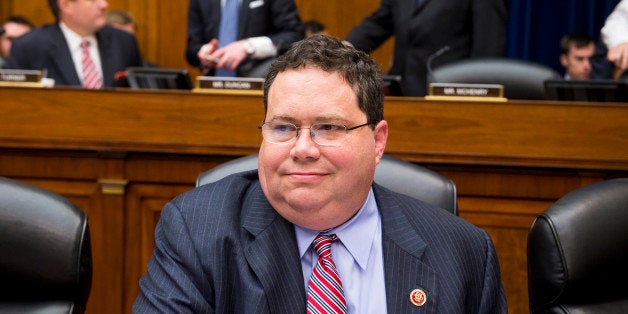 When several dozen protesters lined up outside the Corpus Christi office of Texas Rep. Blake Farenthold last year, holding a petition with about 10,000 signatures in favor of immigration reform, they hoped to win the Republican's support before the 2014 midterm elections.
Six months closer to the already-heated elections, immigration reform advocates have little to show for it.
Although the two-term congressman has met with advocates and expressed openness to some type of reform, he hasn't made the full-scale evolution on immigration that some Republicans in similarly Latino-heavy districts have. His seat is safe enough that despite the large number of Latino voters he represents, he doesn't need to.
Farenthold's 27th District, which sits less than 200 miles from the Mexico border, has a substantial Latino population of 345,730 -- just under half the district. But that population isn't as influential as it once was. According to U.S. Census figures, the 2012 remapping of Texas increased the voting-age population for whites in the district by more than 100,000 voters, while reducing the number of Hispanics who could vote there by about that same number. Recent figures show the district currently has 243,991 white voters compared to 233,071 Hispanic voters.
In 2010, Farenthold defeated longtime Rep. Solomon Ortiz (D-Texas) by just 775 votes, following a recount. He easily won reelection in 2012, in part because the district no longer included the Latino voting bloc in the border town of Brownsville and added heavily Republican communities around Corpus Christi.
In Farenthold's 2014 election campaign, immigration will be a major part of the debate. He told HuffPost in a statement this week that although he supports legal immigration, he is "opposed to any policy that promotes illegal immigration."
"That said, our current system is broken and needs reform," he continued. "I sit on the House Judiciary Committee, where we've been actively working on concrete solutions to fix our nation's immigration policy, piece-by-piece. Over the last several months, our committee has already made key advancements in reforming our immigration system by passing individual measures aimed at fixing specific problems with the current system."
The incumbent faces Democratic newcomer Wesley Reed, a 44-year-old FedEx pilot and Marine Corps Reserve member who has lived in the district for nearly six years. Reed has been seeking the support of immigration advocates, arguing that the congressman is wrong for joining his party in opposing broad reforms prior to the November general election.
"[Republicans] are more willing to adhere to tea party talking points to try to make sure they have their tea party base and support from them so they don't get any kind of primary so they can stay in office," Reed said. "But that's not what we need to do as a Congress. We need to make sure that we work together to find legitimate solutions to the problems for the people who are here undocumented."
But Reed has a steep hill to climb. This is his debut run for public office, and so far he has struggled to raise money. According to the most recent Federal Election Commission filings, the Democrat has about $6,000 cash on hand, compared to just over $187,500 for Farenthold. The congressman's contributors include United Technologies, Berkshire Hathaway and Koch Industries, the Center for Responsive Politics has reported.
Although he is part of the 2010 tea party class, Farenthold isn't an extreme hardliner on immigration, necessarily. He splits from many of his fellow GOP colleagues who oppose passing any immigration bills at all, arguing that doing so would open them up punishment in the polls for being seen as part of "amnesty" efforts. But he also hasn't taken the approach of other House Republicans who will likely rely on the Latino vote to remain in office in November.
California Republican Reps. David Valadao and Jeff Denham, along with longtime reform supporter Ileana Ros-Lehtinen of Florida, all serve districts with significant Latino voting populations. They were the only three Republicans to sign on to a Democrat-led comprehensive reform bill, mirrored off legislation that passed the Senate. Last year, Farenthold said that the Senate-passed bill "doesn't stand a snowball's chance in hell in the House of Representatives" and that he favored "earned legalization," rather than eventual citizenship for undocumented immigrants, according to The New York Times.
Since the protests last year, immigration activists have continued their efforts to get Farenthold on their side. The demonstrations came at a time when national pro-immigration groups were pressuring conservative members of Congress to support an immigration overhaul. Farenthold responded by meeting with local immigration leaders and telling them he could eventually consider legislation, as long as it ensures security along the border with Mexico and reflects conservative priorities over the issue of amnesty.
David Smith, a political science professor at Texas A&M University, Corpus Christi, has been monitoring Farenthold's reelection and gives him credit for paying "quite a bit of attention" to the immigration issue.
"On a weekly basis he is either having newsletters go out or he's serving the people," Smith said, "So the connection with voters is apparent."
Eddie Canales, founder of the Coastal Bend Committee for Human Rights, was at one of the demonstrations last summer and said his Corpus-Christi-based advocacy group will continue to press Farenthold to consider a comprehensive overhaul of the immigration system that focuses on providing for a path to citizenship to the roughly 11 million undocumented immigrants who live and work in the United States.
Canales also calls Farenthold's outreach disingenuous because he "pretty much does what the tea party tells him" and he "hasn't taken an initiative on anything."
Jose Manuel Escobedo, deputy director of the advocacy group Border Network for Human Rights, said Farenthold has a responsibility to represent the interests of Latino constituents for whom immigration reform is a top priority.
"We see that there is a lot to gain by any candidate who embraces just how personal it is to the Hispanic voters," Escobedo said.
Calling all HuffPost superfans!
Sign up for membership to become a founding member and help shape HuffPost's next chapter
BEFORE YOU GO
PHOTO GALLERY
11 Ways Immigration Reform Helps The Economy