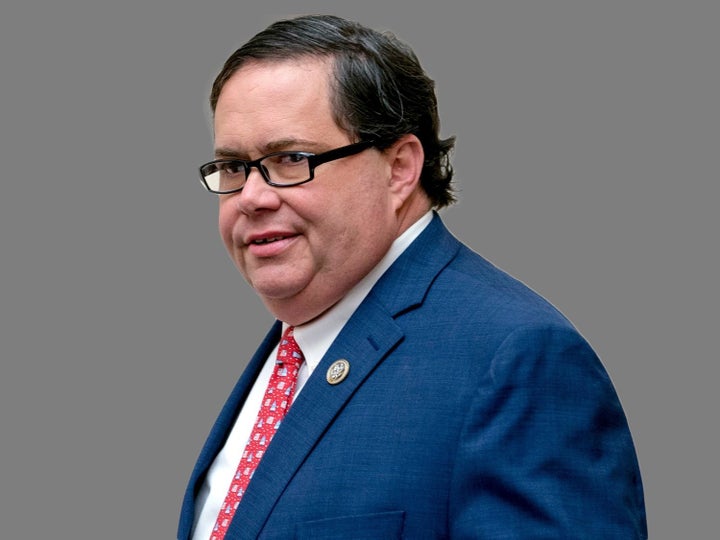 WASHINGTON ― Drama has been following former Rep. Blake Farenthold (R-Texas) ever since he abruptly quit Congress in April amid a sexual harassment scandal.
A Texas newspaper sued his new employer, the Calhoun Port Authority in Port Lavaca, in May for possibly hiring him illegally. And on Tuesday, in response to the port authority's lawyers dragging out the case, the newspaper filed an emergency motion urging the court to either make the agency immediately stop paying Farenthold his $160,000 taxpayer-funded annual salary or hurry up and rule on the case.
The Victoria Advocate is suing the port authority for not giving public notice that it was hiring the former congressman or that it was creating a lobbyist job for him. Under the Texas Open Meetings Act, public entities must give notice of actions being taken at upcoming meetings and allow for public comment. The port did give notice of its May 9 meeting, after which Farenthold was hired, but it used vague language about personnel matters.
"The Advocate requests that this Court enter a temporary order staying the payments made to Mr. Farenthold as a result of his hiring following Appellee's May 9, 2018 board meeting," reads the motion, filed Tuesday.
John Griffin, the newspaper's attorney, said port authority lawyers have been appealing the case for months because they don't want to go to trial, where the public would learn the details of how and why Farenthold was hired despite his baggage.
"Not pretty," Griffin told HuffPost. "The newspaper wants this done as quickly as possible, since the public is still in the dark about this, and the port still acts as if it can conduct government business in the dark."
Here's a copy of the emergency motion, filed with Texas' 13th District Court of Appeals.
Requests for comment from the port authority's lawyer Bill Cobb and its director, Charles Hausmann, were not immediately returned.
Farenthold follows this reporter on Twitter but did not immediately respond to a request for comment via direct message.
Chris Cobler, the editor of the Victoria Advocate, told HuffPost in May that the lawsuit isn't about whether the port authority, a local government entity, should or shouldn't have hired Farenthold. It's about open government.
"This is about reminding our elected officials that they work for the public," he said.
Texas taxpayers are currently footing the bill for Farenthold's salary in addition to the $400-an-hour legal fees for the port authority's attorney on his case.
Farenthold also never repaid $84,000 in taxpayer money that he spent to settle a sexual harassment lawsuit against him, despite promising to do so. He allegedly told a female aide that he had "wet dreams" about another female aide and said she could "show her nipples whenever she wanted." His former spokeswoman Lauren Greene said in legal documents that he was often drunk at work, complained of a sexless marriage and told her a story about a female lobbyist propositioning him for "a threesome."
Calling all HuffPost superfans!
Sign up for membership to become a founding member and help shape HuffPost's next chapter