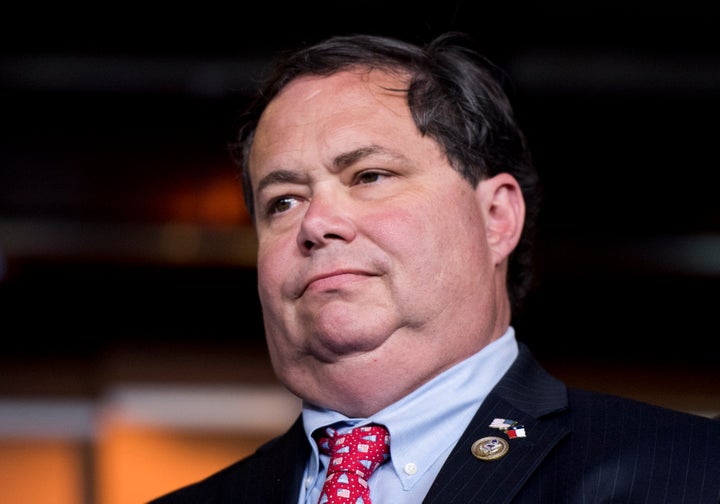 WASHINGTON ― It's been a week since former Rep. Blake Farenthold (R-Texas) abruptly resigned amid pressure to repay $84,000 in taxpayer money that he used to settle a sexual harassment lawsuit against him.
His departure, which was weird and involved him immediately deleting his Twitter and Facebook accounts, means an ongoing probe into his behavior by the House Ethics Committee was cut short. Whatever his colleagues may have found in their investigation to date is now locked away in a vault.
But the committee hasn't forgotten that he still owes $84,000, even if he isn't a congressman anymore. And its members want him to pay up.
In a Thursday evening statement officially announcing the end of their probe, leaders of the committee urge Farenthold to follow through with a promise he made four months ago to pay back taxpayers.
"We note Rep. Farenthold publicly promised to reimburse the U.S. Treasury for $84,000 in funds paid to settle the lawsuit brought against him for claims of sexual harassment, gender discrimination and retaliation," said Reps. Susan Brooks (R-Ind.) and Ted Deutch (D-Fla.), the chair and ranking member of the committee, respectively.
"We encourage him in the strongest possible terms to uphold that promise."
Here's a copy of their statement:
HuffPost reached out Farenthold's former chief of staff, Bob Haueter, to ask if the former congressman plans to repay the taxpayer money. He directed HuffPost to the Clerk of the House, which he said is now handling press inquiries related to Farenthold's former office.
"The office cannot provide a comment," said Jodi Detwiler of the House Clerk's Offie. "We encourage you to reach out to former Rep. Farenthold."
There's really nothing anyone in Congress can do to make Farenthold repay the money. It comes down to Farenthold following through on a promise or not.
The allegations against him include his former spokeswoman Lauren Greene saying in legal documents that Farenthold told another aide that Greene could "show her nipples whenever she wanted to" and that he had "sexual fantasies" and "wet dreams" about her. She describes the congressman as often being drunk and flirtatious at work, complaining of a sexless marriage and telling her a story about a female lobbyist propositioning him for "a threesome."
One thing lawmakers can do is pass legislation cracking down on sexual harassment in their ranks. The House overwhelmingly passed a bill addressing this two months ago, but the Senate hasn't done anything with that bill or put forward a bill of its own.
HuffPost spent the week trying to figure out why nothing appears to be happening on that front. Senate Majority Whip John Cornyn (R-Texas) told HuffPost that a handful of GOP senators ― Roy Blunt (Mo.), Shelley Moore Capito (W. Va.) and Deb Fischer (Neb.) ― are working on "compromise language" with the House bill.
It's unclear what needs to be compromised. None of those three senators responded to a request for comment on what's going on with the issue.
But it's irritating their colleagues in the House. A number of House aides, in both parties, privately complained to HuffPost about the Senate's inaction. And Brooks and Deutch tacked a note onto their statement indirectly pressing Senate Majority Leader Mitch McConnell (R-Ky.) to pass the House bill.
"We also call upon the Senate to pass the legislation reforming the Congressional Accountability, which has already passed the House with overwhelming bipartisan support," they said.
This has been updated with comment from Detwiler.
Popular in the Community