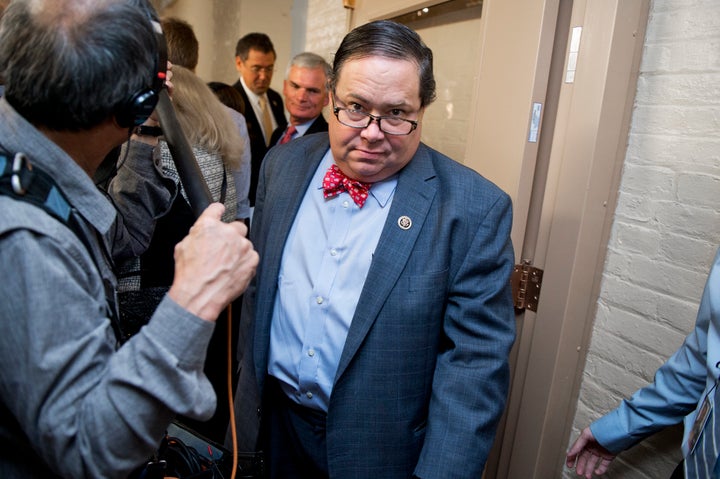 WASHINGTON ― Former Rep. Blake Farenthold (R-Texas), who still hasn't repaid $84,000 in taxpayer money he used to settle a sexual harassment lawsuit, is now costing taxpayers even more money.
His new employer, the Calhoun Port Authority in Texas, just hired an attorney to handle a lawsuit challenging Farenthold's hiring as illegal, the Victoria Advocate reported late last week. The Texas newspaper is suing the port authority, a government entity near Houston, for hiring Farenthold without public notice, which would violate state law.
The port authority board hired a $400-an-hour lawyer to handle the case. Local taxpayers will have to foot the bill.
"It's not cheap, but a lot of them were higher than that," one board member, Tony Holladay, told the Victoria Advocate of the lawyer fees.
In addition to these new legal expenses, local taxpayers have to cover the costs of a special election to fill Farenthold's seat in Congress, which he abruptly resigned in April to prevent House investigators from going public with their findings of sexual harassment in his office. The probe extended beyond the allegations in the lawsuit Farenthold settled, which include him telling a female aide that another female aide could "show her nipples whenever she wanted" and that he had "wet dreams" about her.
Texas Gov. Greg Abbott (R) had demanded that Farenthold pay for the June special election, which is estimated to cost taxpayers about $125,000. The governor also insisted that Farenthold, who is worth millions of dollars, repay the $84,000 sexual harassment settlement. He has refused both.
Farenthold's new job, created for him by the port authority, is to lobby Congress ― a curious hire, given that Farenthold burned bridges with his former colleagues, including Speaker Paul Ryan (R-Wis.), over his refusal to repay the sexual harassment settlement. His new job pays $160,000 a year in, you guessed it, taxpayer money.
Between the bad press and the newspaper's lawsuit, the port authority board voted last month on whether to fire Farenthold. The vote was tied, 3 to 3, so he is keeping his job for now.
Randy Boyd, the port authority board chairman, did not immediately respond to a request for comment on why the port is spending so much taxpayer money on Farenthold.
Charles Hausmann, director of the port authority, did not respond to a request for comment.
Farenthold did not answer a request for comment.
If the newspaper wins its lawsuit, Farenthold will be out of another job. The port could always rehire him, but it would first have to hold a public meeting letting anyone in the community weigh in.
John Griffin, the lawyer representing the Victoria Advocate, said the port authority could have avoided the lawsuit if it hadn't been so secretive about hiring Farenthold. Most people learned about his new job when he called into a local radio show and announced it.
"The Port had a choice to make: to give the public notice that it was considering hiring Mr. Farenthold at an annual salary of $160,000, or to sweep it under the rug until Mr. Farenthold leaked it during a radio interview," Griffin said in an email. "The Port and the Port alone is responsible for this trainwreck."
Griffin said taxpayers are also getting shafted by the $400-an-hour rate of the port authority attorney.
That figure "is far higher than the hourly rate of the Advocate's counsel," Griffin said. "Taxpayers are fortunate that the public's right to access will cost far less than the cost the Port is paying to continue this unnecessary litigation by defending the indefensible."
CORRECTION: A previous version of this story indicated the special election was in May instead of June.
Popular in the Community