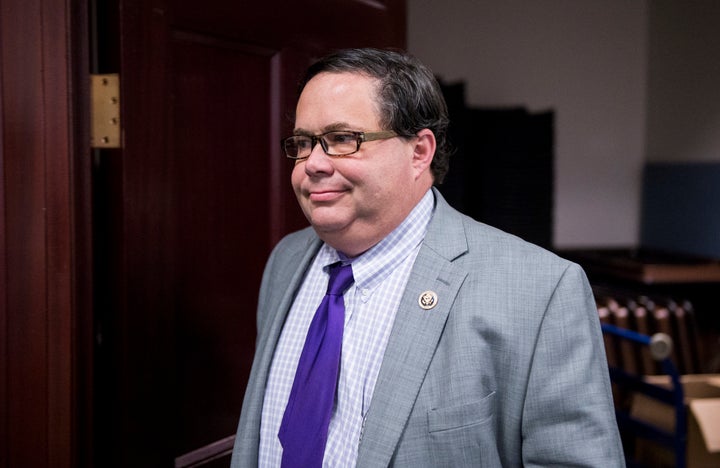 WASHINGTON ― Former Rep. Blake Farenthold's new employer may have hired him illegally and a judge just ordered the Texas Republican to testify about it under oath.
Farenthold, who abruptly resigned from Congress in April while under investigation for sexual harassment, is at the center of a new scandal involving a job he took in May with the Calhoun Port Authority in Port Lavaca, Texas. The Victoria Advocate, a local newspaper, filed a lawsuit alleging that the port authority did not give the required public notice that the former congressman was being hired or that it was creating a $160,000-a-year lobbyist job just for him.
Under the Texas Open Meetings Act, public entities must give notice of actions that are scheduled to be taken at upcoming meetings and must allow for public comment. The port authority, which is a local government entity, used notably vague language about personnel matters when it decided to bring on Farenthold.
The port authority has since hired a $400-an-hour attorney to handle the lawsuit, while Farenthold has been trying not to testify. He filed a motion in the case earlier this month arguing that the requests for his testimony were "overly broad" and "unduly burdensome."
But on Monday, state Judge Robert Bell of the 267th Judicial District Court ruled that Farenthold and his top bosses ― the port authority's board chairman, Randy Boyd, and its port director, Charles Hausmann ― have to talk.
"Calhoun Port Authority's Motion to Protect it from all discovery sought by Plaintiff … is denied," the judge wrote.
Here's a copy of that order:
Farenthold spent $84,000 in taxpayer money to quietly settle that case. He vowed to pay the taxpayers back when the lawsuit became public, but then he quit Congress and said he'd changed his mind about the money.
Monday's court ruling doesn't just mean Farenthold has to go into the details of how he got a job as a congressional lobbyist, even as his former colleagues were furious at him over his sexual harassment settlement, or why port officials avoided public comment before his hiring. It also means the port will spend taxpayer dollars on legal fees to defend keeping Farenthold on staff. 
John Griffin, the attorney representing the Victoria Advocate, said Monday's court orders "vindicate the rule of law."
"No witness is above the law," Griffin told HuffPost. "The Court faithfully followed the Texas Open Meetings Act's requirement that governmental entities give the public notice of what they are going to be discussing, especially something as important as hiring an ex-congressman with the type of baggage Mr. Farenthold has."
Requests for comment from the port authority's newly hired lawyer, Bill Cobb of Austin, and from Hausmann, Farenthold's boss, were not returned.
Farenthold, who follows this HuffPost reporter on Twitter but routinely doesn't comment for this reporter's stories about him (like this one and this one and this one and this one), also did not respond to a request for comment.
Calling all HuffPost superfans!
Sign up for membership to become a founding member and help shape HuffPost's next chapter
BEFORE YOU GO
PHOTO GALLERY
Women Who Have Accused Roger Ailes Of Sexual Harassment