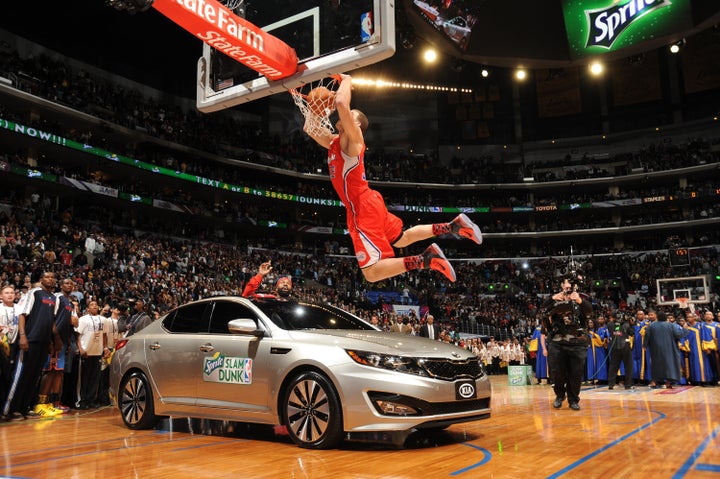 The Los Angeles Clipper spent the first half of the 2010-2011 NBA season putting every defender who dared to get in his way on a poster. With no defenders in his way and no traveling violations to worry about, what could he possibly pull off at All-Star weekend?
When Griffin stepped onto the court for his final dunk, it seemed, for a moment, that we were going to get exactly what we hoped for. With Griffin standing at center court, his then teammate Baron Davis entered the arena in a Kia Optima. The intention was clear: Griffin was going to jump over a car. 
But what seemed ready to become one of the greatest dunks in All-Star history quickly fell short. As opposed to clearing the roof of the car, as many of us had hoped to see, Griffin only jumped over the hood, not the body, causing arguments among basketball nerds ever since.
During an interview with "Pardon My Take" on Monday, Griffin said, "I wanted to jump over a convertible, but I wasn't allowed to. It had to be a Kia Optima." 
"I don't know if you guys have stood next to a Kia Optima, but it's a pretty tall vehicle, and there's no way I was going to make it over the entire thing, over Baron Davis in the sunroof," Griffin added. 
So there we have it: Originally, Griffin had planned on doing what we thought he was going to do: clear the body of the car. His car of choice for this dunk was a convertible. However, when the NBA made it clear that the car was going to be a Kia Optima, Griffin was forced to settle with only clearing the hood. 
Calling all HuffPost superfans!
Sign up for membership to become a founding member and help shape HuffPost's next chapter
BEFORE YOU GO
PHOTO GALLERY
Monster Dunks From The 2015-2016 NBA Season