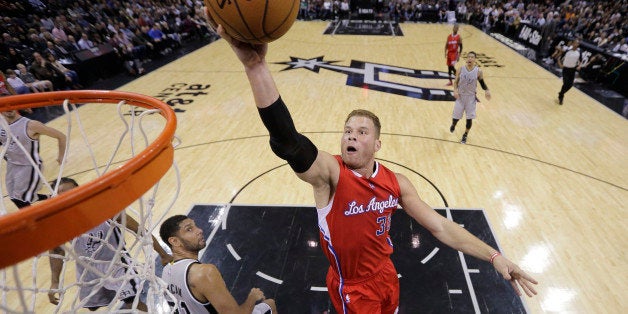 Superstars are made in the playoffs, at least according to Paul Pierce. In a recent USA Today article, the Washington Wizards forward and future Hall of Famer said of teammate John Wall: "John has put his superstar cap on. I always say this is where the stars of the NBA become superstars -- in the playoffs. This is where they're born, and that's what you're seeing with John Wall right now."
Wall has since injured his wrist and hand and whether or not you agree with Pierce, we can all agree that nothing says a player has taken the next step like real postseason success. And Los Angeles Clippers power forward Blake Griffin has done just that.
Reaching elite status in the NBA is a very tricky thing to do, and I've been holding this column in order to figure out whether Griffin measures up. Are you a top five, top ten guy? Or are you just another really good player? There isn't so much an "official" barrier that determines whether or not a player is elite. For his part, Wall -- who recently caught up with The Huffington Post -- elevated himself into the conversation with his best regular season as a pro and, before his injury, superior postseason play. But in Griffin's case, he has been so dominant that keeping him out at this point would be foolish.
The biggest issue for the 6-foot-10 Griffin has never been the talent -- he is after all, a former No. 1 overall draft pick -- but rather, whether he could indeed out-duel other great players while also leading a long-moribund franchise to playoff success. Although one series win is hardly sustained success, Griffin proved himself by playing the way he did to help beat the San Antonio Spurs, the defending champions. And he's now doing it again against Houston, which boasted the sixth-ranked defensive efficiency unit this year.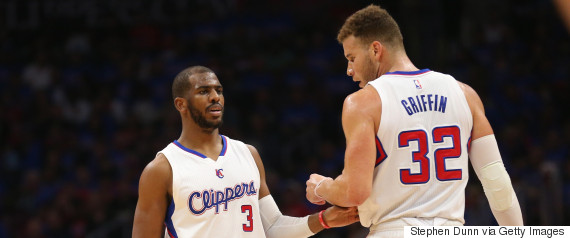 If we go back three or four years to the infancy stages of his game, Griffin was a world-class athlete, but not much more. He ran the floor like a gazelle, picked up easy pick-and-roll dunks from Chris Paul and was generally average when operating from the low post.
But that has rapidly changed, particularly in this, his fifth season. Griffin, who worked at length with renowned shooting coach Bob Tate, has developed a slew of interior moves and counters -- on both blocks -- that even the most talented of defensive bigs struggle to contain. When the Clippers played the Spurs, for example, Tim Duncan -- a 14-time All-Defensive Team selection -- consistently needed help in the form of a double-team to guard Griffin. With an improved feel, though, Griffin was consistently able to beat the defense and, in turn, elevate his production. Moreover, his passing out of the double was terrific and has been all year, hence his 5 assists per game.
Perhaps just as important has been the progression of Griffin's perimeter jump shot, once a liability. His enhanced skill set from 14-18 feet has dramatically changed two things, both of which benefit the mighty Clippers offense. First, whereas he was primarily used as a "roller" in years past, Griffin -- now armed with the ability to make jump shots -- has become highly effective as a pick-and-pop option. In turn, the defense is forced to respect not only his skills, but also those of an All-NBA point guard in Paul, with his ability to turn the corner and make a play, either for himself or for a teammate.
This pairing has proven tremendously successful for teams like Golden State, given Stephen Curry's dynamic playmaking ability matched with the scoring prowess of Draymond Green, and Atlanta, with Jeff Teague playing the two-man game with Paul Millsap and Al Horford.
The other benefit of Griffin's improved shooting has been a meteoric rise in efficiency at the free-throw line. What was once a serious weakness -- he shot 52 percent in his second season -- has become a strength. This year, the five-time All-Star converted a respectable 73 percent from the stripe, his best clip yet. Moreover, he is averaging a robust 24.7 points, 13 rebounds and 6.9 assists in the playoffs, numbers surpassed only by the immortal Oscar Robertson in the 1962-63 season, according to Basketball-Reference.com.
One player who knows about being a superstar is another former No. 1 pick, Chicago's Derrick Rose. But even more so than Griffin, it was Rose's instant success -- he won the league MVP at 23 -- as a pro that thrusted him into the role.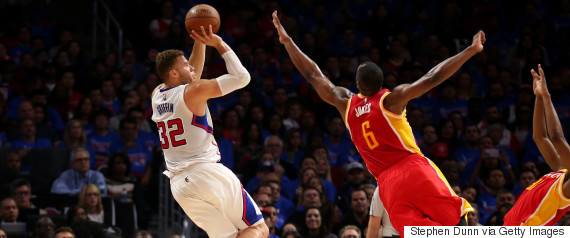 "I didn't really think about it," Rose said last week. "It was something that people just threw on me. All of a sudden I was an All-Star, and then all of a sudden I was, whatever you call it, a superstar. It takes a lot of time. And it takes a lot of focus and concentration."
Griffin himself is still just 26 years old and it seems realistic to assume he will only continue to improve his offensive arsenal. Because of his rare athleticism and power, though, the newfound blend of shooting a high percentage while expanding his low block usage becomes that much more lethal. I previously profiled Anthony Davis of New Orleans, who is a generational talent. Griffin is not yet there and perhaps he won't reach that class, but his overall output during not only the regular season, but now in the playoffs as well, proves that he has arrived at superstar status.
Calling all HuffPost superfans!
Sign up for membership to become a founding member and help shape HuffPost's next chapter