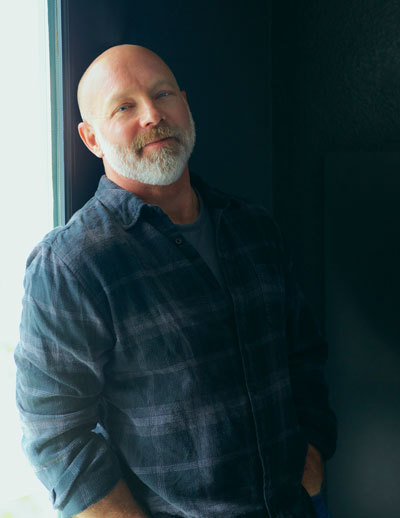 One thing you eventually learn about world-renowned celebrity photographer Blake Little is this: Whether you're perusing his latest stunning image of one of the planet's most famous superstars or having a mid-afternoon coffee in a hole-in-the-wall spot he frequents in a decidedly unglamorous section of Los Angeles, you find yourself inhabiting a remarkably stark, silent environment.
Blake Little's work -- much like Blake Little the man -- doesn't need to make a lot of noise to be noticed. At their best, Little's portraits capture the precise moment the well-known subject is communicating a hushed inner message. And, similarly, at his most relaxed, the photographer himself observes a lot more than he speaks (a genuine rarity in me-me-me Hollywood) and Little's strength of character -- and wicked sense of humor -- reveals itself over time, again, exactly like his beautiful work.
This personal/professional symmetry goes largely unnoticed by both the casual observer of Little's photographs and Little's acquaintances. But those of us who have known and worked with the Seattle native for decades have been enriched as artistic colleagues by his wondrous skill with a camera and embraced by the power of his loyalty as a friend. It's a good place to be.
The roster of A-listers Blake Little has photographed is staggering -- Tom Cruise, Glenn Close, Samuel L. Jackson, Jane Fonda, Gwyneth Paltrow, Mike Myers, Julianne Moore, Christopher Meloni, Valerie Harper, Steve Carell, Jack Black and on and on -- but it's the images I've commissioned Blake Little to shoot over two decades for the magazines I've edited highlights best the photographer's true mastery. Little has memorably shot numerous celebs for me including Alicia Silverstone, Eduardo Verástegui, Aaron Eckhart, Andy Garcia, Judith Light, James Marsters, Karina Smirnoff, Sonia Braga and dozens more. In fact, Little's gorgeous portrait of Braga -- Brazil's answer to Sophia Loren -- proudly hangs in my home.
Beyond his passion for celebrity imagery, Little is also an accomplished artist whose work has been exhibited in New York City, Seattle, Los Angeles and Japan and has also authored several books Dichotomy (1997), The Company Of Men (2011) and Manifest (2013). Little's work was recently exhibited at the prestigious Eiteljorg Museum in downtown Indianapolis.
In many ways, Blake Little is the biggest open secret in Hollywood when the need arises for a singular, memorable photographic image that will resonate into the subconscious and live in the pop cultural ether and that's why so many magazines and movie studios have Little's number on speed dial. What Little delivers with his celebrity portraits time and again is haunting artistry in a world of mass produced consumption. The photographs are rich in subtext and exude an intoxicating nuance -- much like the photographer himself.
Take a look at his photographs below: (story continues after slideshow).
PHOTO GALLERY
Blake Little - Celebrity Photographer

Blake, tell me, what was your earliest memory of viewing a situation "photographically?"
When I was in my first semester of college, I was taking photographs in a local park. There was a old concrete box gun bunker at the top of a small hill. The hill was perfectly covered with tall wild green grass. I was setting up a shot of the scene with my 4" x 5" camera when a boy walked by with his dog. I asked the boy to run to the top of the hill with his dog. I only shot two pictures. Later that year the photo won second place in The Seattle Post newspaper photo contest.
This was one of my first photographs where I directed the photograph. Creating and directing the photo with my subjects soon became my preferred way to work.
How does your life infuse your work?
I have always been an observer. Photography is the center point of my life. Everything I do and experience has a profound influence on all of my photographic work.
How different is your approach when shooting a celebrity for a magazine cover versus shooting a "real person" for one of your art books?
I work with the same basic process regardless if the person is famous or not. I always have a plan and some firm ideas of how I want to photograph my subject. I research details and facts about my subject and use these elements in some way in the photograph. When shooting celebrities, we're always working with a crew -- hair, makeup and wardrobe. It's a team effort. Celebrities are familiar with the process of having their pictures taken and this usually makes it easy once you establish a trust. With so-called real people, it can be much simpler and I often work alone. It can be a great way to work. There's a wonderful intimacy about photographing someone all alone.
Tell me some celebrity stories.
I worked with the beautiful Julianne Moore several months after giving birth to her daughter. I was able to meet her daughter Liv whom she brought to the shoot. Liv was less than a year old at the time and still breastfeeding. We only photographed for about an hour, but the photograph of Julianne on the New York City rooftop is one of my career favorites. She's an amazing woman.
I photographed Tom Cruise during the making of Top Gun. We did the shoot in his rented house in San Diego. It was the beginning of both of our careers.
The shoot with Tom Cruise was a career-changing opportunity for me. I got a photo rep and a stock agent within a month after the shoot.
I shot Sacha Baron Cohen for the film Borat's advertising campaign. At the time of the shoot the marketing team at Twentieth Century Fox told me that this was just a little independent movie. Within a few months the movie blew up -- it was everywhere. My photograph for Borat was all over the world. The film was a huge sensation that year and now everyone had seen the photo. This was my first direct experience dealing with the power of the Internet.
I photographed a great picture of Vince Vaughn early in his career. Vince is sitting on a motorcycle in the middle of the street near my studio in Hollywood. I love this photo -- it has a classic quality and something about it reminds me images of James Dean. When I sent the photo to Vince's publicist for approval, she said, 'the photo looks great, but you forgot to fix Vince's finger'. I said, 'what's wrong with his finger'? I hadn't noticed that he was missing half a finger on his left hand (since childhood). We quickly added the missing half finger and the crisis was averted. Photo approved.
Is there a celebrity that you'd consider a dream "get?"

Daniel Day-Lewis, Jennifer Lawrence, Tilda Swinton and LeBron James to start. I love shooting celebrities because they're so talented, interesting and  darn beautiful. They make amazing subjects.
Tell me about your upcoming book and art shows? 

My brand new body of work is called Preservation. I photographed 90 people -- men, women, children from age 2 to 85 all completely covered in honey. Preservation will be published this December. Preservation will be exhibited at the Paul Kopeikin Gallery in Los Angeles in March 2015. Preservation began through a process of experimenting with honey. Initially, I started shooting the way it pours and drips on just the face or specific areas of the body. After several sessions it became clear that completely covering the figure as much as possible and with varying thicknesses created a quality that I had never seen before. The honey has a way of diffusing the personal qualities of the subjects, often making them unrecognizable and democratizing their individual traits into something altogether different and universal. The images take on the qualities of objects preserved in resin or amber; frozen in suspended action like the victims of the A.D. 79 Pompeii volcano. The subject becomes like a statue or an embryo -- some angelic and others horrific.
Do celebrities get more interesting to shoot after 50 or more difficult?
I think it's beautiful how people age. Of course everyone wants to look their very best, so there's a fine line between looking great and looking real. I want my portraits to be real. The established celebrities understand this; they have a mature understanding especially when they're confident in their careers.
In the next decade, Blake Little will be...
...continuing his photography career while concentrating on his monograph publishing gallery and museum exhibitions--and also thriving in interesting advertising and editorial work. Sounds great, right? [Laughs]
PHOTO GALLERY
Celebrity Bikini Bodies Over 50
Calling all HuffPost superfans!
Sign up for membership to become a founding member and help shape HuffPost's next chapter