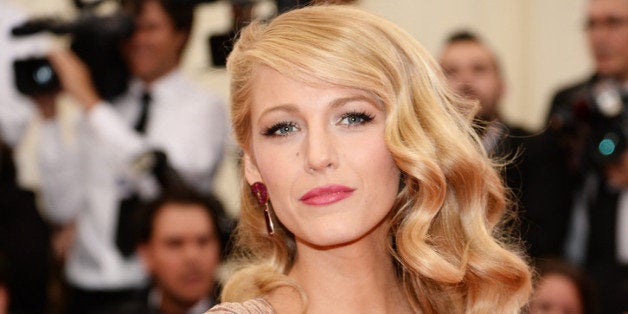 Lively is using her celebrity status through the Gucci fragrance Chime for Change campaign to help improve the lives of women and girls worldwide. The charitable initiative was founded in 2013 when Gucci Creative Director Frida Giannini, Salma Hayek Pinault and Beyoncé united for a campaign that would "make a real change happen" in the areas of health, education and justice.
The drive and determination of those three women, along with Gucci's long history of bridging fashion and philanthropy, struck a cord with Lively. Plus, the Gucci Premiere spokesmodel was in awe of how Giannini forewent the usual gala or dinner where proceeds would be raised for donation and instead opted for an "incredible launch pad" with the Chime for Change concert.
"It was an event that grabbed a lot of attention, but what was the most moving thing to me was that the people sharing the stage were women who had made a difference in their country and didn't have the platform you do as an actor, musician or celebrity," Lively told us. "These women had gone against all odds and changed the world. So, to be in their company and be inspired by that was a very exciting intro."
She added, "And it's not just one organization where they're collecting all this money. You get to become personally invested with those who are on the ground doing the work -- you don't get to see that when it's a bigger [organization]."
With her intense passion for shedding a brighter light on the oppression of women and girls, we often look to Lively for inspiration on how to build self-confidence. However, the 26-year-old revealed that she struggles with insecurity just like us. It turns out that her famous side-swept waves actually doubles as a "shield."
"I hide behind it a bit because red carpets can be intimidating," she explained. "And when my hair is in my face, I feel less exposed."
Lively also has a pretty interesting way of getting mentally prepared to step out in front of the paparazzi's cameras. "I am so not confident on the red carpet. I just sit there thinking, 'What would Gisele do?' It is such a sensory overload."
She continued, "I've seen Solange [Knowles] perform in front of 90,000 people and I saw her [at the Met Gala] and was thinking, 'Oh, why do we do this? This red carpet is always so scary.' I saw her take a deep breath and put her performance face on, and you really have to do that. I'm not comfortable as me standing in front of 500 photographers, so I have to go somewhere else and pretend that I'm the confident person you hopefully expect me to be."
Well, you're quite the actress, Blake!