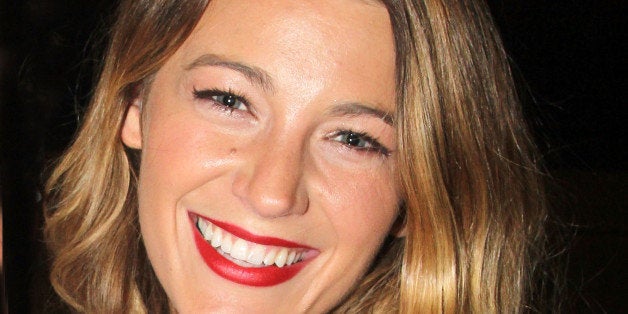 These days, our knowledge of celebrities too often originates with paparazzi images and snarky quotes by anonymous "insiders." After a while, it's easy to forget that stars are real people. That's why HuffPost Celebrity decided to launch its all-new #nofilter quick-fire question and answer series. Because how well do you know someone until they've shared their guiltiest pleasures?
Whether she's turning heads on the red carpet or on the Upper East Side as Serena Van Der Woodsen on "Gossip Girl," there is no denying Blake Lively is a part of a very elite group of fashion "it" girls. A fixture in most best-dressed lists, the 25-year-old Southern California native also managed to land herself in TIME magazine's TIME 100 list of the Most Influential People in the World in 2011. Now, Lively has been named the first face of Gucci Première, the iconic fashion brand's signature female fragrance. Here's what Lively had to say about getting glamorous -- no stylist required!
So, you're the new face of an iconic fragrance -- congratulations!
I love fragrance! It's a thing of mine, actually. I've made my own fragrance before, though that didn't turn out that well [laughs]. I'm always mixing fragrances because I like both feminine and masculine scents, so when they let me smell Gucci Première, I was so excited. It has the woodsy, strong male tones, but it also has the citrus and floral -- makes it kind of sassy! Now, rather than having five bottles of perfume, I have one. It's really an art, a craft.
What tips could you provide for our readers to help them look the best they can, without looking too "made up"?
I think you have to find what makes you feel good about yourself. A lot of people are really made up but they can't walk in their heels. If it looks good on someone else, and you don't feel good in it, you won't look as good. You should always wear whatever gives you confidence. Jeans and a t-shirt? Then that's what you wear. Find things that give you your identity. If you like your lips, lip gloss will do it for you. And the same goes for mascara! The greatest way to feel glamourous is to just feel like yourself and be in your own skin.
What is your day-of routine when getting ready for the red carpet?
I have a pretty laid-back day-of routine. I always like very natural hair and makeup. I don't like hair too coiffed or done. I like looking like you can end the night running barefoot through a fountain in Central Park. I always have people that do my hair and makeup that I really like, people that are honest. If I show them a picture and say that I like a certain style, they will tell me I don't have the right face shape for it.

What outfit are you most comfortable in or do you feel the sexiest wearing?
My style is always changing. There is nothing I'm most comfortable in. I'm most comfortable when I'm being creative with my clothes. If I'm wearing the same sort of thing for a couple days in a row I don't feel inspired. Fashion can be very artistic -- wearing something that's a little daring. I don't mean daring in the cut, I mean in the color, in the palettes your mixing together. It's very empowering.
Heels or flats?
Heels, of course.
Curly hair or straight?
I like wavy hair.
One affordable beauty product you absolutely swear by?
There is this brand sold in drug stores called Physicians Formula. They have this $8 bronzer. It looks like a mosaic of five different colors. I think it's called Mocha.
What's one thing from your childhood wardrobe you wish you still had today?
Luckily my mom is very sentimental, so a lot of our favorite pieces were things she made. She knew she'd have a lot of grandkids one day, so she saved a few key pieces. One thing I never got to wear though, was this "Teen Witch" jacket my sister had. It had puffy paint and it was all bedazzled, with big shoulder pads.
That sounds amazing.
It was!
One piece of style advice you've inherited from your mother/grandmother?
They always dressed their way, and I loved that. They dressed in what made them feel most comfortable. My mom would cut the sleeves off a dress, pull it down and wear it as a skirt. There were no limits to fashion for her. She had such an identity. I think what I learned is to dress like yourself. And explore what that is.
PHOTO GALLERY
Blake Lively's Style Evolution
REAL LIFE. REAL NEWS. REAL VOICES.
Help us tell more of the stories that matter from voices that too often remain unheard.
BEFORE YOU GO