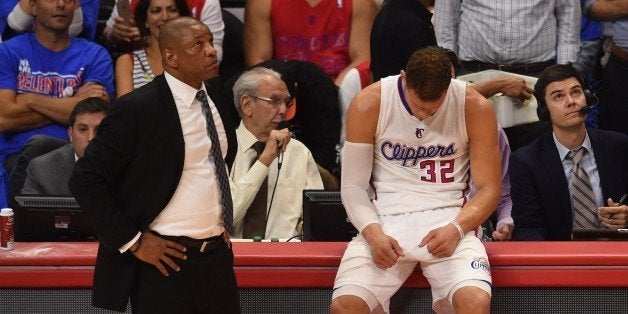 When you're the only team in the NBA not to have been to the conference finals since 1970, things usually don't go your way. In the case of the Los Angeles Clippers, blowing a 3-1 series lead despite having two legitimate top 10 NBA players is a huge embarrassment: An NBA team has been up 3-1 in a series 228 times, and this is only the ninth time ever that team has actually gone on to lose the series.
We could blame Chris Paul, the All-NBA point guard who -- just one season after single-handedly blowing a seven-point lead against Oklahoma City -- became just the second player ever to be named to eight All-Star teams and not advance to the conference finals. But to be fair, Paul averaged 26 points and 10 assists during his team's three consecutive losses to Houston. We certainly can't blame Blake Griffin, who has arguably been the best player during the playoffs.
It's rather simple: The blame goes to Doc Rivers, who's both the coach and the GM. Rewind a bit to last August, when Rivers traded Jared Dudley to Milwaukee. Dudley was fine -- an unathletic floor stretcher and not much else -- and Rivers dealt him for a protected first-round draft pick and Carlos Delfino. The Clippers promptly waived Delfino.
But the problem started earlier, with an absurd contract -- a non-taxpayer midlevel exception -- awarded to journeymen center Spencer Hawes. The result was a hard salary cap and less than $1 million to work with. Hawes, essentially a 7-foot spot-up three-point shooter, quickly became a total non-factor who barely even played during the postseason. Rivers also traded Eric Bledsoe, an emerging star at point guard, to extract value from a guy he wasn't sure would re-sign. And last summer, Paul Pierce seemed to be a realistic possibility, but Rivers balked at him as well. Pierce followed it up with a splendid postseason for Washington, hitting clutch shots and providing timely offense.
But the scariest part is that Hawes was hardly Rivers' worst acquisition. He also signed point guard Jordan Farmer to the biannual exception after letting reserve point guard Darren Collison walk in free agency -- only to cut Farmar later on -- and he signed Chris Douglas-Roberts, Jared Cunningham (also cut) and Ekpe Udoh. Fast-forward to this season's trade deadline, when Rivers traded for his son, Austin, a gunning combo guard who played a ton of minutes in the playoffs with little to show for it.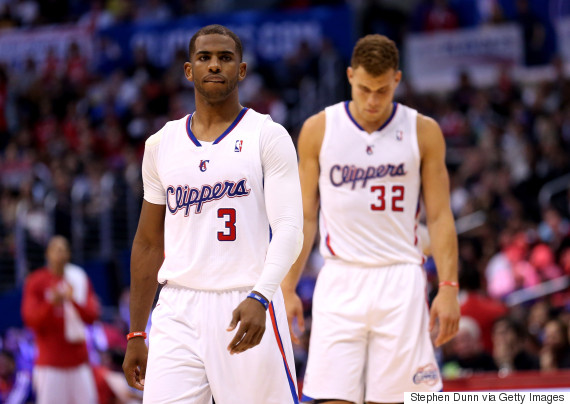 Rivers may not have been as bad a coach as he was a GM, but bad seems to have become a relative term. In Game 6, his team inexplicably blew a commanding 19-point lead while playing at home. Throughout the entire series, Rivers experimented with a slew of unsuccessful lineups, leaning heavily on reserves like Jamal Crawford, Glen Davis and his son, none of whom were able to provide the starters a boost. Crawford, a perennially losing player, was downright awful, "earning" most of Matt Barnes' minutes despite boasting a minus-4.9 per-100 possessions rating. Barnes, meanwhile, held a plus-11.7 clip. Perhaps just as detrimental was Rivers' stubbornness with Griffin's minutes. In several crucial stretches, including in Game 6, Griffin -- who averaged 40 minutes per game in the playoffs, up from his 35 during the regular season -- was visibly exhausted and ineffective when it mattered the most.
Still, that didn't stop Rivers -- who ran him into the ground -- from the post-game rationalization.
"I like our group," he said after Game 7. "Teams that have stuck it out, on the long run, have done better than teams that blow it up. We're really close, clearly. Maybe it's a defensive guy, one more guy; I don't now yet. Again, it sounds so easy, 'why don't you go get him?' It's not that easy, in terms of structure. Maybe we can do something, we will do something, but we're not going to bring in another max guy."
The Clippers don't need another max guy. What they need is to drastically improve one of the league's weakest benches (a seven-man rotation) and to have their coach -- their "I want to fix it" coach -- properly delegate personnel decisions to someone else and figure out a consistent rotation that works. His team is clearly built to win now: DeAndre Jordan is 26 (but enters free agency for the first time), Griffin is 26 and Paul is 30 (and signed for two more years). And that's why losing to the Rockets is that much worse: This team should be playing Golden State for a right at the Finals. Instead, it has the entire summer to think about what went wrong. In reality, though, we know the answer is rather simple.
Calling all HuffPost superfans!
Sign up for membership to become a founding member and help shape HuffPost's next chapter