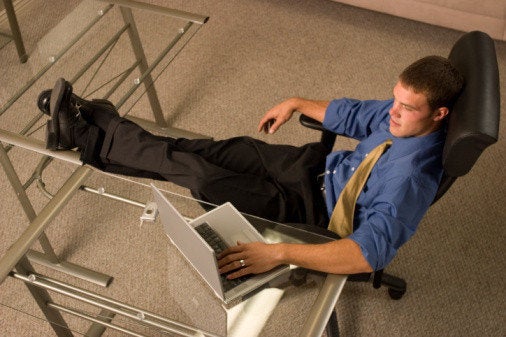 Conducted by researchers out of Pennington Biomedical Research Center, the study looked at the level of physical activity in U.S. occupations since 1960. The conclusion? The energy we burn at work has dropped on average by more than 100 calories over the last 50 years -- for both men and women.
While it may not come as a surprise that we're spending less time on the factory floor and more time in a chair in front of the computer, the study was the first to put an actual caloric figure on our increasingly sedentary 9-5's.
In the early 1960's almost half the jobs in private industry in the U.S. required at least moderate intensity physical activity, whereas now less than 20 percent demand this level of energy expenditure.
Careers in manufacturing, mining, logging and agriculture have decreased in the past five decades; they made up 30 percent of private-sector jobs in the 1960s versus 12 percent at present. Meanwhile service jobs like professional services, health and education, and leisure and hospitality have more than doubled.
Most Americans spend the biggest chunk of their waking hours at work, and the likelihood we'll see a cultural shift toward more physically active jobs is slim. Thus, the study posits, it's crucial to encourage physical activity during free time, or think of creative solutions to get moving in the workplace.
The new emphasis on declining workplace activity also represents a major shift in thinking, and it suggests that health care professionals and others on the front lines against obesity, who for years have focused primarily on eating habits and physical activity at home and during leisure time, have missed a key contributor to America's weight problem. The findings also put pressure on employers to step up workplace heath initiatives and pay more attention to physical activity at work.

What are your tips for staying active despite your desk job?