Aid workers pulled more than 1,000 migrants and refugees from nine floundering vessels in distress off the Libyan coast on Thursday, in another intense day for the Italian Coast Guard and humanitarian organizations operating search-and-rescue missions in the Mediterranean Sea.
The crews of Proactiva Open Arms, a Spanish aid organization involved in Thursday's operations, said they had evacuated two rubber dinghies and a wooden boat each crammed with more than 130 men, women and children. A 2-month-old baby with asthma was among the passengers of another wooden vessel intercepted that day.
Together with the Italian Coast Guard, humanitarian organizations like Proactiva, Doctors Without Borders and Save the Children are the only actors now running proactive rescue missions in the Mediterranean. As the number of migrants and refugees attempting to reach Europe reached new highs in the past few months, non-governmental organizations have come under fierce criticism from European politicians and officials, who accuse them of hampering efforts to stem the influx. "The NGOs are almost like a ferry service. It's almost as if the smugglers were putting people directly on NGO boats," an anonymous European official told Reuters last month.
But new research that the Goldsmiths, University of London, released last week argues that empirical analysis systematically refutes some of the main accusations leveled against humanitarian groups. "[This report] is written to avert a looming catastrophe," the researchers say. "If NGOs are forced to stop or reduce their operations, many more lives will be lost to the sea."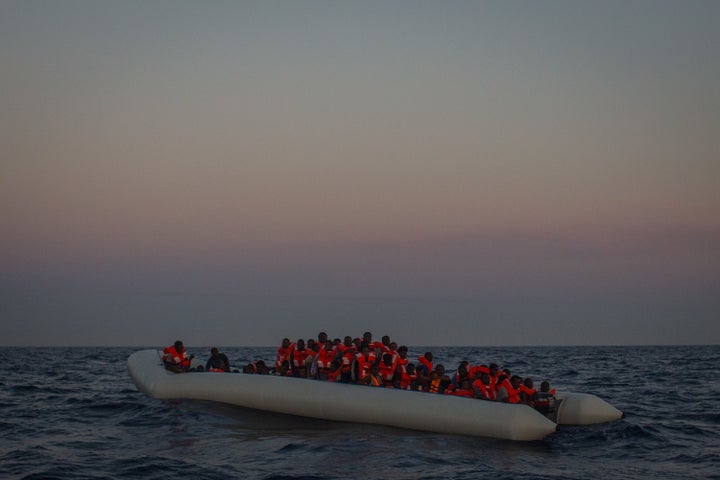 When Mare Nostrum came to an end in 2014, the European border agency Frontex launched a new operation in its place. Rather than focusing on search-and-rescue, however, the main goal of the Frontex operation was border protection. On April 12 and April 15, 2015, more than 1,200 people perished in two shipwrecks off the Italian coast. Many of the victims had been trapped in the vessels' hull after they capsized.
In the absence of a dedicated European search-and-rescue operation and confronted with a growing loss of migrants' lives at sea, humanitarian organizations launched their own rescue efforts coordinated by the Italian Coast Guard.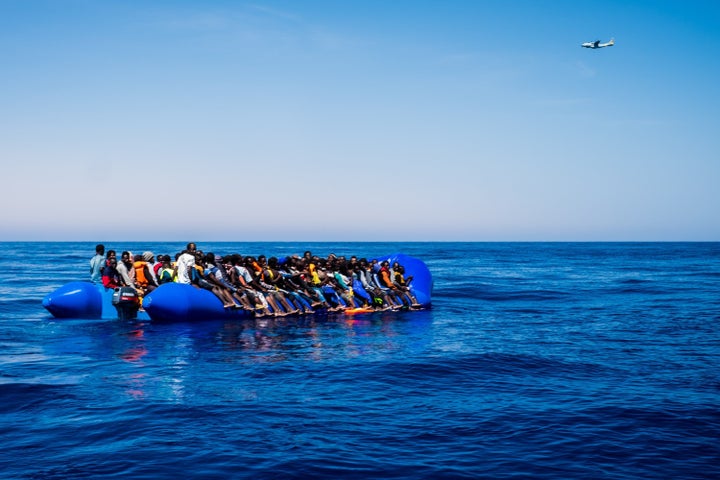 The large number of boats intercepted on Thursday was no rare occurrence. In the past few months, a staggering number of migrants and refugees attempted the 70-miles crossing from Libya to Italy. More than 65,000 migrants and refugees have arrived in Italy since January 2017, up 18 percent on the same period last year. At least 1,735 people have died trying to reach Europe this year. Many more are believed to have perished while making their way across Sub Saharan Africa to the Libyan coast.
Faced with a growing number of arrivals, critics of the humanitarian organizations have argued in recent months that the search-and-rescue missions create a "pull factor" for migrants and refugees.
"You are stimulating smuggling," said Belgium's Secretary for Migration, Theo Francken, blaming Doctors Without Borders in a heated Twitter exchange in March. "Your rescue operations close to the coast create a pull-factor and thus more deaths," he added to the agency, also known by its French acronym, MSF.
But Goldsmiths' researchers say that rather than the rescue missions, worsening economic and political conditions across the African continent, including the militant group Boko Haram's reign of terror in Nigeria and conflict and poverty in the Horn of Africa, have motivated migrants and refugees to attempt the dangerous journey. Those factors pushed migrants to the Libyan coast far before the search-and-rescue missions intensified. In addition, the researchers say, worsening violence in Libya has left many migrants with little choice but to attempt the crossing, whether rescue missions were operating or not.
If NGOs are forced to stop or reduce their operations, many more lives will be lost to the sea.
The Goldsmiths report also disputes a second allegation leveled at the aid organizations ― collusion with smugglers. In February, a controversial prosecutor on the Italian island of Sicily launched a fact-finding investigation into ties between the humanitarian groups and Libyan smugglers. Three months later, Carmelo Zuccaro said in court he had found no evidence proving the hypothesis.
While far more measured in his analysis, the head of Frontex echoed a related sentiment when telling Reuters in May that rescue efforts should be careful not to encourage smuggling operations. "We have to strike the right balance between saving lives and making sure our actions don't fuel a criminal business...by encouraging criminals to adapt their modus operandi to the fact that there will be vessels approaching Libya," Fabrice Leggeri said.
NGOs like Doctors Without Borders argue that when faced with people at risk of dying, aid workers cannot hesitate to respond. "Let's be clear, when you see boats like this in the Mediterranean, you have only two options, you rescue them or you rescue them," MSF tweeted on June 9.
"Humanitarian organizations carrying out search and rescue at sea are saving tens of thousands of people from drowning every year. Humanitarian action is not the cause of this crisis but is a response to it," MSF told HuffPost in a statement.
Frontex spokeswoman Izabella Cooper stressed in an email that the agency had never accused aid organizations of colluding with people smugglers. Frontex-deployed vessels have helped save tens of thousands of lives, she added.
The agency said that its analyses had shown that smugglers have been loading far more people into the rickety boats. The quality of the vessels has decreased dramatically in recent years and migrants and refugees were given just enough food and fuel to make it outside Libya's territorial waters ― far short of what's needed to reach the Italian coast. "In the past two years, the smugglers in Libya have changed their modus operandi and have become more ruthless," Cooper told HuffPost in an email.
While critics of the aid organizations' operations point to those worsening conditions to argue that search-and-rescue missions close to the Libyan coast in the long run endanger migrants' lives, the Goldsmiths' researchers say that the crossing has become more dangerous because of the worsening violence in Libya. Since the end of 2016, the researchers say, smuggling operations have increasingly been led by militias and that shift contributed to a change in the smugglers' methods. Additionally, the researchers argue, one of the reasons smugglers' shifted from using safer wooden vessels to rubber boats was the EU's own practice of destroying migrant vessels. "We argue that SAR NGOs responded to and were not the cause of these evolving practices that had instead been spurred by other processes and actors predating SAR NGOs intervention," the researchers write.
MSF argues that policies largely focused on anti-smuggling and stemming the influx of migrants and refugees are ineffective and don't do enough to reduce migrant death at sea.
"Although we cannot expect from Frontex to change its mandate, we are shocked to see that EU investment at sea is mainly focused on deterrence and surveillance and that there is no mandate of proactive SAR," MSF said.
Finally, the report argues, migrant deaths in the Mediterranean have been on the rise since early 2016, before aid organizations stepped up their missions in the Mediterranean. Migrant deaths declined after the NGO ships deployed and rose again when the search and rescue missions decreased.
"There is thus a striking negative correlation between the decreasing mortality rate and the rising number of SAR NGO vessels, which shows that the latter made the crossing safer," the researchers wrote.  
Calling all HuffPost superfans!
Sign up for membership to become a founding member and help shape HuffPost's next chapter
BEFORE YOU GO
PHOTO GALLERY
Women Refugees Over The Years