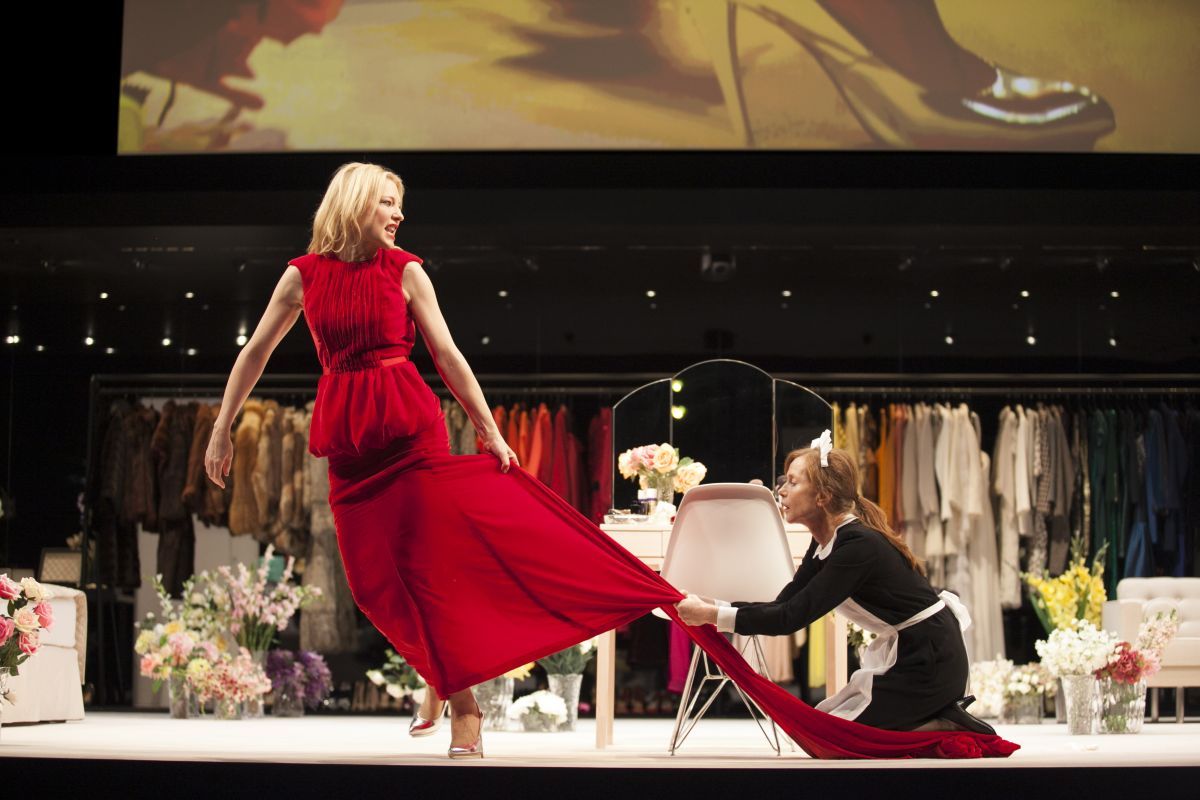 Pulling power: Cate Blanchett, left, and Isabelle Huppert breathe energy into Genet's darkly poetic work The Maids. © Lisa Tomasetti
Mirror, mirror on the wall, Genet's The Maids is surely among the most bizarre plays of all.
But stellar, layered performances breathe energy into this darkly poetic work which can be a challenge to realize convincingly. Cate Blanchett and Isabelle Huppert are the murderous, incestuous maids who use and abuse each other as they indulge their increasingly violent fantasies.
A video screen above them projects their performances from shifting camera angles as they act out their vicious rituals and await the return of their Mistress. The screen adds another layer of voyeurism to this hall of mirrors as the pair simultaneously perform on stage and on camera.
The opening moments see Claire (Blanchett) before a dressing table mirror, preening and archly abusing her sister Solange (Huppert) who nimbly exercises on a bed. Comic and cruel, this sets the tone for an assured new production from the Sydney Theatre Company.
The set, by Alice Babidge, is Mistress's lavish bedroom, filled to suffocation with flowers, a rear wall hung with designer gowns and furs and surrounded on three sides by reflective glass through which cameras are visible. It is a temple to narcissism, excess and paranoia.
While the hated mistress is away, the maids are at play. They enliven their domestic drudgery and servitude as they dress in her clothes, ape her disdain, smoke her cigarettes and plot her destruction.
Genet's 1947 play was loosely based on the Papin murders in 1933 that transfixed France when two sisters butchered their wealthy mistress and her daughter. The play was first staged as France was grappling with changing post-war class boundaries.
Britain was too, where the following year Robin Maugham penned The Servant (best known through Harold Pinter's film adaptation), a work with parallels to The Maids. Upstairs-downstairs power plays have compelled us in various forms ever since.
Genet was writing in a pre-electronic surveillance world; before phones were hacked, security cameras became ubiquitous and private images did not routinely end up on Facebook. It is less the unease over class boundaries than questions of the dissolution of public, private and psychic boundaries that resonate in this production directed by Benedict Andrews.
This is the third time Cate Blanchett has united with Andrews, who previously directed her in The War of the Roses and Gross und Klein, which toured to Europe. The Maids is her first stage appearance since stepping down as co-artistic director of the Sydney Theatre Company. Andrews has penned a new translation with Andrew Upton, Blanchett's husband and now sole artistic director of the Sydney Theatre Company.
Blanchett's mercurial ability to transform throughout The Maids -- one minute dominating and sexually transgressive, the next a clown, then abject and abused (her head forced down a toilet at one stage) -- is riveting.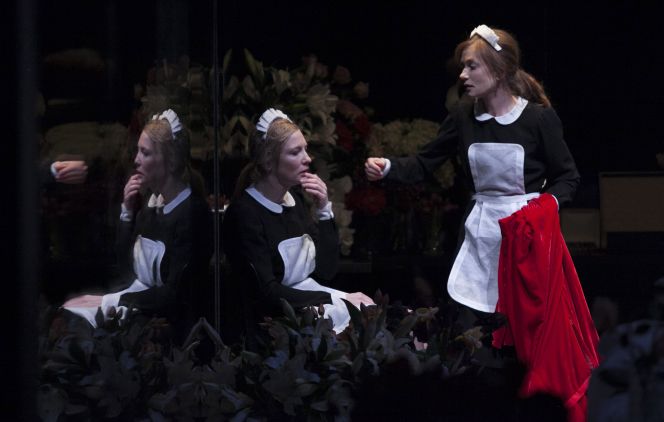 Maids of dishonor: Claire (Blanchett) and Solange (Huppert) plot the murder of their mistress. © Lisa Tomasetti
Huppert, in her first stage appearance in Sydney, has a child-like agility but is a quieter, brooding presence, which makes her psychic dissolution in a lengthy monologue the more disturbing, although her heavily accented French was not always easy to understand.
While Genet wanted the play performed by young men, it is most commonly cast with young female maids serving an older Mistress. Andrews upends that, casting 22-year-old Elizabeth Debicki as the demanding, superficial, disdainful Mistress.
Debicki, who appeared as Jordan Baker in The Great Gatsby, is a towering figure, in all senses. She commands attention as she crushes her mature maids with the cruel power of her youth and beauty.
The result is a compelling exorcism. What is real, who has power, gives way to a realisation that layers of reality exist simultaneously, endlessly shifting and refracted.
Genet's The Maids is at the Sydney Theatre until July 20, 2013.
Calling all HuffPost superfans!
Sign up for membership to become a founding member and help shape HuffPost's next chapter