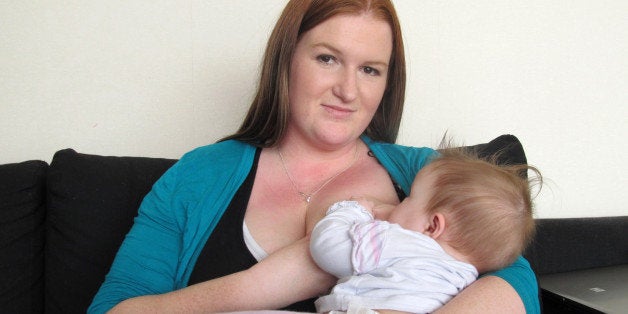 Breastfeeding-shaming turned a bit more aggressive in New Zealand recently.
A worker at an employment office threw a blanket twice on a nursing 7-month-old's head, telling the mother that men were present, Stuff.co.nz reported.
The outraged mom, Ashley Hollings, pulled the blanket off her daughter, Kaitlyn, and told the worker that she didn't mind the presence of males. (A few women were also nearby.) "No one batted an eyelid when I was feeding her," Hollings said to the outlet, adding that the employee continued to eye her afterward.
A Work and Income (WINZ) official in Auckland apologized for the incident and said mothers are welcome to breastfeed at the WINZ sites.
But no matter how a reprimand is delivered, it shouldn't be given at all, Katharine McKinney explained in a widely circulated essay for The Huffington Post.
"Breastfeeding whenever, wherever a child is hungry is an integral component of breastfeeding success," she wrote. "To take that away is to inhibit mothers who only want to do right by their child. We don't put the same constraints on mothers who bottle feed. To dictate a separate set of rules for a nursing mother and child is discriminatory."
Related