On Sunday, I used my car and full tank of gas to bring supplies to the Rockaways, one of the New York areas hardest hit by Hurricane Sandy and most difficult to deliver supplies to because it's so out of the way and there's a gas shortage. My friends and I bought supplies at Costco and drove them out. The two most remarkable things about Rockaway are:
The need: Blankets, candles, batteries and hand warmers were getting snatched up as soon as we got out of the car.
The cold: Rockaway is on the beach (as are many of the hard-hit regions), and the winds are whipping. Everyone knows how cold it's been since the storm, and we're racing against time with the Nor'easter headed to these regions. The hurricane survivors really need warmth, so blankets are key. (We also want to emphasize that no more clothing donations are needed--the emphasis is truly on anything that provides light or heat--so please only donate things that will accomplish that.)
In an effort to do the latter, HuffPost Home is organizing a #BlanketsForSandy initiative, and there are several ways to help, depending on where you live.
In the New York area: 1. Buy blankets (since you may not have extras sitting around your house). Costco has blankets for as little $12.99, while Ikea has some for as little as $4!
2. Occupy Sandy has been key in organizing shipments to the hardest hit boroughs. You can donate winter gear at the St. Jacobi Church in Brooklyn's Sunset Park located at 5406 4th Avenue at 54th Street (contact: 347-470-4192).
3. The Red Hook Initiative is taking donations of blankets at Good Shepherd Services, 173 Conover Street, Visitation of the Blessed Virgin Mary, 98 Richards Street/Verona Street and 767 Hicks Street in Red Hook.
4. On Manhattan's Upper East Side, Saloon NYC has been accepting donations at 1584 York Avenue. All of these donated supplies will be delivered to St. Francis des Sales church in Belle Harbor. Check their Facebook page for updates on collection times.
5. On Manhattan's Lower East Side The Bowery Mission at 45-51 Ave D is open 24/7 and will accept any donations you can bring. For more info, contact 212-777-3424.
6. In Brooklyn, NY Communities for Change (NYCC), 2-4 Nevins Street, 2nd Floor is bringing blankets and other supplies twice a day to Far Rockaway. Drop-off donations between 9 a.m. and 7 p.m. For more info, contact Olivia Leirer oleirer@nycommunities.org to find out how you can help with transporting items. You can also bring items directly to City Council Member James Sanders' Office, 15-26 Central Avenue #2, Far Rockaway.
1. Register online at Jersey Cares to search how you can help areas around NJ in the weeks to come. It is expected that blankets will be among the supplies requested by families in need.
2. Union Beach, NJ, a coastal town hit extremely hard by Sandy, is accepting donations of food, toiletries, clothing and blankets at the municipal building, 650 Poole Ave. and at the Union Beach Firehouse 1, 1110 Union Ave.
3. Your old blankets and towels are useful, too. Bring them to the Associated Humane Societies in Ocean, Essex and Monmouth Counties, where they will be used to help animals affected by the storm.
4. Visitation Church is accepting donations of blankets, pillows, food and toiletries at 755 Mantoloking Road in Brick, NJ. It's open from 8 a.m. to 7 p.m. and also has weekend hours. Call 732-920-1365 for more info.
If you're not anywhere near New York or New Jersey, consider the ways that you can still help:
Restore The Shore: Visit this Facebook page to find out where you can drop off or ship blankets (among other much-needed goods) to hard-hit coastal communities in NJ.
Red Cross: Donate online or via text message to American Red Cross Disaster Relief.
So what will you be donating for Hurricane Sandy relief? Add your photos in the slideshow below.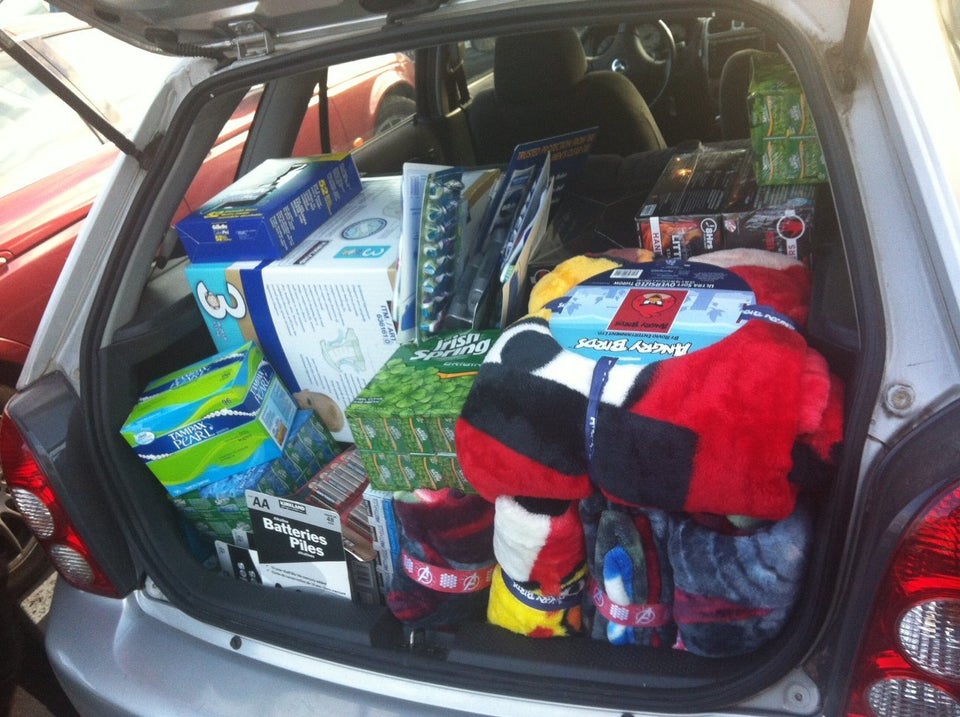 Hurricane Sandy Relief Donations
Popular in the Community