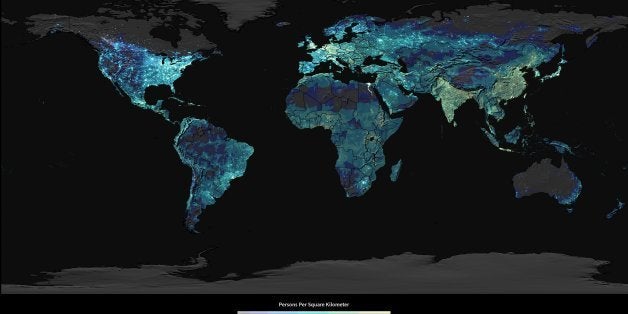 "Night-lights" is one of NASA's most well-known images from space. With more than half the world's population living in cities, and this percentage projected to increase to nearly 70 percent in 2050, cities are now being recognized globally as essential partners in the achievement of a sustainable world. The new Sustainable Development Goals (SDGs) on the block calls for cities and human settlements to be inclusive, safe, resilient, and sustainable.
How did the new urban SDG come about? Early in 2013, leaders of city groups met at the Bellagio Center run by the Rockefeller Foundation. There, Rafael Tuts of UN-Habitat told us that, for the urban goal to be a "winner" through the long and complicated process of getting a new SDG into the list (there were more than 100 originally proposed!), "All horses (i.e., cities and cities groups) need to pull together." And pull together they did. To date, more than 200 cities and regions have joined the Urban SDG campaign, as well as more than 50 city-related networks and organizations.
Why an urban SDG? Cities are not only where people live -- they are economic powerhouses. A recent New Climate Economy study demonstrated that, based on current trends, about 500 cities belonging to three groups (Emerging Cities, Global Megacities, and Mature Cities) will account for more than 60 percent of global income growth.
Cities are also where people shelter their families. According to UN-Habitat, 96,150 housing units are required a day until 2030 as it is expected that 3 billion people (40 percent of the world's population) will need adequate housing and basic infrastructure by then. This is a major challenge, as some cities have up to 80 percent of their populations living in slums, and 55 million slum dwellers have been added since 2000.
NASA missions such as Landsat and Aura provide critical data for how urban areas affect the environment. Crucially, cities are increasingly where and how humans interact with the environment, both globally and locally. Cities have long grappled with the traditional but still urgent local-environmental issues of air and water quality.
And cities are leading the way in climate resilience, as well. They are often at the forefront when disasters such as hurricanes and heatwaves strike, marshaling responses to these and other extreme events and supporting vulnerable communities. Now cities are taking increasing risks from climate change into account, as they rebuild from current disasters, as is being done in New York City after Hurricane Sandy.
How is progress measured? Measuring progress in sustainability can be challenging in the often-sprawling, complicated places that cities are. The targets aim to ensure safe and inclusive access by 2030 to all the basic services that cities provide -- housing, slum upgrading, transportation, green spaces, etc. -- and to set up inclusive planning processes to accomplish these ambitious tasks. While indicators for measuring progress toward these have not yet formally been specified, some of the proposed measuring sticks are:
a) Percentage of urban population living in slums or informal settlements
b) Percentage of people within 0.5km of public transit running at least every 20 minutes
c) Losses from natural disasters, by climate and non-climate-related events (in US$ and lives lost)
In New York City, Mayor de Blasio has recently released a sustainability plan entitled One New York: The Plan for a Strong and Just City (OneNYC). In it, he states: "In 2015, the world's governments are set to establish the United Nations Sustainable Development Goals for 2015-2030, focusing not only on ending extreme poverty and hunger, but also adding the challenges of ensuring more equitable economic growth and environmental sustainability. OneNYC follows the same path, recognizing the critical link between sustainable and inclusive growth moving forward, not only for our city, but for the world."
This is an exciting time for cities -- the urban SDG is on track to be adopted by the United Nations this month. Looking forward to the UNFCCC Conference of the Parties in Paris in December, cities are being recognized as crucial partners in climate-change solutions, as well. "All sustainable city systems go," as we say at NASA.
This post is part of a series produced by The Huffington Post, "What's Working: Sustainable Development Goals," in conjunction with the United Nations' Sustainable Development Goals (SDGs). The proposed set of milestones will be the subject of discussion at the UN General Assembly meeting on Sept. 25-27, 2015 in New York. The goals, which will replace the UN's Millennium Development Goals (2000-2015), cover 17 key areas of development -- including poverty, hunger, health, education, and gender equality, among many others. As part of The Huffington Post's commitment to solutions-oriented journalism, this What's Working SDG blog series will focus on one goal every weekday in September. This post addresses Goal 11.
Calling all HuffPost superfans!
Sign up for membership to become a founding member and help shape HuffPost's next chapter