When I started out chronicling the history of burlesque it never occurred to me I would be faced with saying farewell to so many new friends. I hadn't realized I would even be calling them friends. But they were. I should have realized when interviewing men and women in their seventies, eighties, even into their nineties, the losses would come. I hadn't expected to stay in contact with them, chatting, sharing photos, worrying, helping when I could. One I will miss the most is the recently departed auburn-haired, brazen, all-American Blaze Starr.
When I first spoke to Blaze it was hard to believe she was in her late seventies. She spoke frankly and honestly. Over time we talked about many things; sex, men, love, boobs, family. She honored her family and had moved back to the family homestead to help care for her mother and beloved brother Ben. Ben was my first conduit to Blaze and she called me (something she rarely did, I usually called her) after he passed to let me know, as I had had an internet relationship with him, checking on his sister. He had been in ill health, confined to a wheel chair, yet took care of sending out her autographed pictures and selling her jewelry on line. Blaze had me speak with her sister about a niece she wanted to help get into the movies. I made suggestions.
The woman I knew I called Blaze, not by her birth name. She had started out as Fannie Belle Fleming, born April of 1932. Her family was large and loud and close. She helped raise a handful of younger siblings. It was a hard life. They didn't have much money and were lucky enough to get a new pair of shoes once a year. Her daddy got black lung. She was gang-raped as a teen.
Understandably she wanted to escape the hardships of the hills of West Virginia. She didn't run away - like many who stumbled into burlesque- but wanted more from life and when offered a chance to sing, "Yodel" and play the guitar on the stage she left. Of course, with a voluptuous body like hers, and a flowing auburn mane, the owner (who later managed her career until he attempted to rape her) quickly urged her to take off her clothes for the boys in the audience, many soldiers. She was not going to show her "boobies" until he urged her to "Do it for America." Being a patriotic gal she decided what the heck. The reaction was life-changing. She had wanted to be a movie star and flourished under the cheers and hollers of the audience.
Blaze had found her calling. "I loved every minute of it. I loved the audience." She became the "queen" of New Orleans and then Baltimore, setting fire (sometimes literally, more on that) on Bourbon Street and East Baltimore Street, known affectionately as The Block. The "hick from the hills" quickly made a name for herself, never ashamed to say she made a living taking off her clothes. She understood her place in burlesque. "The men need strippers ... They need to fantasize." Eventually she would own the Two O'clock Club on The Block, being one of the wiser strippers who saved and invested for a future when "there won't be no one buying you goodies," as one of her employers warned her.
Blaze started stripping in the 1904s, but was a product of the 1950s type burlesque performer. Big-bosomed, bold, sassy and unafraid. She was clever and handy with tools. She created an act where she set her chaise on fire on stage, taking a couple peach cans and wiring them to waft smoke underneath her writhing body. She was quite proud of that.
For a time she worked with a series of dangerous cats, including panthers and leopards. Eventually giving them up after one jumped on her back and she was convinced it was going for her jugular.
I managed to persuade Blaze to sing for me her song "38 DD" for my documentary Behind the Burly Q. She would have to stop a few times because of a coughing fit. She explained she had heart problems. Had for years. She had endured five by-passes. When a doctor told her about her heart she decided to quit performing because she didn't want to die half-naked on stage.
Like many in burlesque, Blaze suffered her share of prejudice. She once lost a promising romance when her boyfriend's father, a prominent politician tried to pay her off to leave his son. She refused and the father sent the son on an extended trip around the world. Blaze got on her hands and knees and prayed to be over that heartache. Then she moved on. Another romance, a captain on a local police force, refused to acknowledge his flamboyant mistress and had her arrested one night when she was working her usual gig in a club. She vowed to get even, by becoming famous and then tattling to his wife. The captain most likely was the future mayor of Philadelphia, Frank Rizzo.
With John F. Kennedy Blaze seemingly didn't want to get involved with the then Senator, partially because of his "bushy hair." Relationships didn't stand in the way. She was single. So was he. However, it wasn't until they were both married that she fell into a full blown affair with the soon-to-be-president. Encouraged to be nice to "your next President" by her lover of the time, Governor Earl Long, Blaze, was indeed "nice."
She had fun with sex, even when it - and the men - didn't treat her so well. Many cheated on her, one even explaining "it don't mean more than taking a s*#t."
Blaze remained loyal, sticking by Governor Earl Long, refusing money he left her in his will. (Small world, Lolita Davidovich, who portrayed Blaze in the Paul Newman starring film, was a surprise guest at the premiere of my film.)
Blaze continued to believe the right man would come along. "He never did," she told me. But, she was in love "four or five times." And one of the last times we spoke she hinted there was still a man in her life.
Blaze was crafty, sewing many of her own costumes, some of which I own. One, she was particularly delighted it had found the right home with me. I told her my daughter's name was Zsa Zsa. Many years prior a dishonorable press agent promised her a spot on a national talk show. He said it was six months in the future and she would be on the program with Hungarian bombshell Zsa Zsa Gabor. Being a master of publicity Blaze began to plan her outfit, a baby pink gown and cape covered in hundreds of sparkling crystals. She was determined to outshine the diamond-wearing Gabor. Alas, the talk show never came to fruition, but Blaze did use the gown on stage. However, with all the crystals it was heavier than she expected, "and I couldn't wait to get that thing off," she told me. "It took me six months to sew," she said.

For the forward of my first book "Behind the Burly Q" Blaze wrote "I was proud to share my story with Leslie." Blaze, I was proud to know you.
Engrossed in writing my next book, this about one of her contemporaries, Lili St. Cyr, it had been months since I last spoke to Blaze who had admitted to feeling a bit poorly. She spoke about a bear that regularly lumbered upon her porch and her little dog she was afraid it might get. She sounded as she always did, vital and youthful with a sexy, husky voice coming over the line from the "holler" where she lived. I always thought I would have time for another phone call, another laugh. Sadly it was not to be. She died June 15th. But I will have the photos, and the gowns and the stories, and her voice on tape, singing to me.
In the hills of West Virginia
There's a place called Hillings Dale
Long ago I lived there, and my name was Fannie Belle . . .
I said good bye mama. You'd be proud of me
You said if I keep on growing I'll be a 38 Double D
So I'm a 38 Double D and they all come to look at me
And if inches really count I'm in luck from A to Z
Bold, unapologetic, kind-hearted, a bigger personality than even her formidable chest. Blaze Starr was more than her body, an endearing legendary broad, a luminous star now aligned with more of her kind.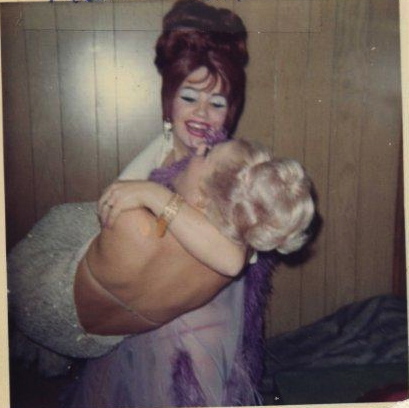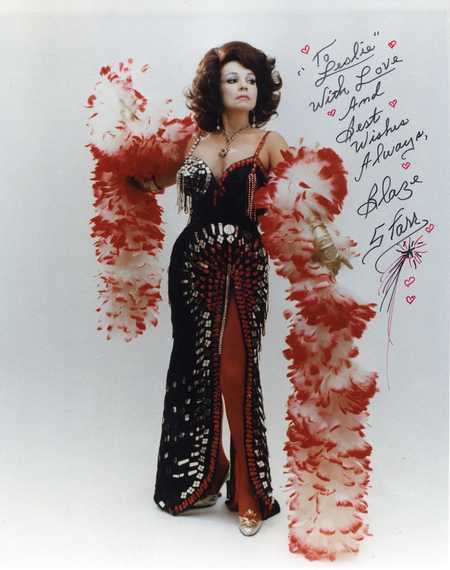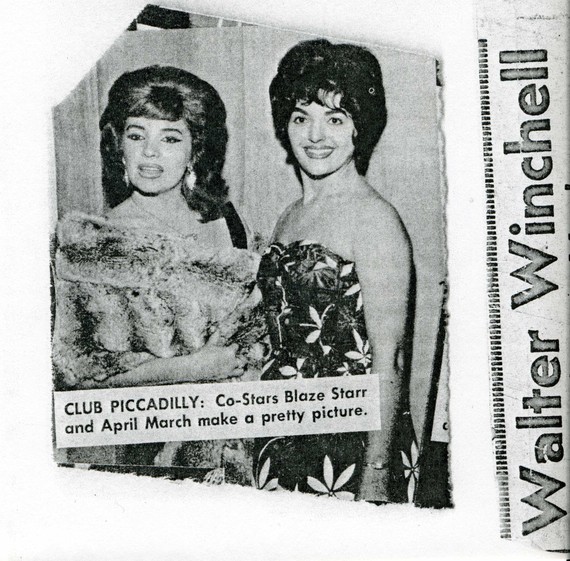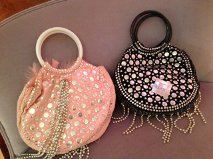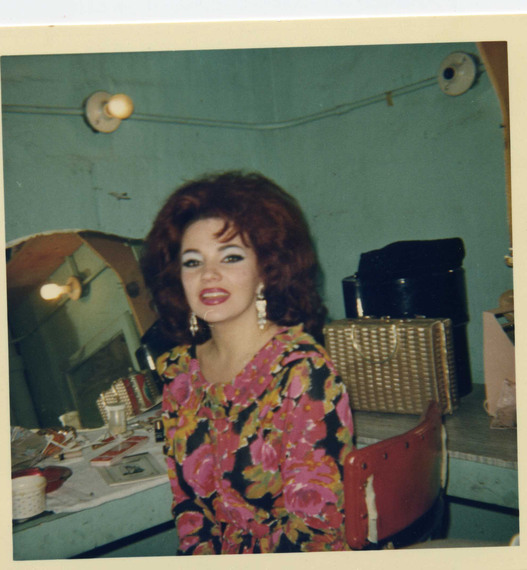 Leslie Zemeckis is the author of Behind the Burly Q, the definitive history of burlesque and the director, producer of the award-winning documentary Bound by Flesh, about Daisy and Violet Hilton of Sideshow fame. She had one of the largest collections of burlesque memorabilia. Goddess of Love Incarnate, her biography of stripper Lili St. Cyr will be published by Counterpoint Press September 2015. @Lesliezemeckis, www.lesliezemeckis.com
Popular in the Community