Early Tuesday evening, University of Texas at Austin students and community members gathered under the shadow of the campus's iconic Martin Luther King Jr. statue. The Texas heat was beginning to relent, but fiery emotions in the wake of several violent incidents near campus brought the group together in order to speak out against what many are calling deep, lingering racism on and around campus. Organizers rallied participants at the statue, and two minority students spoke to the group about their recent experiences of being "bleach-bombed." The group then marched toward the West Campus neighborhood.
Over the past few weeks, reports of bleach-filled water balloons thrown from apartments in West Campus have gained attention and prompted a response from students in UT's minority communities who feel that these attacks are racially motivated.
Taylor Carr, a sophomore anthropology student, spoke to the group about her experience; bleach-filled balloons had been lobbed at her from a high apartment balcony as she walked through West Campus.
"It is people of color they are attacking in West Campus," Carr said. "Until we put pressure on the university to [protect] us, these events are going to keep happening."
Earlier in the afternoon, the university held a small press conference at which UT Chief of Police Robert Dahlstrom, Dean of Students Soncia Reagins-Lilly and Vice President for Diversity and Community Engagement Gregory Vincent briefly spoke about the university's response to the bleach-bombing incidents.
African and African-American studies senior Jamilah Beene was upset with the late notification that a press conference was to be held.
"If you want to reach out to the students, why were they were not invited to the press conference?" said Beene. "There was no notification to anybody on campus that this press conference was going on."
The march moved on toward the statue of Barbara Jordan, where yet two more students told their bleach-bombing stories and levied criticisms against recent racially-themed parties planned by other UT student organizations.
"We are finding that a lot of students do not know what is going on," said human development and family sciences senior Jamesha Chapple. "I wasn't bleach-ballooned, but because it happened to people I care about in this community, I am marching with them."
A few UTPD patrol cars escorted the group into West Campus via 24th Street and then up Rio Grande Street.
The marched continued all the way to the 26 West apartment complex on the corner of 26th and Rio Grande Streets -- the place Carr says she was bleach-bombed.
Chas Moore, a former UT student and community activist who has played a lead role in organizing current students' response, stood on the sidewalk and used a megaphone to address safety concerns and broadcast a pointed message to the group assembled on the street in front of him.
"This is not 1960," Moore said. "We are not going to be afraid to walk anywhere. We are not going back in time."
Moore encouraged any "bleach-bombed" student to report the attack to UTPD as well as APD. He also told students to report any incidents of prejudice that they experience to the Campus Climate Response Team.
The CCRT is a task force coordinated by the Division of Diversity and Community Engagement and the Division of Student Affairs that was established in March. If students, faculty or staff witness a biased incident, they can use the online reporting form or they can call in a report. The online form asks questions about the incident including location, date, the perceived motive of the incident and what action the reporter hopes the university will take.
Reagins-Lilly was present at the march and had mixed feelings. She said that multiple reports have been filed using the CCRT.
"On one hand it is very troubling and unfortunate that these reported incidents have occurred; however, it is beautiful and powerful to see our community come together and voice their concerns," said Reagins-Lilly.
Yet Moore closed with a chilling warning regarding his next steps should the University or police fail to help end the bleach-bombing:
"If they touch another student of color or any gender or anything I am coming over here myself, and that, my friend, is a promise."
UT's Greek community, specifically member organizations of the Inter-Fraternity Council and University Panhellenic Council, has recently drawn sharp criticism for racially-themed parties at which sorority and fraternity members and their guests -- who, for the most part, are white -- dress up in stereotypical clothing associated with a minority group. The local chapters of Tri Delta and Zeta Tau Alpha have recently apologized for a fiesta-themed party where two party attendees wore shirts that read "Illegal" and "Border Patrol."
Mandy Stein, a member of the Alpha Phi sorority, urged participants not to assume that all members of the Greek community oppose their cause.
"Please don't dismiss everybody because there are people out there who care and that want to help," Stein said.
Even though Stein made this plea, she still believes that the majority of the Greek community will not take up the cause or support the communities who are affected by the bleach bombs.
"It doesn't affect them," said Stein. "I can promise you that [bleach bombs] are not done to white students. They throw water balloons [rather than bleach balloons] at girls going through rush to mess up their dresses."
However, others disagree.
Contrary to Stein's claim, one source (who did not wish to be identified), said that as early as 2007, he witnessed bleach-filled balloons dropped on groups of mostly white women participating in sorority rush.
Two 26 West residents who live in a unit on the complex's ground floor (and declined to reveal their names) also said that bleach-bombing incidents are not so rare and occur "maybe once or twice a month." They also said, based on their first-hand observations, they believe the bleach bombs are not targeted at anyone in particular.
Many in the group of protestors would disagree. Moore noted earlier during the march that on at least one occasion, the bleach bombs had been followed with racial epithets shouted from above.
Reagins-Lilly also said she was informed earlier this year of bleach-filled balloons being thrown at students rushing a sorority.
One West Campus resident, who also asked to remain anonymous, said he stopped to observe the march while it paused outside 26 West. He said that he and a few others with him felt specifically targeted by a member of the protest group.
He said that one of the protesters used the megaphone to shout at him and the others, saying "Those are the people we need to fight" and accusing them of laughing at the protesters.
"When groups act this way, it only damages their cause," he said. "They assumed we were racist because we were white and looking at them. They were trying to fight against racism with prejudice."
Editor's note: In most cases, The Horn avoids using material from anonymous sources. However, this story includes material from several. Though we invited each source to speak on the record, we felt their various reasons for declining were understandable. Their perspectives are valuable enough to the story that they warrant inclusion.
Related
Before You Go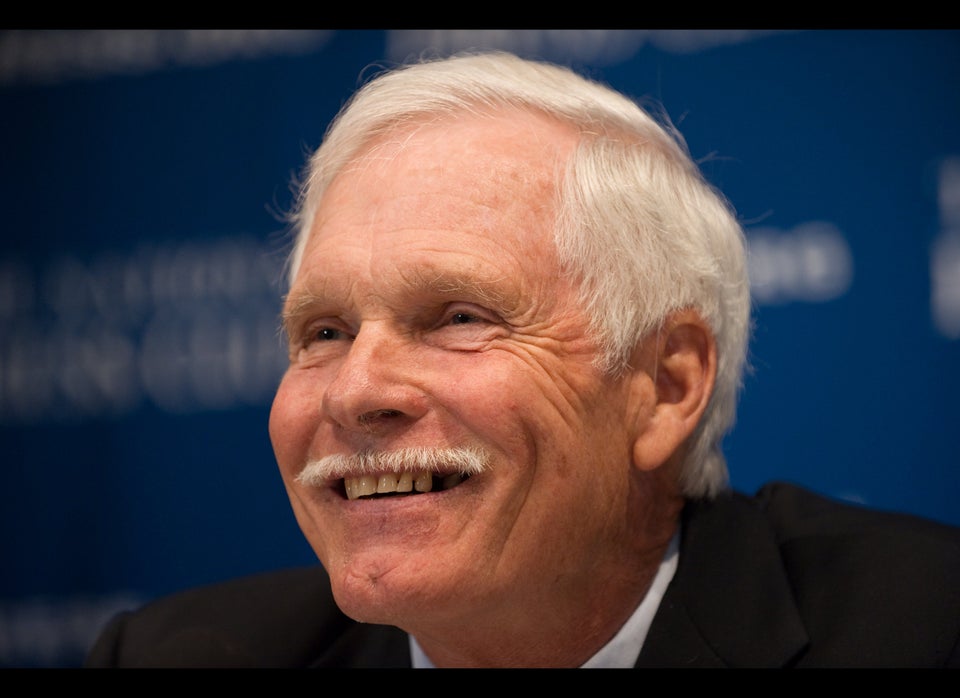 College Dropouts Who Made It Big
Popular in the Community