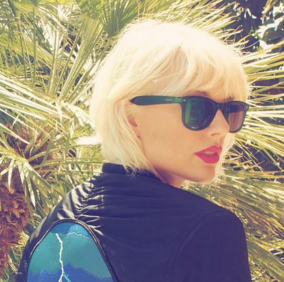 Her new look is cool and edgy, and is definitely giving us Debbie Harry vibes. And we have no doubt that she'll motivate even more women to take the blonde plunge. But before you run to the drugstore to grab as many boxes of hair dye your arms can hold, there are a few things you should keep in mind when going bleach blonde.
It isn't as simple as painting your hair the desired shade.
"Many times people think that they will put a lighter shade of box color on their hair and they will achieve a lighter color," international hairstylist and colorist Pasquale Caselle told The Huffington Post. "Color does not lift color and you will end up with hot roots and dull ends with no change to the darker shade already on your hair."
You need to "lift" your natural hair color in order to start with the proper base.
This is especially key for brunettes, redheads and individuals with richer hair colors. "Do not attempt to go all over blonde or even make an extreme transformation at home," said Caselle. "Salon professionals know how to get your desired look without damaging the hair. If you attempt it on your own, you can end up with either green hair or hair that is so badly damaged that it needs to be cut short and grown out."
Just say no to DIY foils.
To reiterate, attempting to use professional hair color foils at home can create blotchy patches from the lightener bleeding onto the scalp. The process can take between 35-45 minutes at the hair salon, but it's worth it when you consider that the biggest mistake women make when doing it themselves is not paying attention to the clock.
And to keep your hair healthy once you leave the salon, you must...
Use a sulfate-free shampoo to extend the life of your color and leave-in conditioner to put moisture back in the hair. For extremely dry hair (or in the colder months), when rinsing your conditioner out, leave a bit of conditioner on your ends. Make sure to rinse with cool water to seal down the cuticle to get shiny hair. Once a week, do a deep conditioning treatment to retain hair elasticity and manageability. Always apply a thermal protector before styling with hair straighteners or blowdryers. This will save you from breakage. And avoid shine serums full of heavy silicones that will weigh down strands.
Ready to go bleach blonde? Get inspired by these blindingly bright hairstyles we found on Pinterest.
Portions of this article were previously published on March 6, 2013.