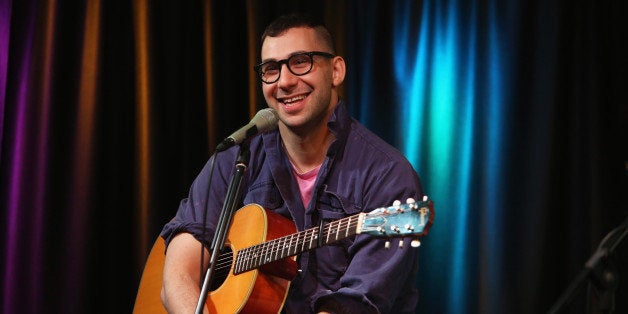 That New York cliche about running into people you know, even while living in a city of 8 million people? It's true: While waiting inside the Bedford Ave. train station in Brooklyn on March 27, I ran into one of my co-workers. We started talking, and I told him that I just saw Bleachers, the solo project of fun.'s Jack Antonoff, perform at the Music Hall of Williamsburg. Just then, a drunk 20-something waddled over to us. "I'm really sorry to interrupt your guys conversation," he slurred, "but I totally just saw Bleachers and it was fucking amazing!"
The train arrived, and to my luck, our new friend was headed back into Manhattan as well. He spent the entirety of the ride listing off every fact he knew about Antonoff and his new venture. He fumbled with the zipper of his jacket to show me his brand new Bleachers shirt, having replaced his sweaty fun. tee immediately after purchase. He asked me why I went to the concert, and so I told him about the planned interview with Antonoff. As I got off at my stop he yelled out the doors, "Write about me in your story! Tell Jack I'm his biggest fan!"
I hope you're reading, drunk guy.
That night was only Bleachers' fifth live performance, and the concert sold out. Bleachers had only released one song, "I Wanna Get Better," but there wasn't one song that didn't have fans thrusting their hands in the air with abandon. Antonoff and his backing bandmates blazed through an exceptionally percussive set -- two drummers! -- that sent even the most petrified limbs sputtering at the knees. As the concert closed with the band's single, there wasn't one person in the crowd who wasn't screaming, "I wanna get better, better, better, better!"
"It feels amazing, as well as the culmination of basically 14 years of being on tour and making music," Antonoff said. "I don't think it's a common thing. The support and the faith I was feeling from the audience, both at that show and when I released one song and everyone got behind it, is similar in the faith that I like to play to people. That people are smarter than they get credit for, that they want to hear music where there's this back and forth, mutual respect between us. The way that people have gotten on board with me is the most encouraging thing in the world, but it's all very connected to the 14 years I've been on tour with Steel Train, even my band before that, Outline, and then fun. and now Bleachers. I've worked so hard for so long and everyone's reaction has made me feel like ... almost like they trust me, which is just a wonderful feeling. It pushes me to write things better and better."
Antonoff wrote the entire time while touring the world with fun. He had never been able to write while on the road during previous circuits, describing his travels as the least ideal moments for him to channel his creative energies, but something was different this time around.
"For some reason I was really compelled," Antonoff said. "In a way where I wanted to wake up in the morning and write. To not just lay around in my hotel room, but to get out in New Zealand or wherever I was and put songs together. There was nothing else that was driving me."
Poised for a summer release -- and inevitable summer domination -- the debut album expands from "I Wanna Get Better," never sacrificing its catchy nature for depth. Sitting somewhere between the indie sounds of Steel Train and radio-charged pop of fun., Antonoff greatest influence is from the '80s, where mainstream music and good music co-existed.
"The active influence was parking back in this time in history, kind of like in a lot of John Hughes films, where you have these huge, amazing pop songs that sounded fucking incredible," Antonoff said. "They were experimental and changing things as they were coming out in pop, and mainstream didn't have to be this bummed-out feeling. And then, you know, I grew up in the '90s, and that was a similar thing, where you'd also feel like your friends around your same age are listening to all the same pop music. Which at the time was Nirvana, Smashing Pumpkins and Pearl Jam, and that was mainstream. Then everything got kind of embarrassing and weird, and I moved into the indie bands. When I started playing in bands we had to be apologetic for what we did. We had to be apologetic because the mainstream was so bad."
He continued: "Now we're in a place where I feel like there can be a shift. The Bleachers album is meant to be as interesting and artistic and creative as anything I've ever done, but there's absolutely no apologetic element of how important culture is as I want it to be. I think that's something that I've struggled with a lot of my life. I want to be able to do work where I think it's very forward, but I also want it to exist in a big way and have an effect on a lot of people. You don't have to have one or the other anymore. I was very influenced by a time in the '80s when that was existing more commonly."
It was with purpose that little word of Bleachers had escaped before the release of the first single. Antonoff didn't want any hype rattling before the music launched, because this project is entirely about the music. He could have used his own name for the band, but instead chose the working title of one of his songs, a word that describes simple bench seating. And there's something about this choice that really captures the album's candor.
"A lot of it is me being very honest with the things that I've been through," Antonoff said. "I think the only way that I can tell an interesting story that matters is to tell my story. I've gotten a lot from music, hearing other people's stories. It talks a lot about the challenging and more horrible things I've been through. 'I Wanna Get Better' is a perfect example of that, the words are very literal. A lot of people might think it's dark, but to me it's very hopeful. It's about moving on and finding ways to be kind to yourself."
REAL LIFE. REAL NEWS. REAL VOICES.
Help us tell more of the stories that matter from voices that too often remain unheard.
BEFORE YOU GO
PHOTO GALLERY
Celebrity News & Photos