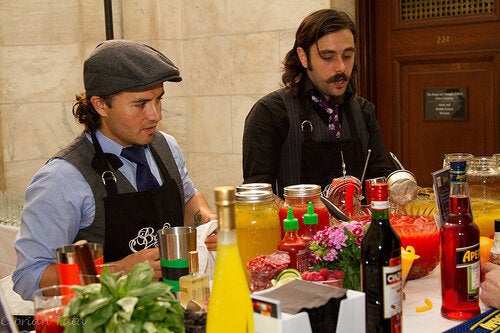 Manhattan -- a small island off the eastern coast of America, sometimes known as New York City -- is a cocktail lover's paradise. Looking for a really good martini? An exact recreation of a libation that was last consumed in 1917? Drinks made with bacon? An artisanal cocktail made with artisanal spirits and artisanal juices served by artisanal people in an artisanal bar? This sliver of a borough has it all and then some. So you can only imagine how the livers of the cocktailian class trembled in anticipation of the first-ever Manhattan Cocktail Classic, which ran for five days this week.
The Classic kicked off with a massive Friday night gala at the New York Public Library. In theory, it was to be spectacular. Dozens of spirits companies who sponsored the affair employed the finest craft bartenders to make hundreds of creative cocktails using their products, with music, entertainment and food to boot. The atmosphere was so retro-hip that a replica Stork Club, which had neither the look nor the vibe of the original (a great idea, though!), was on the premises.
If you were a party animal out for a night on the town, you might have had fun. If you were a cocktail enthusiast, on the other hand, it was a nightmare. Not enough air conditioning left rivulets of sweat running down most attendees' creative-black-tie outfits. Not enough food (rumors flew of chefs walking off the job mid-event) or water almost guaranteed hangovers the next morning. The sound level was oppressive; the brass band playing in the library's main hall made the jazz classic "St. James Infirmary" sound like a pack of rampaging elephants. And an oversold event guaranteed flustered bartenders and long waits for cocktails in many quarters of the gala.
If you didn't mind drinking vodka cocktails the entire night (which nobody really wanted to do, but thank you anyway, Belvedere), there were some quieter and cooler rooms to be found. And if you didn't mind the elbowing and long lines, there were some magical cocktails to be had. Among my favorites were a mint julep with Bulleit Bourbon; some sort of pisco sour-type drink with egg whites and Sailor Jerry spiced rum; and a magical punch whipped up by cocktail genius/historian David Wondrich, who was too busy doing the whipping and serving to tell me much about what was in it or even what it was called.
The next morning, after the cobwebs had cleared and the restorative Bloody Marys had been consumed, the Classic got down to more serious business with seminars, conferences and lectures devoted to the craft and the history of cocktails and spirits. The hub of the action was the Astor Center, which sports a couple of lecture rooms and a proper tasting room, complete with spitting sinks. At the center of it all stands the bar, where pros and enthusiasts could, for a small fee, hang out, mingle, shmooze and drink to their heart's content from 11 AM-9 PM.
The seminars themselves featured quite a lot of imbibing as well. No one human could have survived four full days of this kind of hands-on education. Too often I'd front-load my day, which led to my missing fantastic events such as the Dizzy Fizz Tastemaker's Punch, featuring springtime punches by a host of mixologists and fine cocktail-inspired artwork by the likes of Jill DeGroff.
But I was still able to get a heaping helping of la vida cocktail. There was the witty and erudite Angus Winchester, who serves as the global ambassador for Tanqueray Gin, holding forth on "Cocktail Royalty: The Martini Family." Half a dozen martinis and variations were served to illustrate his points (embarrassingly, my favorite by far was the American Standard Definition Martini -- a practically vermouth-free glass of cold gin with an olive in it).
Replace the debonair Brit with a bootlegger/NASCAR driver, and London Dry gin with unaged corn whiskey, and you had "The History Of Moonshine with the Legendary Junior Johnson and the Craft Distilling Of Today." Moonshine, or "white dog" as it's currently known, is the hot new spirit for cocktail snobs, but Johnson, the son of a bootlegger, has been making and distributing the stuff since the '40s -- his four-times-nightly runs no doubt helped him become one of the premier stock car racers of the '50s and '60s. Johnson recently lent his name to the legit Midnight Moon brand because he claims it's the closest thing to what he used to make himself. It's slightly sweet and very smooth, though it's not going to make me forget wood-aged corn whiskey -- also known as bourbon.
There were "Stories From Behind The Bar," in which ace mixologists and the drinkers who love them gathered at New York's finest watering holes -- including the Pegu Club, Little Branch and the Flatiron Lounge -- to, essentially, talk and drink. The lovely Charlotte Voisey somehow managed to make Cuban cocktails without using verboten Cuban rum. There was a class in which a dozen of the best spirits in the world (according to the Ultimate Spirits Challenge) were sampled, and another in which the legendary gaz regan showed, with the aid of a few cocktails and a hundred or so f-bombs, how to win a cocktail competition. Tequila, sherry, Scotch, micro-spirits, you name it, all had 90 minutes (or more) devoted to them.
If you appreciate good cocktails made with quality spirits, the Manhattan Cocktail Classic was the closest thing to heaven that I can imagine. (Although hopefully in heaven we'll be able to imbibe to our hearts' content without that bloated, woozy feeling at the end of the day.) The only thing missing at the fest, weirdly enough, was water. If you've had half a dozen cocktails made with four or five different spirits in the course of an afternoon, I can tell you firsthand that you need a liter or two of good ol' fashioned H20 to keep you going. Hopefully next time they'll get Poland Spring or Volvic or some other water distributor to join hands with the dozens of spirits producers who sponsored the event.
And yes, I expect there to be a next time, even though nothing has been said explicitly one way or the other. For five days, the MCC made the best city in the world a little better. How could anyone involved not want another go-round? After we've given our livers a chance to recover, of course.
For the cocktail-minded who missed the event, you can still catch Tales Of The Cocktail, which will blitz through New Orleans in late July. And if you're a New Yorker looking for some action closer to home, June 4-12 will bring the Gourmet Latino Festival, featuring the cuisine and, oh yes, the spirits and cocktails of Latin America, including rum, pisco, tequila, mezcal... I'm getting thirsty just thinking about it.