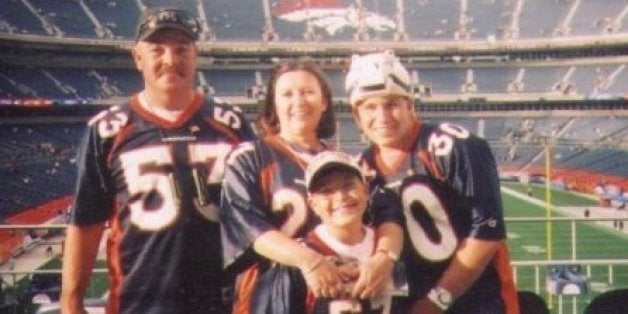 As part of our Blended Family Friday series, each week we're spotlighting a different stepfamily to learn how they successfully blended their two families together. Our hope is that by telling their stories, we'll bring you closer to blended family bliss in your own life!
Today we're introducing you to Justin Satzman's family. When Justin first wrote in, he told us about the immense influence his stepdad, John, had on his life. "My stepdad is one of the best things that has ever happened to me as he taught me a lot about how to be a man," he wrote, adding that today, his mom, dad and stepdad are all good friends.
Below, Justin tells us how his stepdad secured his trust early on and shares the advice he'd give to any stepkid struggling to come to terms with their role in a blended family.
Hey Justin! Please introduce us to your family.
There's five in my immediate family, including myself. Then there's mom, Liz; my father, Craig; my stepfather, John; and my half-brother, Josh.
How long have your mom and stepdad been married?
They've been together 22 years now.
Can you tell us more about your parents' relationship with one another?
They are actually really good friends. My parents met in college and got married shortly after. They were married less than two years but had me in the process. My mom began dating my stepdad a couple years later and got married to him when I was six. To this day, my parents have been great friends. They would sit together at all my sporting events and graduation ceremonies. We're very loving and also hilarious together.
They all became even better friends when my mom and stepdad had my brother when I was seven. My dad and my brother are also incredibly close, too, even to the point that my brother asked my dad if he could be his stepdad. My dad told him he would have to ask John, my stepfather, who had absolutely no issue with it.
What's your relationship like with your stepdad? You said he's one of the best things that's ever happened to you -- did you feel that way when he and your mom first got together?
At first, I did not like that he was tough on me. Both my parents spoiled me for a variety of reasons but it was my stepdad who taught me more about responsibility than anyone else.
I grew up mostly in Santa Fe, New Mexico and to the surprise of many, it actually snows there in the winter. One of my chores was to go out with my stepdad and gather wood for the wood stove. We had to do this generally once a week and it was almost always just my stepdad and me. We would take an old truck and drive to a pile of wood which we gathered over the summer on the opposite end of the house. We would then fill up the truck and take it to the front of the house, under the porch where we would store it for immediate use. When he and I were out there, we would talk about everything from school and sports, to girls and manhood. He also let me drive the truck, which was one of my first experiences behind the wheel. At the time I hated going out in the cold and gathering wood, but looking back on it now, I would not have traded it for anything. I would not be where I am now without my stepdad.
What's the best thing about being part of a blended family?
That even though we may be unusual, we probably care more about each other than "traditional" families. And in my family, it does not matter who you talk to or what it's about, there will be no judgment and people will always love you no matter what.
What makes you proudest of your family?
We can always be open and honest with each other. I never felt that I had to hide things from any family, including my stepdad.

What advice do you have for kids growing up in blended families who might be struggling with it?
I'd tell them that communication is the key. No one can talk to you about your problems or issues if you are not willing to talk openly and honestly about them.
Click through the slideshow below the see photos of Justin's family.
If you'd like your own family to be featured on a Blended Family Friday, please email us at divorce@huffingtonpost.com. We're looking forward to hearing your story!