As part of our Blended Family Friday series, each week we're spotlighting a different stepfamily to learn how they successfully blended their two families together. Our hope is that by telling their stories, we'll bring you closer to blended family bliss in your own life!
"Blending, by its very nature, is messy and confusing," admits Satara Crandall, a HuffPost Divorce reader who's been working on bringing her and her husband's kids together since marrying last year. Below, the mom of three charts her family's progress and shares what it's been like to see the kids' bond deepen with each passing day.
Hi Satara. Please introduce us to your family
There are five of us! Me, my husband, Jake, and our kids: Jet, 12; Jax, 9 and Grace, who's 6. Jake and I were married December 21, 2012.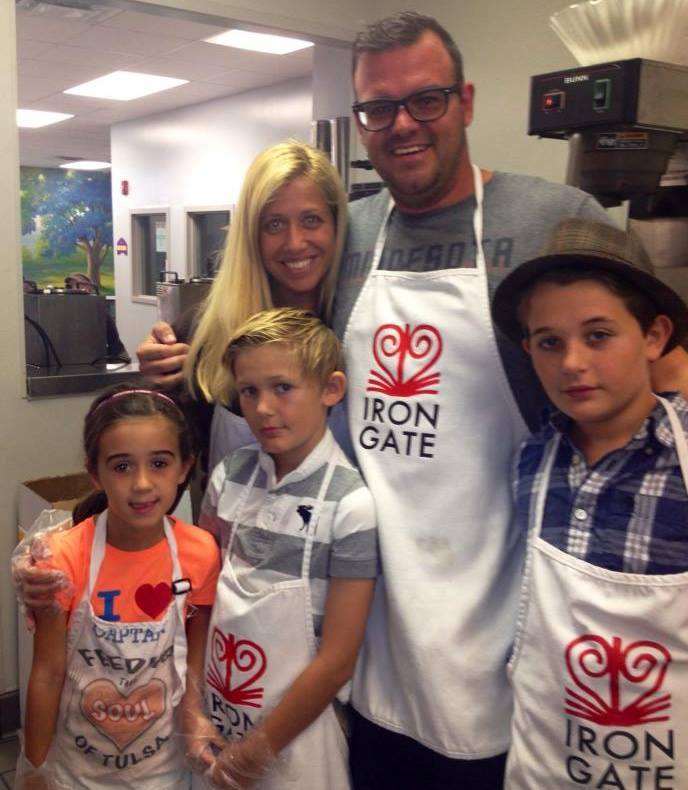 What have been some of the high points of blended family life so far?
I think each of our hearts expanded in ways we didn't know possible. As stepparents, we both bring something to our respective kids' lives that was not there before. But the best part (and the hardest sometimes) is that we both choose to love each other and each other's kids unconditionally. Kids (and adults) can't have enough people who love them without condition, so being blended is more unconditional love and security all around. I love that in blending our lives together, we have created a mixture that includes both of our life experiences, our kids' unique personalities, our values, parenting styles, humor and our passions. It has resulted in our own new fun and funny family.
What difficulties have you and your spouse run into?
Setting and enforcing expectations, rules, guidelines for our home that may not be the same at the kids' other houses is probably the biggest challenge. For example, sometimes we have to gently reiterate with each child, "remember, when you walk through these doors you don't talk like that, you pick up after yourself, we don't say those words, etc…" Modeling the way is another challenge. With outside negativity, it can also be tough to create a safe, positive place where everyone's role is valued (even the ex's) and the kids feel loved when they walk through our doors, or get in the car. It's easy to get lazy and mad over little things. One of the biggest challenges is the amount of work it takes -- both emotionally and physically -- to create and sustain a peaceful family.
What makes you proudest of your family?
The strong bonds our kids have. At first, we never thought we'd see the day the three of them would reconcile sharing our attention, and living together. It was comical. If one of us sat down on the couch and snuggled with one child, two others were upset. Everything had to be equal, from who got "shotgun" in the car, to who picked the movie on movie night, to dessert portions after dinner. With three kids in the house, someone was always upset, feeling left out or not treated fairly. But seeing them gradually drop their guard and build a bond has been amazing. They now play selflessly together, talk while considering others feelings, confide in each other and have formed an unshakable sibling identity. Jet and Jax helped Grace learn to read, and Grace came to them about a bully in school. They laugh and cry together (and fight), and genuinely love each other. That bond makes us both very proud.
What advice do you have for other blended families struggling to keep it together?
Create a family identity and choose to love without condition. Consciously sit down and decide what kind of family you want to be and how you'll do it, and then be consistent in doing it. Blending, by its very nature, is messy and confusing. Everything is suddenly mushed together and whipped back and forth. It can be chaotic for everyone. Unconditional love helps balance the natural chaos with stability. Creating a family identity also helps. It's like labeling a blended smoothie. Name the product and state its ingredients. We are the Crandall/Armstrong's, this is who we consist of, and this is what we value. We wouldn't be who we are without each family member.
Scroll down for more photos of Satara and Jake's family.
If you'd like your own family to be featured on a Blended Family Friday, please email us at divorce@huffingtonpost.com. We're looking forward to hearing your story!