As part of our Blended Family Friday series, each week we're spotlighting a different stepfamily to learn how they successfully blended their two families. Our hope is that by telling their stories, we'll bring you closer to blended family bliss in your own life!
This week, our reader April Messenger shares how she fell for her husband years after going to high school with him -- and how the two of them are faring since bringing their six kids together under one roof.
Hi April. Want to introduce us to your family?
There are eight members in our family. My husband, Justin, and I have six kids all together. Justin has three children from a previous relationship: Hannah, 12; Aubrie, 6; and Sawyer, 3. I have three children from a previous marriage: Ashley who's 12, Lauryn, 9 and Logan who's 6.
How long have you and Justin been together?
Almost two years. We met through our oldest daughters. They were close friends since kindergarten. Both of our previous relationships went south at the same time. We started hanging out on days he had his kids. He would bring them over for dinners at my house, and we often went on outings together: Hiking, playing in the snow, and going to the park. Our children are all very close in age. Our oldest daughters are 10 days apart, and my youngest and his middle child are one month apart. So it naturally worked out well when we were all together. At times it's like we have two sets of twins! We helped each other through some tough times as friends, that eventually turned in to more. Although we went to the same high school years ago, he was much older than me and we had only actually seen each other once. I often give him a bad time because he doesn't remember it!
We "officially" became a family almost one year ago. We were married December 11, 2012, one year to the day that he told me he loved me for the first time.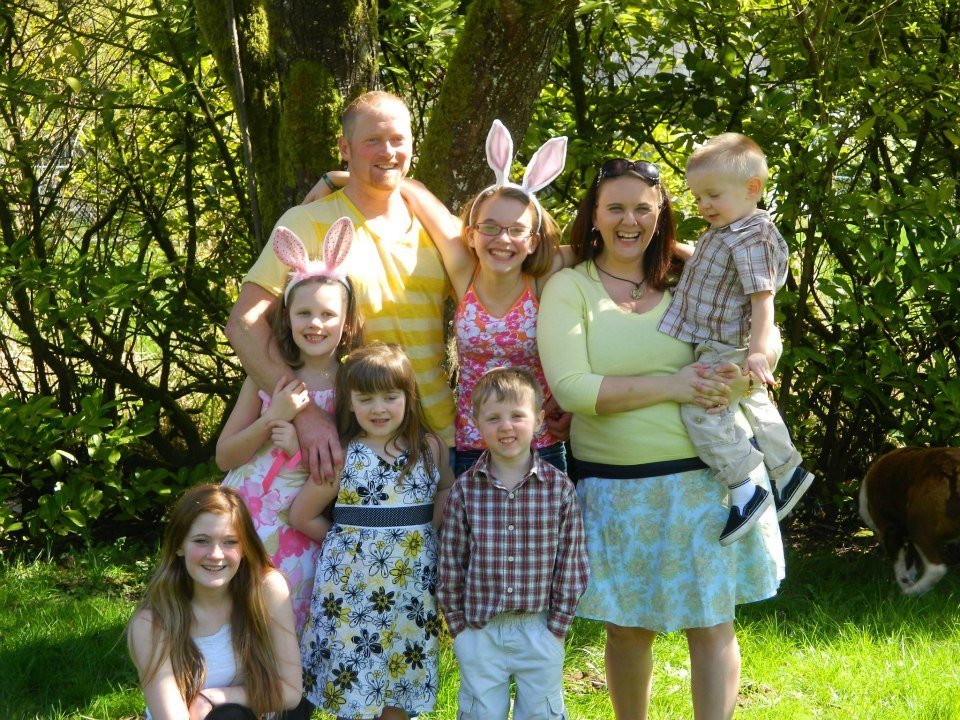 What are some of the perks of blended family life?
There's a lot -- our blended family is amazing! The biggest perk is when we are all together, and everyone is getting along and we are doing the things we love. It's not like we are a "blended" family. We took our first family vacation this summer and made some amazing memories. We were hiking at Mt. Rainier, and while on a trail we passed a family. I was holding Justin's youngest daughter's hand and the mother of the family that passed us said, "she's so cute, she looks just like you!" Justin turned around to me after she passed and said to me "Wow, it's like people look at us like a real family! No one would know you aren't her mom!" I said "We ARE a real family!" It was a bittersweet moment for all of us.
Our children have twice the amount of people that love them and that surround them with support. My oldest daughter's paternal grandparents took her to Disneyland this summer and took my stepdaughter with them, just like she's their grandkid. There is no separation or dividing of extended families at our house. It's been really refreshing. Being a blended family means there's twice as much of everything to go around. Twice the hugs, twice the kisses, and twice the love!

How do you keep your marriage to Justin in focus with six kids?
We were both in high-conflict relationships before so we both make an effort to not have that in this relationship. We went to counseling before we were married so that we could work on past issues before venturing into a new marriage with all the baggage of our past relationship. While we definitely have our share of disagreements and fights, we make sure that the kids not only see us fighting, but making up as well. They know without a doubt that we love each other.
What are some of the challenges you've all encountered as a blended family?
Our biggest challenge is the fact that Justin and I have two totally different perspectives on parenting. His style of parenting is more authoritarian, while I tend to be more permissive. It's hard to find the balance between us and has been the biggest challenge in our first year of being an "official" blended family. We also have a hard time sharing one-on-one time with each child. Because four of our children are very close in age, we tend to double up a lot, and that's something we have identified we need to work on. Our children also go to five different schools, so homework time, schedules and after-school activities are all very challenging to keep track of and organize! My parenting plan also allows for a lot of flexibility and my ex is always willing to change things around if needed, but sometimes it can be a challenge.
What makes you proudest of your family?
That people see us and say "I don't know how you do it but you do it so well!" We live in a small town where everyone knows both of our families from "before." We have learned how to balance this delicate act of becoming a blended family, learning about each other, loving each other, dealing with exes and parenting plans, and we have done it well. It's not easy to balance six kids and all their activities and keep track of who is supposed to be where and when.

I had one of my proudest moments as a "step" mom when my 9-year-old was sitting at the table doing her math homework. She was struggling. My stepdaughter, without me even realizing it, had sat down next to her and was helping her. These are the two who probably fight the most in our house. Yet, the oldest was taking the time to sit and help her with her homework. When I asked her why on earth she was doing such a thing (really, it was quite shocking), she said to me, "I don't want her to struggle like I have been with math." I literally started crying and gave her the biggest hug. She looked at me like I was an alien and said, "Mom, what's wrong?" I told her absolutely nothing. I couldn't believe that this child, who usually can't stand to be in the same room with her stepsister, was having compassion for her stepsister. It was a huge milestone for our family, and a huge milestone for the oldest to realize while she says she can't stand her new little stepsister, that she actually does care about her well-being, as irritating as she can be.

What's your best advice for blended families struggling to keep it together?
Have family game night! We tried to have family meetings, but that didn't work out so well. Especially since a few of ours are little, and don't quite get what a family meeting is. We have family game night, and it gives everyone the chance to be silly, have fun, and make memories. We also have more conversations with each other on that night than any other.

Also, take the time to make sure you are on the same page as your spouse with everything. In the beginning, because our styles are so different -- from parenting to communication -- a lot of our struggles were because we didn't understand one another. Ultimately, we both wanted the same thing but were saying it differently and approaching it differently. Once we realized we were saying the same thing, just in different languages, things have been much smoother for everyone!
Scroll down for more photos of April and Justin's family.
If you'd like your own family to be featured on a Blended Family Friday, please email us at divorce@huffingtonpost.com. We're looking forward to hearing your story!