As part of our Blended Family Friday series, each week we spotlight a different stepfamily to learn how they successfully blended their two families. Our hope is that by telling their stories, we'll bring you closer to blended family bliss in your own life!
When Kama Fletcher married her husband, Tom, she did something most people in second marriages probably couldn't imagine doing: She spent nine whole months going to counseling with her husband and his ex-wife, Lisa.
The goal of the sessions? Figuring out how they'd co-parent together. It was a hard road, but today, Kama says the three of them are as close as can be.
"Tom's ex is a big part of our lives each day and especially during celebrations and holidays," she told us. "I am very proud of our big blended extended family -- including Lisa."
Below, Kama looks back at nine years of marriage and shares with us how the co-parents have worked together to make two families one.
Hi Kama. Want to introduce us to your family?
I suppose that depends on how you define family. In our home, there are seven of us, including myself and my husband, Tom. We've known each other for almost 15 years and got married nine years ago. He brought three children into the marriage: Aaron, 20; Melissa, 17; and Elijah, 15. I have a son from a previous relationship named Calvin, who's 18 -- though he's actually away at his freshman year in college at USC and not currently living with us. Tom and I have a daughter together, Faith, who's 10.
That said, we define family members to include a few more people: my husband's ex-wife, Lisa; my ex, Josh; my mother and stepfather, Debbie and Kenny; and Josh's mother and stepfather, Toni and Bob. All of these people are deeply ingrained in our lives and are always involved in our family's celebrations and challenges.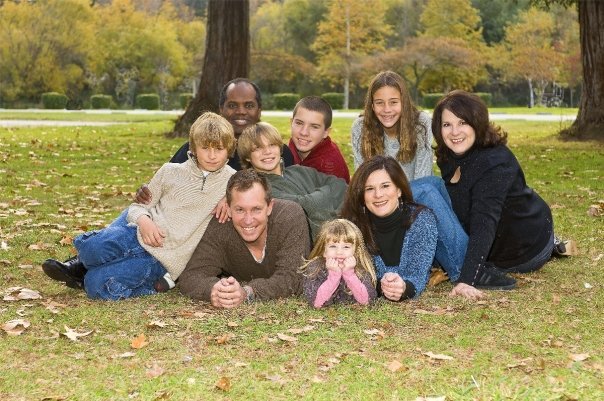 (Kama and Tom's family, including Kama's mom and stepdad. Photo credit: Joel Weiss)
You mentioned that you, your husband and your husband's ex-wife went to counseling to figure out how you'd parent as a unit. Could you tell else a little more about that?
When Tom and I got married, the kids were all still relatively young and we knew we had a long road ahead of us as co-parents. Tom and Lisa started to take their children to a family therapist to deal with some issues the children were having at school. The therapist quickly realized she wasn't getting the full picture of our "family system" without including all of us in the process. So at first she saw just Tom, Lisa, and me together. The first few sessions were quite awkward as it was new for the three of us to be in a room together in such an intimate setting. Slowly but surely, though, we began to find our way in communicating what was important to us, how we each wanted to approach raising the children, and how we could best help each other as we set about accepting our blended family life.
What are some of the biggest challenges of blended family life?
The one that comes to mind right off the bat is the differences in parenting styles between the two homes. We try our best to put forth a "unified front" in terms of discipline and consequences. But it can be challenging because sometimes one parent wants to come down harder in disciplining and the other feels like the best approach is a softer one. These situations can be confusing for the children and frustrating for both parents. We've found that being really honest (but respectful!) about frustrations -- and being sure to explain to the kids why we choose to discipline the way we do -- is helpful when there's disagreements. It takes a lot of compromising.
The other big challenge is scheduling! So many kids, so many sports and three parents who all work full-time! The best advice is to get everyone on the same calendar. Google Calendar is fantastic. Even our 10-year-old has her own Google account and calendar. After that, it's all about being organized and flexible -- at the same time.
What's the best thing about being part of a blended family?
The best thing about being part of a blended family is knowing there are so many people around that care about you. Raising kids is complicated and I'm not always the best person to help any one of my kids through a challenge they may be facing. But in our family, they have so many people they can go to if they're having a problem -- grandparents, siblings and step-parents. It's a relief to know I'm not alone as a parent, teacher and disciplinarian.
How do you deal with stress in your household?
Well, I wish I could say we take long, rigorous hikes together, or we sing like the von Trapp family, but the truth is, we tend to just veg out together to relieve stress. We love watching a favorite movie or TV show together, going out to dinner (so someone else can take care of the cooking and the dishes!) or just sitting in the massage chair I splurged and purchased for us all last Christmas. Sometimes to de-stress, we go to our "separate corners" and find a way to be alone. Knowing when to leave someone alone has become important in our crowded home.
What advice do you have for other blended families who feel like a peaceful family dynamic is out of reach?
You have to be patient. Changing any family dynamic takes time. There's no special "fix" that will take the place of time to heal wounds. But I would also say that, as time goes by, it's so important to be consciously looking for ways to make peace and for ways to connect (especially with someone in the family you think you don't like). If your situation is really complicated, find a therapist and start the work of repairing what may be broken. Remember that the children need all the adults in their lives to work together to raise them.
And lastly, make sure you surround yourself with people who support you and your blended family. Talking trash about the ex or surrounding yourself with people who like to engage in that kind of talk is generally not a good idea. (I know, I know -- we've ALL done it, but make an effort to stay positive.) We want to aim for our higher selves on this front. Embrace your spouse's ex. He or she could turn out to be an unexpected ally and maybe someday -- as in my case -- a really good friend.
If you'd like your own family to be featured on Blended Family Friday, please email us at divorce@huffingtonpost.com. We're looking forward to hearing your story!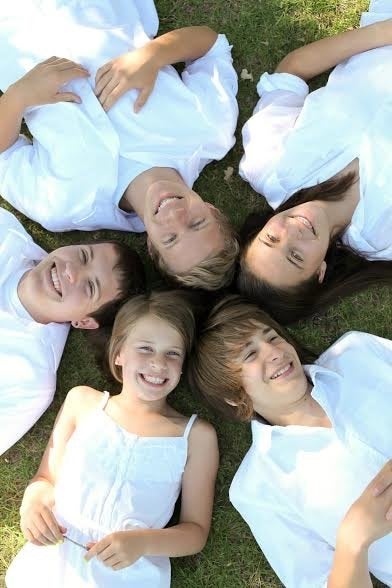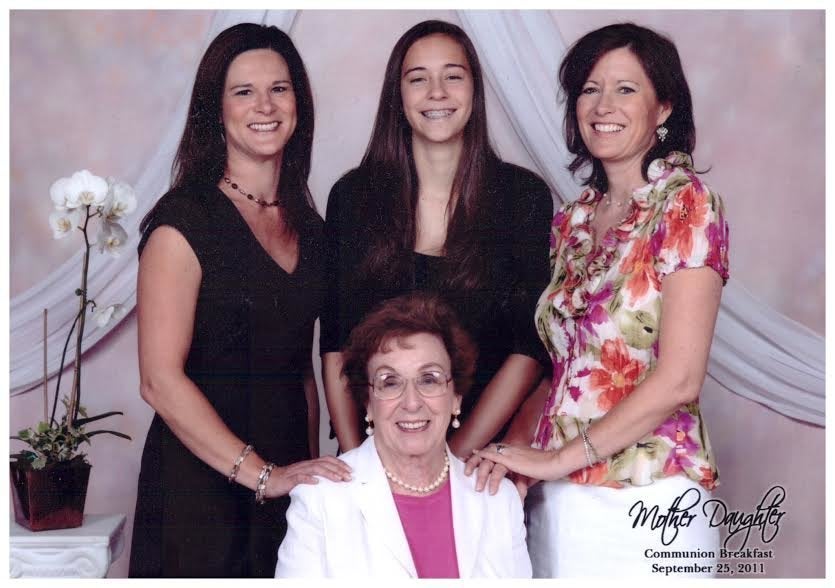 Courtesy of Kama Fletcher