As part of our Blended Family Friday series, each week we spotlight a different stepfamily to learn how they successfully blended their two families. Our hope is that by telling their stories, we'll bring you closer to blended family bliss in your own life! Want to share your own story? Email us at divorce@huffingtonpost.com.
Deb and Chris Gottschalk are a bit different than your average blended family. The couple, who has seven kids between them, met at a support group after they lost their former spouses. United by their shared grief, the shared experience of single parenthood and lots of shared tears and tissues, the pair eventually fell in love.
Below, Deb shares more of the family's inspiring story of love and resilience.

Hi Deb. Please introduce us to your family.
We have nine family members in all. There's me, my husband Chris and our seven kids: Lily (23), Nick (21), Alex (21), Grace (19), Jacob (15), Sam (13) and Josh (11). The youngest three live at home with me and Chris.
I had Nick, Alex, Jacob and Sam with my late husband. Chris had Lily and Grace with his first wife. They divorced. He remarried and had Josh with his late wife.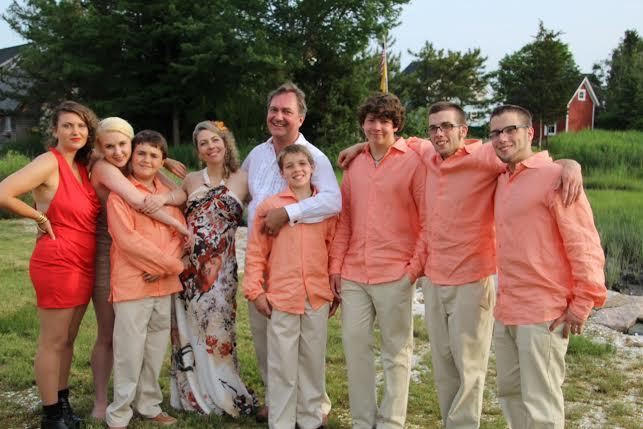 (Photo courtesy of Debra Gottschalk)
How long have you and Chris been a couple?
We started dating in January of 2012 and eloped June 20, 2012 -- then had a big wedding celebration on June 22, 2013 with the kids, family and friends.
We tell people we met at The Cove."The what?" they alway respond. "By the water? What's that?!" "The Cove" is actually the Cove Center for Grieving Children. It's an amazing local organization that helps children who've lost a loved one, usually a parent. It's a safe place for kids to meet other kids who are grieving and also for parents to meet other people going through similar circumstances.
One night in December 2011, a fellow Cove friend threw a holiday party and we both showed up. We quickly realized how much we had in common: a love of the arts, music, travel, hiking, Maine, cooking, family, wine and really good aged gouda! More importantly, in our new unrequested role as single parents, we shared stories, strategies, challenges -- and lots of tears and tissues. We eventually decided to meet for dinner and we haven't missed a beat since.
How would you say the experience of blending a family after widowhood differs from blending a family after divorce?
One of us had prior experience with divorce, remarriage and step-parenting. That is its own delicate, sometimes tense and even unpleasant, journey. The difference between that and being a double-widowed family, is -- in a word -- loss. The loss of a spouse and parent are huge, there's simply no way around it. Each person in our family has experienced incredible pain and no two the same. We each go through our own healing process at a different pace and intensity.
The loss is permanent and you never get a break from the blending and the butting of heads that sometimes comes with that. It's not an every other weekend shift. There's no chance for reprieve from the new family dynamic. One of the biggest factors we had to take into consideration is that, for us, once you're in, you're in. There was no way Chris and I were going to possibly put our children (or ourselves) through additional loss -- so we had to be sure of this relationship. (Or as sure as one can be.) We met with a family therapist (actually two) to help us feel as confident as we could that we were doing the right thing.
Being a full time mom or dad to children who never asked to have their family change forever is both an amazing blessing and seemingly unachievable. As a step-parent, you never want to make a child feel as though you're here to replace anyone -- especially someone who is no longer physically here. Time has stopped for the kids and their relationship with their lost mom or dad -- and now there is a new surrogate who needs to create a living relationship with a future in place of those. And how do you live up to a beautiful soul who is no longer here on this earth? You don't. You can only try to be the most loving person you can. Chris and I have both tried to learn about each others' late spouses so we can maybe -- just maybe -- incorporate shadows of what we believe was important to them into their children's lives. Virtually impossible, but we try.
What are some of the biggest challenges of blended family life?
Like many blended families, one of the biggest challenges has been that our kids were raised differently. The meshing of different household rules, interests and expectations has been a hurdle for all of us, especially the youngest kids. I tend to want to understand the kids' feelings about everything -- which is good some of the time, but not always. Chris is more clear and concise, which can pose a challenge when someone wants to discuss everything. We're getting there.
What's the best thing about being part of a blended family?
Lots of extra love to go around. When we got married we gained each other's extended families as well as our late spouses families -- so we are overflowing in such a good way. Embracing a wide range of personalities and interests among the kids is actually fun.
We feel whole again -- at least some of the time; compared to the constant sense of loss or something missing or elephant in the room when living as a family after loss, the moments of balance that occur are a real blessing.
What makes you proudest of your family?
We've been together long enough now that there are people who are new in our lives who don't know we are not an "original" family. I think that's pretty cool! It's kind of like a dance and it just takes time to build enough trust to let someone twirl you without wondering if they're going to drop you! Chris and I talk a lot -- we continuously adjust and tweak the way we interact with the kids.
What advice do you have for other blended families who are struggling to click?
Whether your family has changed due to loss or divorce, this is such a fluid situation that needs as much stability as possible. Really take care of each other. The couple is the core that needs to be strong and committed so the relationship and children can go through what they need to and you'll both be there, united.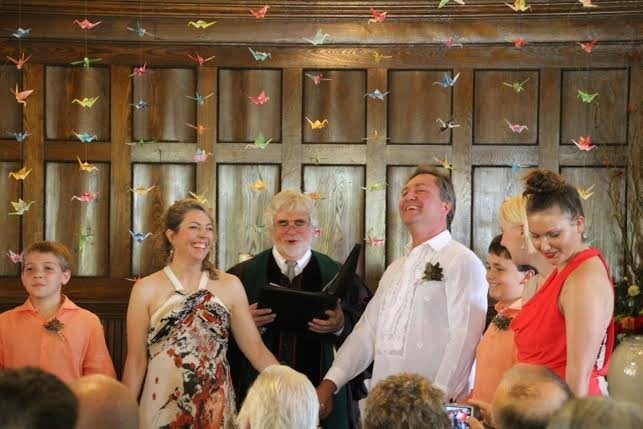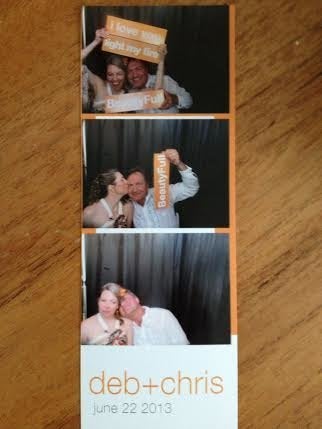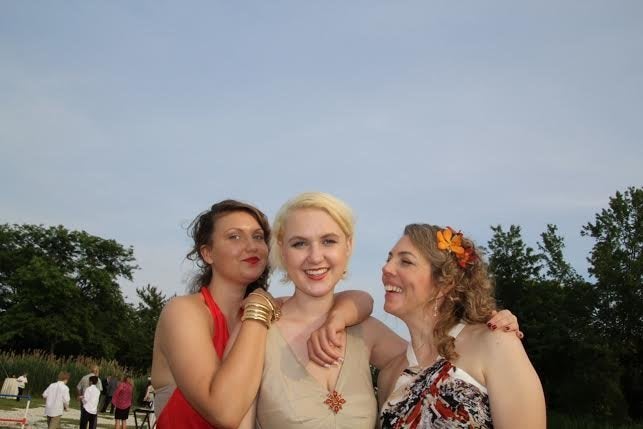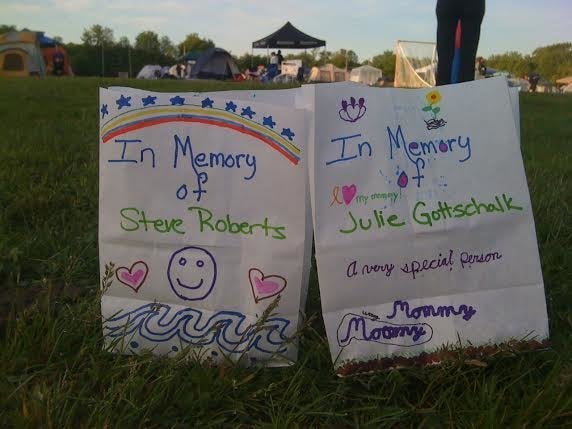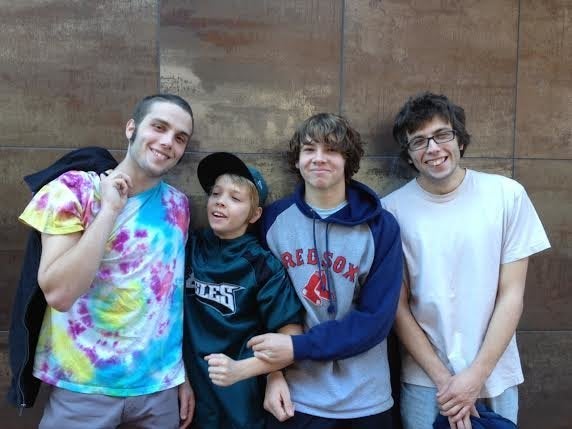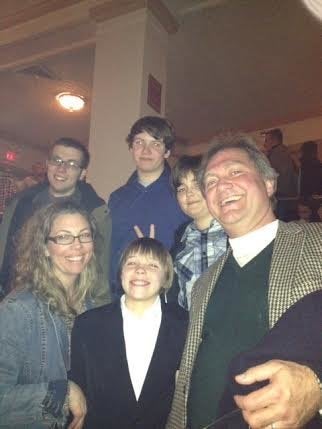 Related
Before You Go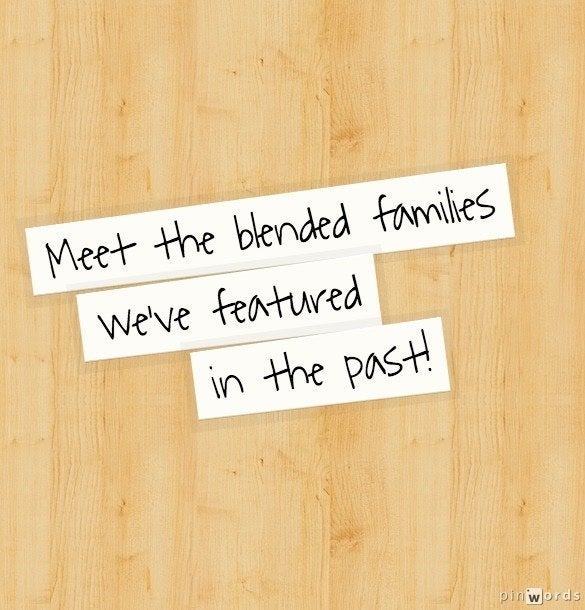 Blended Family Friday