As part of our Blended Family Friday series, each week we spotlight a different stepfamily to learn how they've worked to bring their two families together. Our hope is that by telling their stories, we'll bring you closer to blended family bliss in your own life!
Carey Fan and his partner Ann waited a year to introduce their sons to each other. When their boys -- both three at the time -- did meet, they bonded almost instantly.
"We met at neutral ground at the Oakland Zoo in California and they immediately started playing with each other," the proud dad said. "For them, it was almost brotherly love at first sight."
Below, Fan tells us more about the couple's boys and what's gone into bringing their two families together.
Hey Carey. Please introduce us to your family.
We have four human family members and one canine family member. My partner Ann and I each have a son: Jordan is my son and Kaiden is hers. They're both six -- they were actually born four days apart! Lincoln, our family bichon is 7-years-old.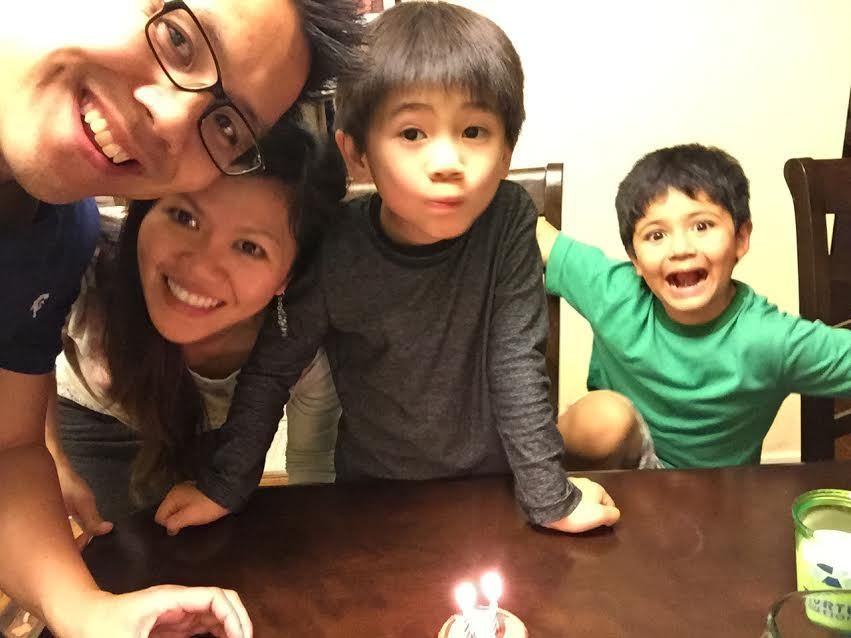 (Photo courtesy of Carey Fan)
How long have you and Ann been a couple?
We've been together for three years now and formally blended our families together two years ago. We know it's a journey but we're delighted with the progress. The boys have known each other for half their lives and have very little recollection of what life was like before they met each other. When they're together, they are inseparable!
We played it safe, though. We made a deliberate effort to integrate so that the entire family would have at least a one-year window of time to adapt to each other before we put the boys into the same school.
What have been some of the biggest challenges so far?
Sibling rivalry. One of the challenges Ann and I continue to wrestle with is managing the emotions of our very energetic young boys. After spending a long weekend with their other parents, the boys naturally get amped up to see each other again. And we love that! But we realize that their emotions, both positive and negative, run very high when they're together. They can be great teammates when pitted against us adults in a game of laser tag. But they can also whine about how one kid gets preferential treatment over the other.
What's the best thing about being part of a blended family?
You take nothing for granted and learn to cherish family togetherness. When we have the boys, Ann and I are fully prepared to be exhausted from chasing them around, helping them finish chess homework or managing arguments over Legos. But we both believe that everything, both good and bad, is part of a journey that we hope will make our boys well-rounded adults. And we love modeling for our boys what a loving, respectful relationship between two adults should be by hugging, kissing and treating each other with respect even while disagreeing.
What makes you proudest of your family?
All of us have learned not only to accept the way our family is but to embrace it. We may not be conventional but we have all the elements that make a family strong: teamwork, respect, love and fun. The boys have learned that it's really a team game. A nickname we've given ourselves is the Fantastic 4+1 (the plus one being Lincoln, our dog). And we discuss how family is only strong when we all support -- and sometimes make sacrifices for -- each other. Other parents have marveled at how well our boys play with each other. Some have even asked if our boys are twins! That makes us proud.

How do you deal with stress in your household?
Ann and I have learned to try not to step on each other's toes during moments when we've had to discipline our children. While we're both on the same page most of the time, we realize that inevitably, we will have some style differences. We reserve our tough conversations for daytime. Trying to discuss things late in the evening, after the boys have gone to sleep and we're both tired is a danger zone for us. And when we don't have the boys, above all else, we spend quality time with each other, allowing our batteries to recharge.

What advice do you have for other blended families who feel like a peaceful family dynamic is out of reach?
Don't give up! It's a marathon, not a sprint. Learn to recognize that even contentious, frustrating or sad episodes in a household are real opportunities for learning and growth. You help your children become more resilient and set a good example by facing problems -- not sweeping them under a rug, deflecting or re-directing.
Every week or so, take stock and reflect on the progress you've seen. Progress usually occurs in tiny incremental steps. But taking stock every few weeks will allow you to realize that things are improving. And realize that everyone in the household must adapt and sacrifice in order for it to work. Just because you may be the parent or head of household, does not mean that you yourself do not have to adapt to the needs of the children. Take family videos of good times, and watch them once in a while.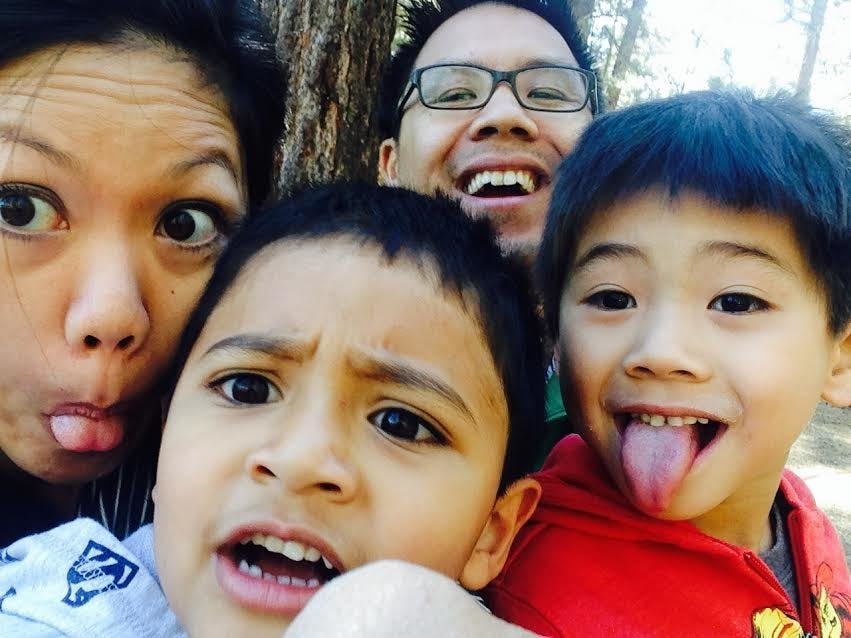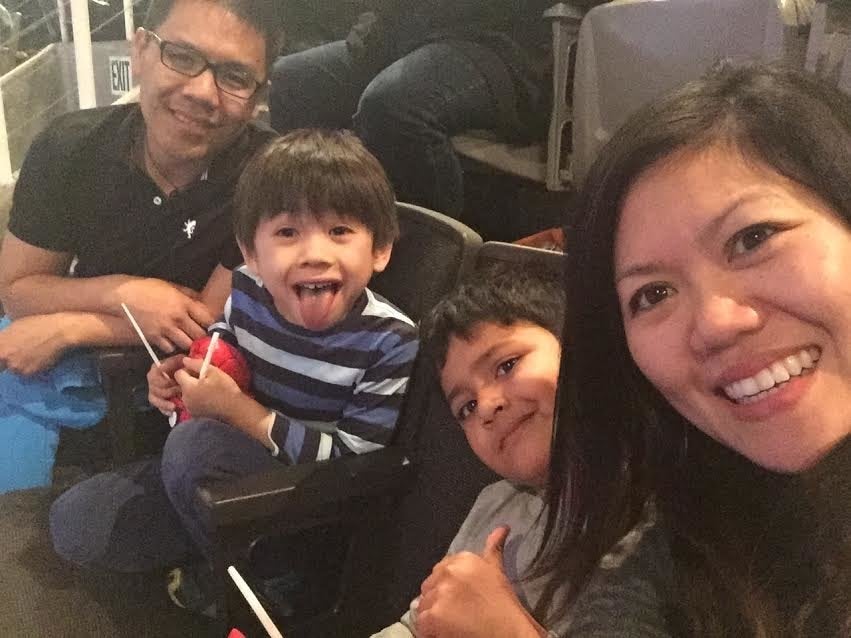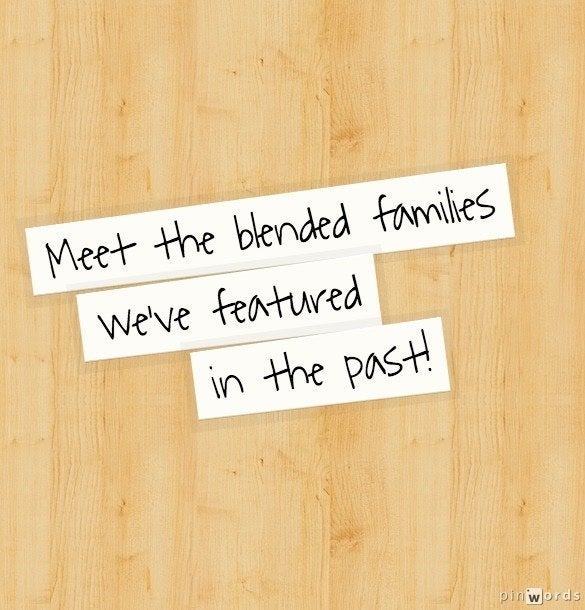 Blended Family Friday