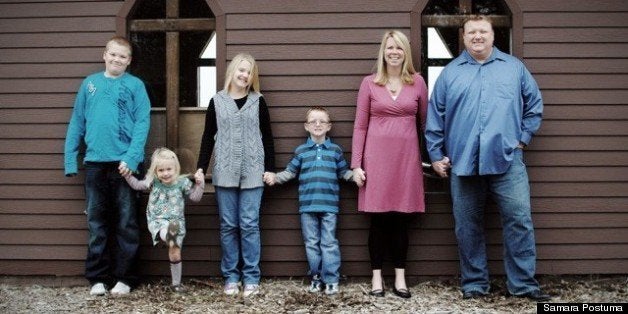 As part of our Blended Family Friday series, each week we're spotlighting a different stepfamily to learn how they successfully blended their two families together. Our hope is that by telling their stories, we'll bring you closer to blended family bliss in your own life!
This week, we're bringing you the story of Samara and Jeff, their four kids -- and their baby on the way! Samara regularly writes about life as a mom/stepmom in suburban Minnesota at Simplicity in the Suburbs.
Hi, Samara! Please introduce us to your family. How long have you and your husband been together?
My husband, Jeff, and I met in November 2002 at Starbucks Coffee and we were engaged a year to the day later. We just celebrated our nine-year wedding anniversary!
Jeff has two children, Tyler, 14 and Madison, 12, from a previous marriage. Together, we have two children, Henry, seven, and Evelyn, four, and a baby due in May.
What's the best thing about being part of a blended family?
That we get to be a family. My stepkids have realized over the years how blessed they are to have a family situation where there is peace between their parents, where we all live within the same community and school district and where there is genuine love for all of the kids.
What are the biggest challenges of blended family life?
Challenges have changed over the years. When we got married, we had two preschoolers. Now we have two middle schoolers, an elementary schooler, a preschooler and a baby on the way. Even without the dynamics of a blended family that's a lot of people, opinions and personalities in one family! Scheduling can become quite complicated fairly quickly! In addition, differing expectations, fairness and balancing relationships with all of the kids and the parents can be challenging.
What makes you proudest of your family?
I'm proud of our family in a lot of ways, but one of the biggest ways is challenging stereotypes and breaking negative assumptions. We have worked hard to have a positive and peaceful co-parenting relationship with my stepkids' mom and stepdad and for the last several years we have celebrated birthdays and other events together. I'm most proud when we can be out to dinner and all eight of us and both sets of parents (mom and stepdad, dad and stepmom) are laughing and swapping stories about the kids and the silly things they do, say and try.
What advice do you have for other blended families who feel like a peaceful family dynamic is out of reach?
I feel like I have a little bit of an advantage because my stepkids were so little when I met and married my husband that they don't really remember anything other than what our life has been and I think that has helped a lot. My advice would be to be patient. Take your relationship cues from your spouse and the kids and really communicate with your spouse what you need in both your relationship with him or her and with their kids.
Click through the slideshow the see photos of Samara And Jeff's family.
If you'd like your own family to be featured on a Blended Family Friday, please email us at divorce@huffingtonpost.com. We're looking forward to hearing your story!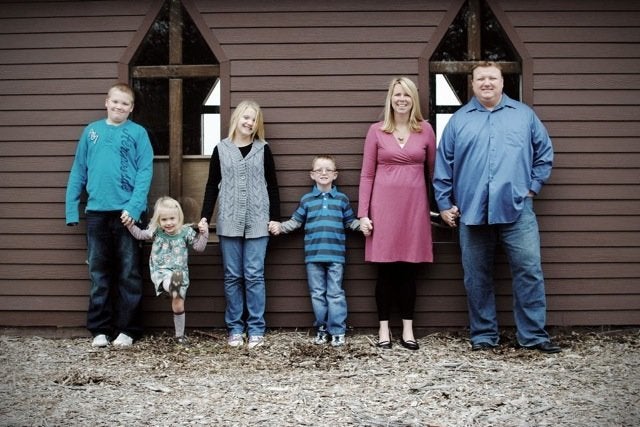 Meet Samara And Jeff's Family