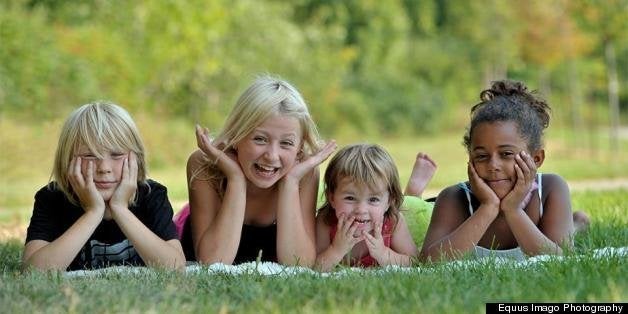 As part of our Blended Family Friday series, each week we're spotlighting a different stepfamily to learn how they successfully blended their two families together. Our hope is that by telling their stories, we'll bring you closer to blended family bliss in your own life!
This week, we're introducing Maureen and Tom's blended family. The couple have four children between them and all of them live at home full-time.
"I think we've done a good job of making it work," said Maureen, who chronicles blended family life on her blog, My Functional Family.
Below, she shares how she keeps the peace in her home.
Hi, Maureen! Want to introduce us to your family?
We are a family of six. Tom has two children from his previous relationship, I have a daughter from a previous relationship and we have one daughter together. The kids are Eleanor, 13; Ethan, 10; Rebecca, 8; and our three-year-old, Siobhan.
How long have you and your Tom been together?
Tom and I dated for three years from ages 17 to 20. We went to our first year of college together, and then I transferred schools. We went our separate ways, finished school, married other people, and got divorced. Six years ago (after 14 years apart), we reconnected and we have been together ever since. We bought a house together and blended our families five years ago.
What's the best thing about being part of a blended family?
I always wanted a large family, but I didn't have my first child until I was 32. When I split from her father, I figured my dreams of having a large family were gone. My blended family made those dreams come true.
What are the biggest challenges of blended family life?
I think the toughest thing is learning to parent together. We already had very different parenting styles before we got together, so it was a challenge to take the best from each and work together to create a new style. We still have moments when our styles clash.
What makes you proudest of your family?
I think the fact that our children have really become true siblings. They love (and hate) one another just like regular siblings. They have taken a tough situation and made it into something beautiful.
What's your best advice for other blended families who feel like a peaceful family dynamic is out of reach?
There are so many things I could say on this topic: 1. Don't trash talk your ex or your spouse's ex -- that is your child's parent. 2. Never make your child/stepchild feel guilty for wanting to spend time with their other parent. 3. Be accommodating, as much as you can, in order to make things work. 4. Being friendly with your ex makes things so much easier in the long run. 5. Take the time to get to know your stepchildren and be patient with them. 6. Blending a family takes patience, patience, and more patience.
Click through the slideshow below the see photos of Maureen and Tom's family.
If you'd like your own family to be featured on a Blended Family Friday, please email us at divorce@huffingtonpost.com. We're looking forward to hearing your story!
Meet Maureen And Tom's Family