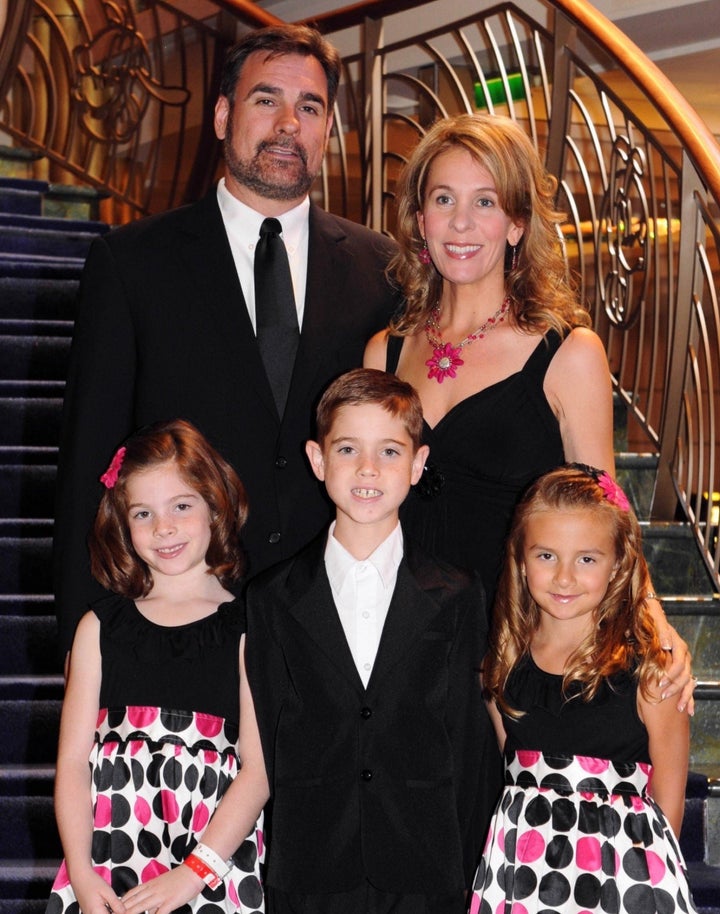 As part of our Blended Family Friday series, each week we're spotlighting a different stepfamily to learn how they successfully blended their two families together. Our hope is that by telling their stories, we'll bring you closer to blended family bliss in your own life!
Today, we'd like to introduce you to the family of Karen Coover, a mother in a family of five who won us over with this honest assessment of blended family life: "Our life isn't perfect, but it's better than anything I could have imagined, and I would not trade it with anyone else's."
Introduce us to your family.
I live with my wonderful husband, Shawn, and our three great kiddos: Alex, 10, Sophia, 8, and Addie, 7.
How long have you and your spouse been together?
We started dating in 2006 and married in 2007. Shawn had a 4-year-old son and a 1-year-old daughter, and I had a 2-year-old daughter. We had each been very recently divorced and both had joint and equal custody of our children.
What would you say are some of the biggest challenges of blended family life?
We knew from the outset that it wouldn't be a cake walk, but we completely underestimated the challenges that blending a family would bring. It was at times exhausting and completely overwhelming! Managing blending our families, homes, parenting styles and co-parenting relationships took every ounce of energy we had. On top of everything else, we moved into a smaller house than either of us was used to living in while we built the home we would eventually move into. Chaos ensued. From the beginning, all adults involved agreed that we wanted to do what's in the best interest of the kids at all times. More often than not, though, the problem has been that everyone has their own, very strong opinion on what is in the best interests of the kids. This can make life interesting at best, and painful at worst.

The first two years of our marriage were more like a fire-walk. How could we love each other so much and have such a difficult time in making a life together? I think we survived, and even came out better based on three things: 1) We both have a similar sense of humor; 2) We have a deep and a profound love and respect for each other that is based on having so much in common; and 3) We were absolutely committed to never go through the pain of another divorce, and more importantly to never put our children through another one. Those things are always present in our minds.
Every blended family has a different make-up of people and personalities and paths they have to take to arrive at the door to success. I've chosen to take one day, (and sometimes one glass of wine) at a time and here we are six years later.
What's the best thing about being part of a blended family?
One of the best rewards of all has been watching the children grow into true siblings and friends. We were able to get our parenting time schedules synched, for the most part, so the kids are always with us at the same time. This is incredibly beneficial for them, since they are so close to each other. It works out well for us, too -- we get some alone time now and then. Because we blended our family when the kids were so young, this is the only life they have ever known. They are just brother and sisters, not "steps," to each other and they are just "our kids" to us. I love my husband's children, and he loves mine. There are no boundaries for affection or discipline based on biological relations in our home. In our home we just refer to ourselves as a family, period. Not a "step family," not a "blended family," not a "non-traditional family" -- just a family.

What makes you proudest of your family?
I am proudest of our family when I think about how happy we are. When we are all together, people see three silly, smiling, well-behaved kids, with two loving, affectionate parents who clearly adore them as well as each other.
What advice do you have for other blended families who feel like a peaceful dynamic is out of reach?
Take time alone together, remember that you are a team and keep your sense of humor. Time alone with your spouse is an obvious one, and a necessity in a family that deals with two ex-spouses, two parenting plans and multiple children and their schedules. Shawn and I treat our date nights with high importance. It reminds us why we enjoy each other so much, gives us a chance to reconnect as a couple and savor the peace and quiet that a couple with three kids can truly appreciate.
You also need to remember that you are in this together. You are a team! It's not me and my kids vs. you and your kids. You are a family, but first you are a couple. You face things as a team. If one of you is having issues with their ex-spouse, then the other should be supportive, shoring them up, helping them find the humor in it.
And as for a sense of humor, I think it is critical in a blended family to always keep yours in good working order. There will be times when you can chose to laugh or cry -- and laughing is way more fun. At first it's hard, because you take everything so personally, but after the first year or so, you start to really look at other people's actions as more of a reflection on them than a reflection on you. You let go, you become a team with your spouse, and then you can laugh together.
If you'd like your own family to be featured on a Blended Family Friday, please email us at divorce@huffingtonpost.com. We're looking forward to hearing your story! Missed last week's featured family? Meet them below!