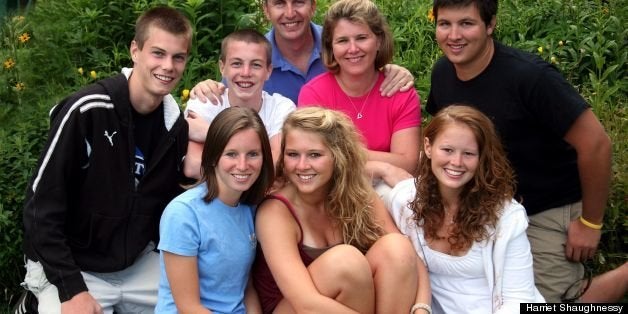 As part of our Blended Family Friday series, each week we're spotlighting a different stepfamily to learn how they successfully blended their two families together. Our hope is that by telling their stories, we'll bring you closer to blended family bliss in your own life!
This week, we're introducing Harriet and Joe's blended family. Together since 1998, the couple have six children together. Now that the kids have grown up, Harriet shared her best advice on bringing two families together and explained why her family is "a true success story against the odds."
Hi, Harriet! Please introduce us to your family.
My husband, Joe, and I are parents to three girls and three boys. Caitlyn, who is 25. Chandler, Hunter (twins) and Ryan, who is six weeks younger than the twins, are all 23. Connor is 21 and Hailey is 20.
How long have you and Joe been together?
Joe and I have been together for 16 years and have been married 15 years. When we were first married, our children ranged in age from five to 10 and they all lived with us. Now they range in age from 20 to 25 and are either in college, graduated from college, in grad school or working in their chosen field. The years have gone by fast.
Looking back, what have been some of the biggest challenges of blended family life?
For us, the biggest challenge was the initial merging of the kids. As parents, we were trying not to alter traditions and routines too much, but we also wanted to make our own. It was a big struggle in the beginning not only for the kids, but for us as their parents. Our parenting styles were similar, though, so that was a big help.
Because all of the kids were so young when we first married, we came up with "house rules" that we all tried to live by. We wanted all of the kids to feel that they were being treated fairly. It definitely took time, but our family eventually took shape. Our initial goal was also to make sure the kids knew they were loved, wanted and cared for.
What's the best thing about being part of a blended family?
The best part about being a blended family is how much fun we all have together. Because our kids were so close in age, finding things to do as a family, that made everyone happy, was not a daunting task.
We always made a huge effort to all sit down to dinner together as many times a week as possible. Our dinner conversations would last as long as two hours. We covered many topics and really learned a lot about each other during those times. We had great conversations over the years. Now that the kids are older, getting everyone together for any amount of time is more difficult, but we always have fun when we do.
What makes you proudest of your family?
I am proudest of our kids. They are a resilient group of young adults.They are smart, caring and genuinely nice people. A prime example that happened years ago: All six kids went to the same parochial school up through eight grade. We made a "house rule" early on that if you forgot something for school, we were not bringing it back to you. Otherwise, we would be going to and from the school all the time. Our youngest daughter, who was in first grade at the time, forgot her lunch one day. Knowing that if I broke the "house rule" and brought her lunch back to the school, all bets were off as far as keeping that "house rule" in place. I cried all the way home knowing that my daughter was without a lunch. Picking the kids up after school that day, to my delight, I had a very happy and proud 6-year-old jump into my car. Our oldest daughter, Caitlyn, knowing that Hailey did not have her lunch, asked her friends to donate an item from their lunch to share with her little sister. Hailey was so excited that her big sister was looking out for her, she could not wait to tell me that she had the best lunch EVER that day! That is the type of moment, and there have been several over the many years, that make us so proud of our kids.
What advice do you have for other blended families who feel like a peaceful family dynamic is out of reach?
My advice is to let your blended family progress naturally. Everyone will have their own time frame. Some kids will adjust faster than others, and the truth of the matter is that some may never adjust to the degree you hope. Learning to be OK with that is key.
When Joe and I first blended our family, our six kids were our number-one priority. Treating our kids like individuals and not as a "herd," as we called it, was a key component to making each of our kids feel special and feel like an important part of the family, which they were.
Many mistakes were made along the way, both with the kids and with each other. We tried to learn from them, forgive ourselves and move on.
If you'd like your own family to be featured on a Blended Family Friday, please email us at divorce@huffingtonpost.com. We're looking forward to hearing your story!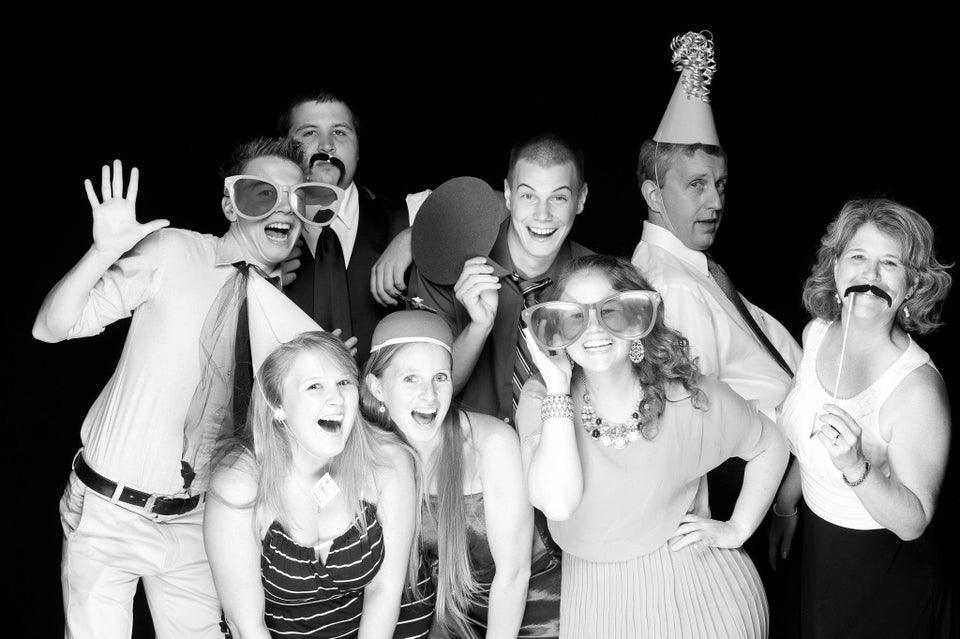 Meet Harriet And Joe's Family
Support HuffPost
A No-B.S. Guide To Life
Related
Popular in the Community