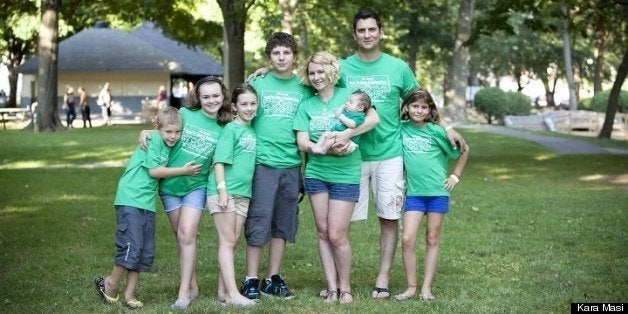 As part of our Blended Family Friday series, each week we're spotlighting a different stepfamily to learn how they successfully blended their two families together. Our hope is that by telling their stories, we'll bring you closer to blended family bliss in your own life!
This week, we're introducing Richard and Kara's blended family. Below, Kara tells us how she and Richard have managed to keep the peace with six kids over the past six years.
Hi, Kara! Please introduce us to your family. How long have you been married?
My husband Richard and I have been together for over six years and married for nearly five. We have six kids in all: Andrew, 16; Harmony, 12; Bernadette, 10; Jillian, 9; Raphael, 8; and Dominic, who is 1.
Andrew, Bernadette and Raphael are my step-children, while Harmony and Jillian are mine from my first marriage and Dominic is our child together.
What has been the best thing about being part of a blended family over the last six years?
The best thing by far (for me, at least) has been watching these children grow over the years. I have been through the toddler years, early elementary school years and now the teen years. As I look back at how much they have grown and changed, it's such a powerful feeling to know I have been part of the lives of children who have grown to love and respect me. I love reading old cards they have given me over the years!
What have been some of the biggest challenges of blended family life?
I think the biggest challenges are incorporating our existing parenting techniques from our first family unit into the new one and dealing with a lot of the emotions that come with children who have gone through a parent's divorce. I think the adults often focus so much on how they feel in a blended family that they forget how the kids feel.
What makes you proudest of your family?
I think we have come a long way from where we started: from loyalty issues to healthy boundaries to respect, we have definitely grown together and not apart. My husband and I lost our first daughter together in March 2011 and the way our children stuck together has been amazing -- they are each others' rock at times.
What advice do you have for other blended families who feel like a peaceful family dynamic is out of reach?
Give it time! We have only recently arrived at a place where we all feel secure in our role in our family but it took years, tears and lots of flexibility. It might take one family a few months to have the wrinkles ironed out or it might take years. Counseling has been a huge factor in my growth as a stepmom; I had to stop sweating the small stuff.
If you'd like your own family to be featured on a Blended Family Friday, please email us at divorce@huffingtonpost.com. We're looking forward to hearing your story!
Click through the slideshow below the see photos of Kara and Richard's family: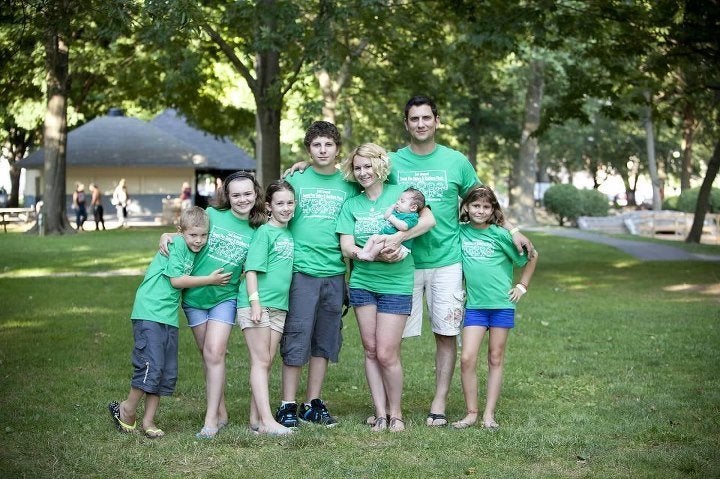 Meet Kara And Richard's Family
Related