As part of our Blended Family Friday series, each week we spotlight a different stepfamily to learn how they successfully blended their two families. Our hope is that by telling their stories, we'll bring you closer to blended family bliss in your own life!
This week we talk to Jen, a stepmom who came into her marriage with the best education available on stepparenting: she was a stepkid herself.
"As a child of divorce whose parents really got it right when it came to post-divorce co-parenting and (gasp!) remaining friendly, I had a leg up when it came to stepparenting," she explains.
Below, Jen shares some of the biggest lessons from her childhood and gives stepparents some great advice on making inroads with the kids. (Head to her stepparenting blog for more tips on making it work.)
Hi Jen. Want to introduce us to your family?
Our motley crew includes three humans, two rescued pitbulls, and two rescued geriatric cats -- we are outnumbered by animals! I'm Jen, my husband is Warren, and my stepson is Bryce -- he's seven and a funny, handsome athlete and math wiz. We truly consider our pets our children, as well. Our dog, Bella, is eight, and our new dog, Cooper, is a little under a year. Our sweet old lady cats are Casey Jo (19) and Patches (12). All of our animals were rescued either from the street or high-kill shelters.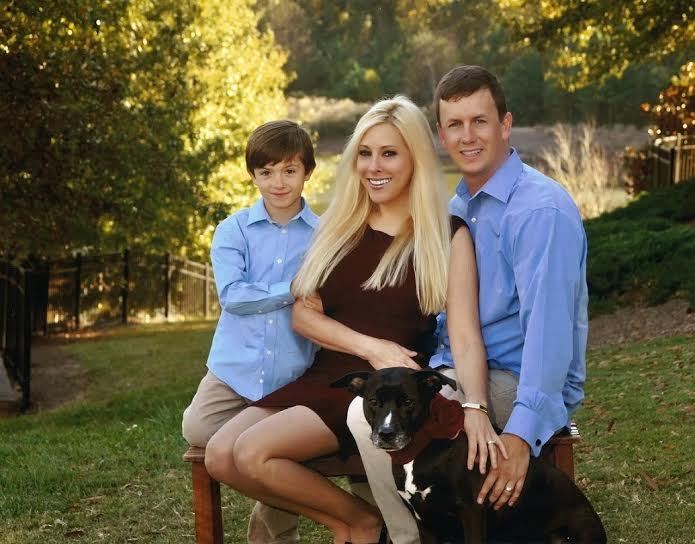 (Photo by Tanner Photography)
How long have you and your partner been together?
Warren and I met through a mutual friend in July 2010 while watching a '70s and '80s cover band. We became engaged only sixteen months later on the Battery in Charleston, SC, and were married four months after that in April 2012. We both agreed on not living together before marriage, and what wound up happening is that we actually moved in together two months after we were married since Warren needed to do some home renovations before he could rent his house and move into mine. So, we basically were the reverse of living in sin for a couple of months!
In what ways did your experience as a stepdaughter prepare you for life as a stepmom?
Just look at the headlines on any given day, and it is obvious that there are many ways to get the role of stepparent very wrong. But growing up with stepparents provided me with the template for the type of stepparent that I am: active, engaged in my stepson's life, a strong adult role model and mentor, but purposefully ancillary to his parents. As someone who is blessed to have wonderful stepparents in my life, I wanted to be a strong role model and fun stepmom for my stepson. I am on the PTA board at his school and volunteer there very often. I've been team parent for his baseball team and I've taught skits to his Cub Scout den.
Also, being a child of divorce and a stepdaughter myself, I am fully able to identify with challenges my stepson faces with his parents not being together. Because of my experience growing up, I can speak to him from the perspective of someone who was in his place 30 years ago. He knows that I am not only a stepmom, but that I also have a stepmom whom I love very much.
What are some of the biggest challenges of blended family life?
I would have thought it would have been bonding with my stepson, however I think because Bryce and I met when he was three, bonding with him has been rather easy. I think the biggest challenge we face with blended family life is our different approaches to parenting, especially because I am not my stepson's parent and I leave the tough stuff to my husband. However, behind the scenes I disagree with my husband on a few things. I read on a stepmom blog that these differences are common because a parent views their children through the lens of love first, whereas a stepparent views their stepchildren through the lens of responsibility first. I remind my husband and myself of that frequently. And, since my stepson is a really good kid, fortunately our different views on parenting aren't that much of a challenge.
What makes you proudest of your family?
I am most proud of my family for fostering the understanding that being a "step" doesn't put one outside of the family. I was raised to treat my stepparents' family members like our family, and likewise my brother and I were treated as such. Just as we referred to my stepdad's parents as "grandma" and "grandpa," my stepson calls all of my parents and stepparents "grandma" and "grandpa" too, and they refer to him as their grandson. Bryce really understands what I learned as a child: blood and genetics doesn't make a family -- love does.
What advice do you have for other blended families who are struggling to maintain the peace?
Peace in a blended family starts with the parents' marriage. A blended family gives divorced parents a second chance for healthy, fulfilling marriages. Your marriage is your opportunity to cultivate a framework and an expectation for how your children and stepchildren should treat one another and others outside the family. Seek marriage advice and fun tips on websites, go on date nights and do all you can to be each other's true partners. Also, if a peaceful family dynamic is being disrupted by a toxic ex, you simply have to block out this person. You cannot allow a toxic ex to become a third party in your marriage -- remember, that is what they are aiming to be. So, be a strong enough union that an ex's antics are merely laughable anecdotes between the two of you, not cause for a fight. But most importantly, strengthen your union for the sake of your new family and this new chance to get things right!
Scroll down for more photos of Jen and Warren's family.
If you'd like your own family to be featured on Blended Family Friday, please email us at divorce@huffingtonpost.com. We're looking forward to hearing your story!