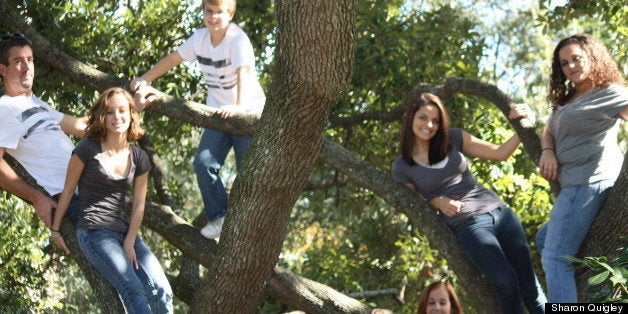 As part of our Blended Family Friday series, each week we're spotlighting a different stepfamily to learn how they successfully blended their two families together. Our hope is that by telling their stories, we'll bring you closer to blended family bliss in your own life!
This week, we'd like to introduce you to Michele and Barry and their four kids. Below, Michele shares how she and Barry make it work in a house full of teenagers!
Hey, Michele! Please introduce us to your family.
We have six family members total. My husband Barry and myself and our kids: Jessica, 24; Sara, 18; Raina, 15 and Heath, 14. The two older girls were from my first marriage and the younger children were from Barry's first marriage.
How long have you and Barry been together?
We have been together for 10 years and seven months. We met in December of 2002 and married in July of 2003. We went on our first date a few days after Christmas and have been together ever since! We actually talked so much during our first dinner/movie date that we missed the movie we had intended on seeing so we had to see another one. No big deal because by the time I got home there was an email asking if the next night was too soon for a second date!
What's the best thing about being part of a blended family?
I think one of the best things about being a part of a successful blended family is a second chance. Not only is it a second chance for you and your spouse, but I think it shows your children that just because you fail at something once does not mean you should never try again. I think it shows them that you can learn important lessons from a failure, any failure, and use those lessons to succeed when you are given a second chance.
What are some of the biggest challenges of blended family life?
One of biggest challenges we faced were differences in parenting styles but I think you face that in any family. The difference with a blended family is that you can get a "yours" and "mine" mindset which can be detrimental. Another challenge is dealing with ex spouses and remembering that no matter what, they are the parent of the child so keep it positive or keep it quiet!
What makes you proudest of your family?
What makes me the proudest is that there is no "yours" and "mine" in our home and our children know it. They know that we are their parents and that we both love them unconditionally and are there for them no matter what. I think one of the proudest moments I have ever had is when someone we had known for years said to my husband and I, "I didn't even know the kids were not all yours." That is success.
What advice do you have for other blended families who feel like a peaceful family dynamic is out of reach?
Make your marriage your top priority. This is a new marriage and it needs time and energy and nurturing. If you ignore it, it will fail and you have already done that once to your children and do not want to do it again. Our rule is that once we are in bed for the night and the door is shut, you do not bother us until we open it in the morning unless it is an emergency. We also told them an emergency consists of blood, vomiting or fire!
Keep all child-related disagreements away from the kids. If you aren't sure how you are going to punish a child or reward a child for something, tell them you need to discuss it and walk away and discuss it away from the house. Go for a walk, or send the child for one but never disagree about those things in front of a child. It shows a crack in the united front and once that happens they will use it to their advantage. That is what kids do, it is natural!
Most importantly, laugh! Laugh as much as you can as often as you can.
Click through the slideshow below the see photos of Michele and Barry's family.
If you'd like your own family to be featured on a Blended Family Friday, please email us at divorce@huffingtonpost.com. We're looking forward to hearing your story!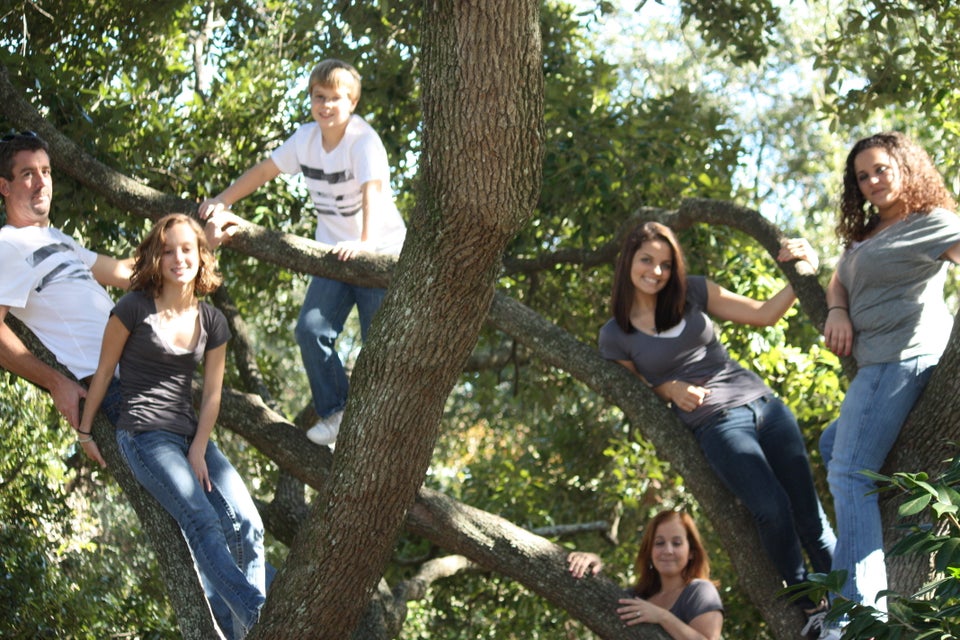 Meet Michele And Barry's Family