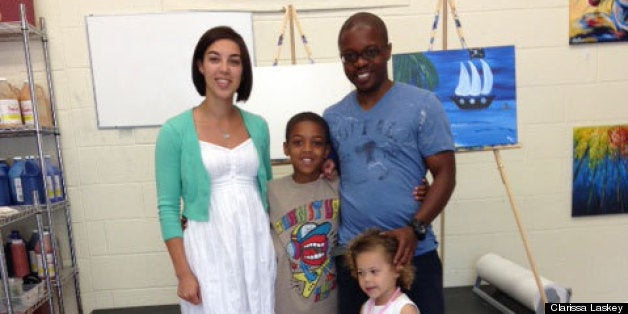 As part of our Blended Family Friday series, each week we're spotlighting a different stepfamily to learn how they successfully blended their two families together. Our hope is that by telling their stories, we'll bring you closer to blended family bliss in your own life!
This week we're introducing you to Clarissa Laskey's family. What's so special about Clarissa's blended family? Although she has since married someone else, she and her ex, Rick, still share a special bond for the sake of their son, Reece. Below, the mom of two shares her best co-parenting advice and explains why Rick is still her best friend.
Hi Clarissa! Please introduce us to your family.
My husband, Keith and I have a daughter, Tatum, who's 3. My ex, Rick, and I have a 9-year-old son together, Reece.

Tell us a little bit about your current relationship with Rick. How are the two of you able to remain so close after your split?
We parted ways not too long after Reece's birth and at first things were not very pleasant. About a year or so after Reece's first birthday, [Rick] met someone else and so did I. I eventually got married and life went on. Reece's father and I finally talked about things in our past that we both needed to move on from and we became "friends" again as well as excellent co-parents. Reece is now 9 and I have a daughter who is almost 3 with my husband, Keith. Reece's father, his family, my family and my husband's family are all friends. We all genuinely get along, attend events together and realize that the glue that binds us together is something bigger than all of us adults: it's a special little boy named Reece. People who know our "family" always have questions and sometimes even find it odd how close we all are, but it my eyes it's easy because we all have the same common goal, to love Reece and be great parents!
What's the best thing about being part of a blended family?
The best thing about being part of a blended family, in my opinion, is having multiple people who love and care for my children at all times. I have such an amazing support system from my husband and from Rick, who I have known since I was 17 years old. Rick is by far my very best friend, and I could not be luckier to "share" our son with him.
What are some of the biggest challenges of blended family life?
Some of the biggest challenges with a blended family are dealing with all of the different emotions, personalities, schedules and constant growing pains. You have to be adaptable because the people in your family grow in different ways. It can often be a challenge to keep everyone together while also trying to satisfy and keep everyone happy (for the most part)!
What makes you proudest of your family?
Our constant selflessness. Keith, Rick and I have always made sure to go out of our way to ensure that Reece comes first. We have put aside our feelings, emotions and pride at times in order to make sure that we always get along for Reece. Rick and I make sure that we spend quality time together at least once a week with Reece, which is usually a fun night out for dinner or a movie for the three of us! I love and am very proud of Keith for being such a wonderful stepfather to Reece, and for always encouraging my relationship with Rick. I also love and am extremely proud of the special relationship that Rick has with my daughter, Tatum. She genuinely loves him and they have their own, cute special bond.
What advice do you have for other blended families who feel like a peaceful family dynamic is out of reach?
My advice would be to take a few steps back, try to think outside of the box and look at the potential for minimal drama and maximum happiness for your family, especially for the children involved. Sometimes you need to look past yourself, and be very selfless. You have to realize that the children involved did not ask to be born or brought into certain situations, and your job first and foremost as a parent is to see that they are nurtured and shown constant love and happiness. If you lead by example, they will follow.
Click through the slideshow below the see photos of Clarissa, Keith and Rick's family!
If you'd like your own family to be featured on a Blended Family Friday, please email us at divorce@huffingtonpost.com. We're looking forward to hearing your story!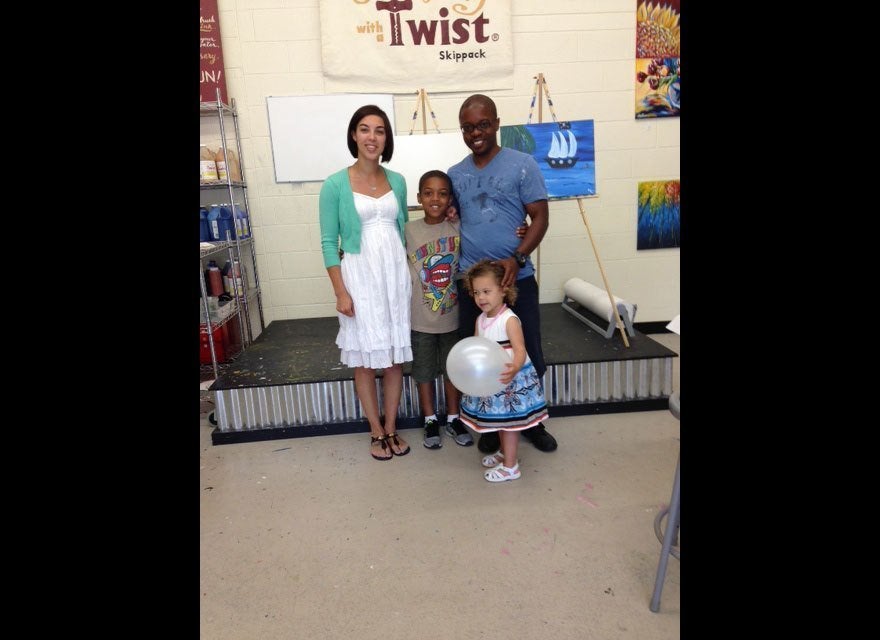 Meet Clarissa, Keith And Rick's Family
Support HuffPost
A No-B.S. Guide To Life
Related
Popular in the Community