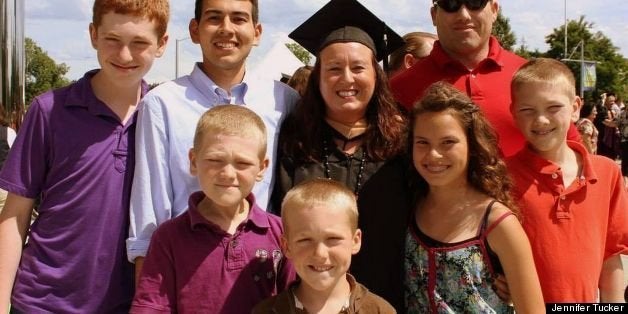 As part of our Blended Family Friday series, each week we're spotlighting a different stepfamily to learn how they successfully blended their two families together. Our hope is that by telling their stories, we'll bring you closer to blended family bliss in your own life!
This week we'd like to introduce you to Kate Elliott's family. After marrying her husband, Chad, in 2010, Kate, a mother of two, decided to adopt his four sons. Below, she tells us more about that decision and shares how she and her family have thrived in spite of the obstacles.
Hey, Kate. Please introduce us to your family.
There are eight of us in all. There's me, my husband, Chad, and our kids: Eddie (20), Beau (14), Austin (13), Natalie (12), Joshua (9), and Noah (8).
And how long have you and Chad been a couple?
We've actually known each other since we were sophomores in high school. We first met in biology class in 1988 -- so nearly 25 years -- and became best friends. Only five years ago did we become romantically involved. July 3, 2008 is our "kissiversary." We were married on May 2, 2010. On Oct. 5, 2010, I was able to adopt Chad's kids (Beau, Austin, Joshua, and Noah).
What would you say is the best thing about your family dynamic?
The love is the best part. There is so much love in our family; it is breathtaking. Holding the love of a child that you did not create is an amazing thing to experience. Both of us agree we could not love each other's biological children more. As Chad says, "In my heart, they are mine." He says that one of the most amazing things he's seen is how his four boys call me "mom." He always says the day I adopted them was one of the happiest days of his life.
What have been some of the biggest challenges of blended family life?
My husband and I would have to agree that it is the ex factor, at least from Chad's side (my ex and I have a good relationship). Chad's ex created a hostile environment, but luckily the boys recognized the truth of the situation and with open communication between everyone in the household, we saw through it all.

What makes you proudest of your family?
You know those moments when you see your children being kind and loving toward each other? We see those quite a bit. When Chad and the boys moved in with my family, my son, Eddie, who was 15 at the time, really took them in with open arms and was excited to have them in the family. That really set the stage for the great relationships all the kids share.
What advice do you have for other blended families who feel like a peaceful family dynamic is out of reach?
Get a professional to help you mediate your family discussions. Set up rules and make an agenda when you have a family meeting. A social worker or someone who can guide and direct a healthy dialogue can be priceless in most situations. Be honest and be willing to fight for your family. It can be hard work to meld into one family when obviously there will be baggage. Be able to sympathize with your family members. Seeing things from their points of view can help you to address issues. Finally, our love for each other has played a huge role in our family making it. We know there are a thousand reasons why blended families fail, but we see a thousand reasons why our family thrives.
Click through the slideshow below the see photos of Kate and Chad's family.
If you'd like your own family to be featured on a Blended Family Friday, please email us at divorce@huffingtonpost.com. We're looking forward to hearing your story!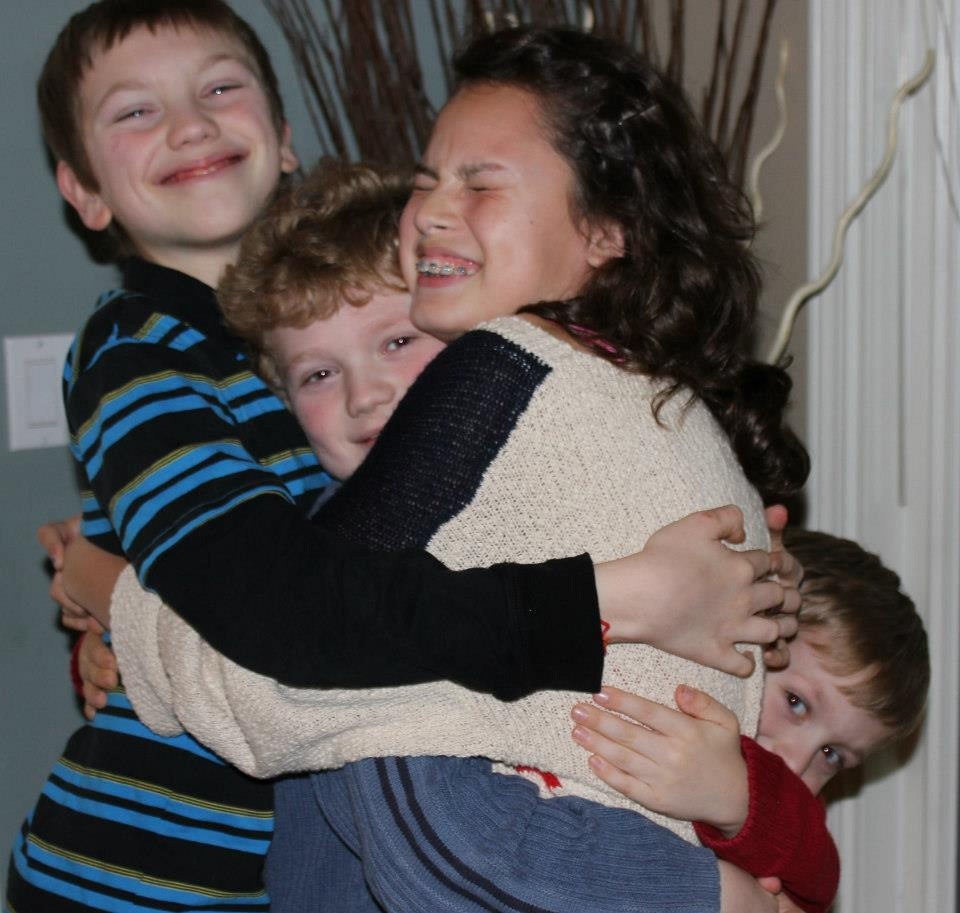 Meet Kate And Chad's Family