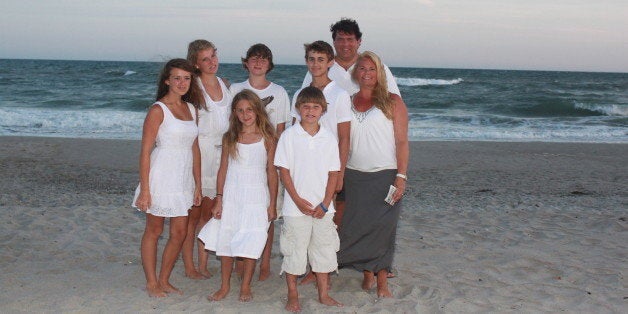 As part of our Blended Family Friday series, each week we're spotlighting a different stepfamily to learn how they successfully blended their two families together. Our hope is that by telling their stories, we'll bring you closer to blended family bliss in your own life!
This week's blended family story comes from Rochelle Roos Ekman. The mom of eight says the secret to successfully blending a family is "communicating, keeping things fair and loving each other for who they are." Below, Rochelle shares more tips on everything from planning family trips to dealing with those inevitable disputes between teenage stepkids.
Hi Rochelle! Want to introduce us to your family?
We are a family of eight. There's me, my husband, Philip, and our six kids: Josh (14), Haille (13), Megan (12), Mason (12), Emily (9) and Cooper (9).

How long have you and your husband been together?
Philip and I started dating in early 2008 and were married in December of 2009.
What are some of the biggest issues you've encountered in bringing your two families together?
It's no lie, blending a family has its ongoing and ever-evolving challenges. At first we all had to get used to each other's style of communication, how we wanted to spend our family leisure time, along with blending parenting styles. The biggest challenges of being a blended family are blending parenting styles and always trying to make sure things are fair amongst the kids.
Another challenge is planning trips. Do we always ALL go everywhere together as a family or do we keep some of our prior family traditions on our own? Well, we've kept some and added new ones that we enjoy together, such as a annual family trip to Atlantic Beach, North Carolina.
What's the best thing about being part of a blended family?
The best part of being a blended family is that you have a bond with another partial nuclear family who shares your pain of going through a divorce and you just get each other. You grow to love each other and over time you heal and start to feel like a whole family again.
What are the weekends like when you have all the kids?
Now that our family has had time to gel, the kids want to be together every weekend they are with us. This has enabled my husband and I to take time doing more one-on-one outings with each of our kids individually. We rotate through and try to break off and give each one of the kids time alone with one or both of us so that they know that even thought they are part of a big family now, they still are loved for who they are individually.
What makes you proudest of your family?
The thing that makes me proudest of my family is that we are a modern day Brady Bunch, who has its struggles, but at the end of the day we love each other. I love watching my kids form strong bonds with my husband's kids. It's like having a sibling and a best friend all in one.

What advice do you have for blended families who are having trouble keeping the peace?
I'd tell them to keep trying to be a cohesive family unit and to keep talking and communicating. It's so easy for things to be misunderstood when you parent differently or you have that mama/papa bear mentality to choose sides when there is a dispute. And there WILL be disputes. You have to talk it out and make each person feel respected and loved for who they are. This is more easily done when your new family unit can be a balanced blend of both families personalities, pre-marriage. Make sure that both of you bring your family traditions and activities into the new family. Pick the ones you love and a few may fall to the wayside, but new ones will be added. It really does need to be a blend!
If you'd like your own family to be featured on a Blended Family Friday, please email us at divorce@huffingtonpost.com. We're looking forward to hearing your story!
Click through the slideshow below the see photos of Rochelle and Philip's family.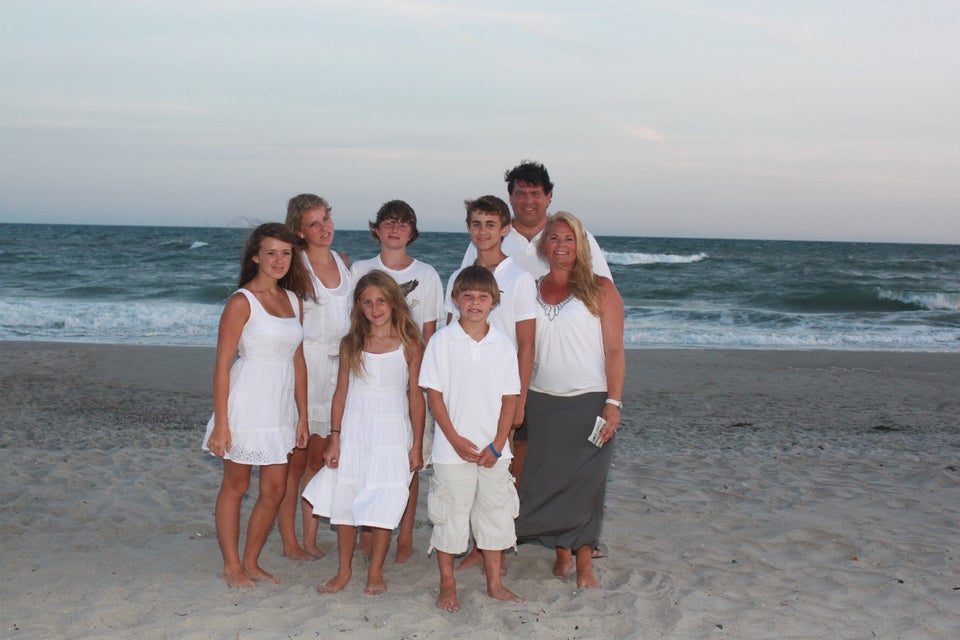 Meet Rochelle And Philip's Family