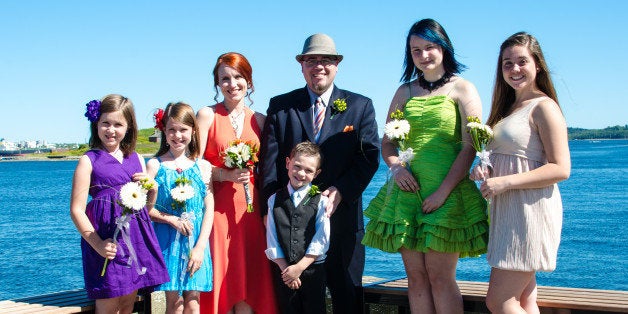 As part of our Blended Family Friday series, each week we're spotlighting a different stepfamily to learn how they successfully blended their two families together. Our hope is that by telling their stories, we'll bring you closer to blended family bliss in your own life!
This week, we asked Kelly, a mother of five who blogs about blended family life as Momma Sunshine, to share her secrets for stepfamily success. Our favorite bit of advice from this mom? Don't try to force relationships between members of your family. Be willing to give each person the time they need to accept and hopefully, embrace, the new family dynamic and it will pay off in a big way.
Scroll down below for more advice from Kelly as well as photos of the whole family.
Hi, Kelly! Please introduce us to your family.
We're a family of seven in total. Myself, my husband, Todd, and our five children -- Ben (7), Molly (8), Emma (10), Madison (14) and Cassidy (16).
Todd and I have been together for almost five years, but we just got married this past summer. For the first three years of our relationship, we were a long-distance couple and only saw each other every other weekend, which added a whole other level of complicated to our family, but thankfully we survived it! Todd moved to my city a year ago and everything has been running smoothly.
What's the best thing about being part of a blended family?
The best part is how many more people there are in our children's lives that love and care for them. Our children not only have new siblings and step-parents, but they have new step-grandparents, step aunts and uncles, step cousins! Their lives are richer than ever because of all the people that are now a part of it.
What challenges have you run into as a blended family?
There are a few challenges. Realizing that love for your partner's children isn't automatic was a big one. I struggled with a lot of guilt because of this in the beginning, but learned that if I gave us all some time to develop relationships on our own terms, that the love would grow eventually. Learning to co-parent is another challenge, which requires a lot of patience, understanding and compromise. Single parents are used to being able to basically do things their own way, so when two single parents come together to form a new family together, it takes work to make the actual "blending" part happen.
What makes you proudest of your family?
I'm proudest of how loving and accepting our children have all been of each other and our situation. They've all come into it with open minds and hearts and have grown to love each other. They've all focused on the benefits of being part of a blended family, rather than the drawbacks.
What advice do you have for other blended families who feel like a peaceful family dynamic might be out of reach?
My best advice is to take things slowly. As I said before, love for your partner's children isn't automatic. Just because you love someone doesn't mean that you're going to automatically love their children. All relationships take time to grow and develop. Be willing to give everyone the time and space that they need. It will come.
If you'd like your own family to be featured on a Blended Family Friday, please email us at divorce@huffingtonpost.com. We're looking forward to hearing your story!
Click through the slideshow below the see photos of Kelly and Todd's family.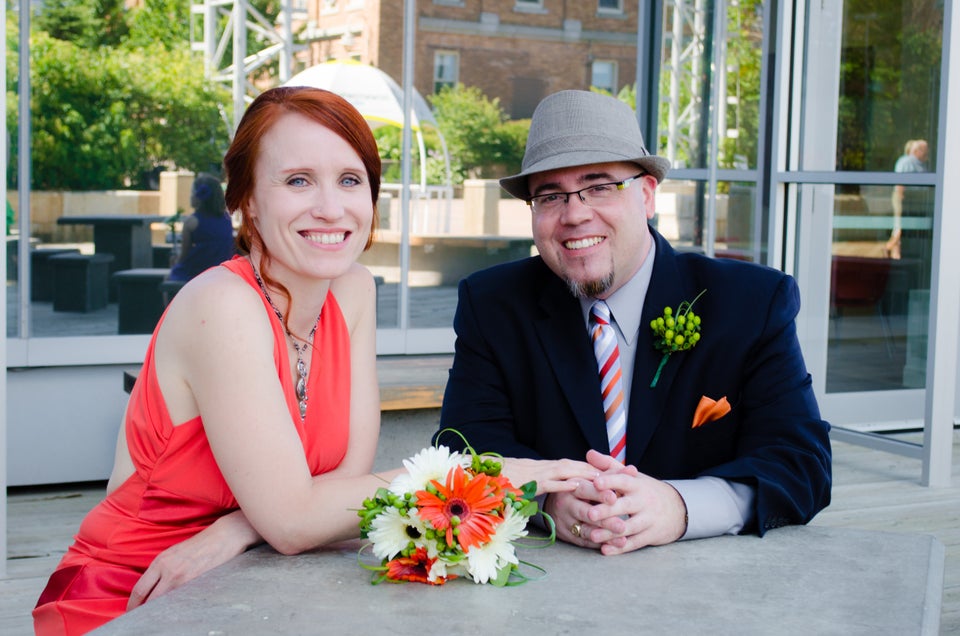 Meet Kelly And Todd's Family