As part of our Blended Family Friday series, each week we spotlight a different stepfamily to learn how they've worked to bring their two families together. Our hope is that by telling their stories, we'll bring you closer to blended family bliss in your own life! Want to share your family's story? Email us at divorce@huffingtonpost.com.
Not long after moving to Denver, Colorado, Australian native Elisha Dixon met her future husband Kevin and his two daughters at an ice cream parlor. Not long after, she met Kevin's ex-wife Laura. The two women didn't click instantly -- but in time, they forged a strong co-parenting bond for the sake of the kids.
"I am happy to say that we have moved past our reservations and are communicating a lot better about the girls. We try to help each other out," Elisha told The Huffington Post, "As they say, it takes a village!"
Below, Elisha and Laura share their story and offer their best advice for other biomoms and stepmoms who might be struggling to get along.
Hi! Please introduce us to your family.
Elisha: On my side, there's me, my husband Kevin and Kevin's two girls from his first marriage: Madison, 9 and Olivia, 5.
Laura: And I'm Madison and Olivia's mom. Kevin and I divorced five years ago.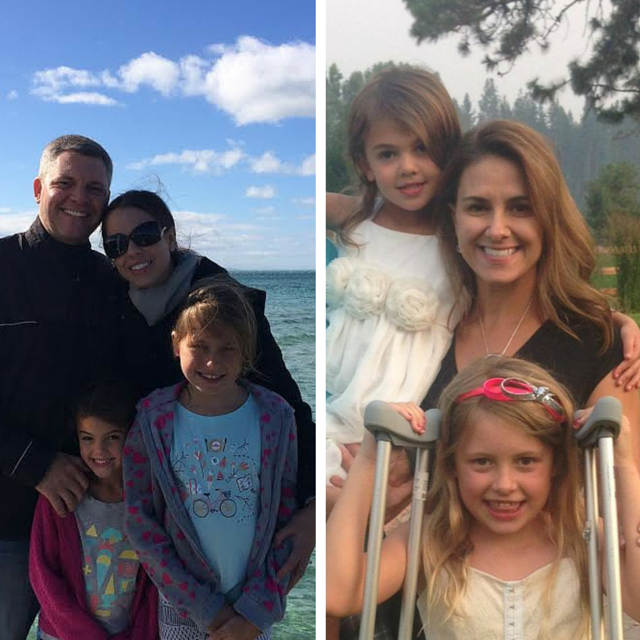 How long have you and Kevin been married, Elisha?
We've been together about five years. We started out as friends and our friendship slowly turned into a relationship. From the beginning, we bonded over our dislike of the cold -- I'm from Australia and he's from Florida! We married last June in Denver.
Elisha, what was it like to come into these little girls' lives, given that you weren't a parent before this?
It hasn't always been easy but these last five years, I've come to realize that most moms worry about whether they're doing a good job as a parent. Hearing the girls say I love you makes everything worth it. They've known me almost their whole lives so they accept me as their stepmom. I enjoy taking them to school and after-school activities and just hanging out with them on the weekends.
I have to say, it helps that Laura and I get along pretty well these days. I think that as time's passed, we've both realized that it's better for the girls if we communicate and show them that we can be friendly.
And Laura, why was a co-parenting relationship with Elisha important to you as a biomom?
I subscribe to the "it takes a village" mentality when it comes to raising kids and Elisha is a good person to have in that village. It wasn't easy to watch another woman "mother" my kids at first but it was easier to accept because she is a really good woman. I recognized how much she loved the girls and how much they loved her. She is very nurturing and I think that's great for my kids to have in their lives! You don't get any say in to who your ex remarries, but I was pretty grateful that Kevin picked someone so good for the girls.
What have been some of the biggest challenges of co-parenting for you both?
Laura: We have different parenting styles and different values that have been hard to meld. Neither way is right or wrong, just different. But since the divorce, I've tried to focus on having a more business-like relationship as parents. We're "in the business" of raising the girls and recognizing that really helped when separating was so emotional. Now that they pain of the divorce is gone, we have a business relationship and a friendship as parents and that helps us take great care of the girls as a team. Reminding myself that "it takes a village" grounds me when emotional situations arise.
Elisha: I'd say one of the hardest things is establishing consistency in our family. Although communication is good between Laura and me, the girls are still in two different homes. They're young now but in order for us all to make it through the teenage years, we'll need to continue having open communication between the three of us so we're all on the same page.
What makes you proudest of your family and the progress you've made these last five years?
Elisha: I'm proud of how the girls handle the whole divorce situation. I know that it's not easy on them to go back and forth and have three parents but I feel that they show all of us love and affection. My hope is that when the girls grow up they'll look back on their childhood and think of it as a happy childhood in spite of the divorce.
Laura: I'm just proud that we have become so flexible with each other and that we can attend events together!
What's your best advice for stepparents and biological parents who are struggling to get along?
Elisha: I feel like the most important thing is to not force closeness. Things need to go slow for the children but also the parents. There are a lot of people that have feelings involved in the situation. Just know that things usually get easier with time. If you're coming into a ready-made family you need to have realistic expectations especially in regards to how the children will interact with you and accept you.
Laura: Again, it takes a village to raise children and adding another member just helps cover all the bases. Forging a strong relationship with your kids' stepparent (business-like or more friend-like) will ultimately benefit the kids and in the end, that's really the bottom line!