As part of our Blended Family Friday series, each week we're spotlighting a different stepfamily to learn how they successfully blended their two families. Our hope is that by telling their stories, we'll bring you closer to blended family bliss in your own life!
The secret to this blended family's strong bond? The incredible relationship stepmom Erica has forged with her husband's ex-wife, Ashley. The two take the kids on circus play-dates, share the task of shuffling the little ones to and from doctor's appointments, and celebrate milestones as one big family. "We are such a unique family that everyone thinks we should have our own TV show," Erica says.
Below, Erica tells us more about the unique bond she shares with Ashley and offers her best advice for parents looking to keep the peace in their own blended families.
Hi Erica! Want to introduce us to your family?
Sure! My husband, Tony, and I have a daughter together: Meadow. Tony and his ex, Ashley, have two kids together: Brennan, who's 12 going on 17, and Evan, who's 10.
Ashley is now married to her hubby Keith and they have two kids: Alexis, who's 5 and Kyle, who's 12. Kyle is Keith's son from a previous relationship.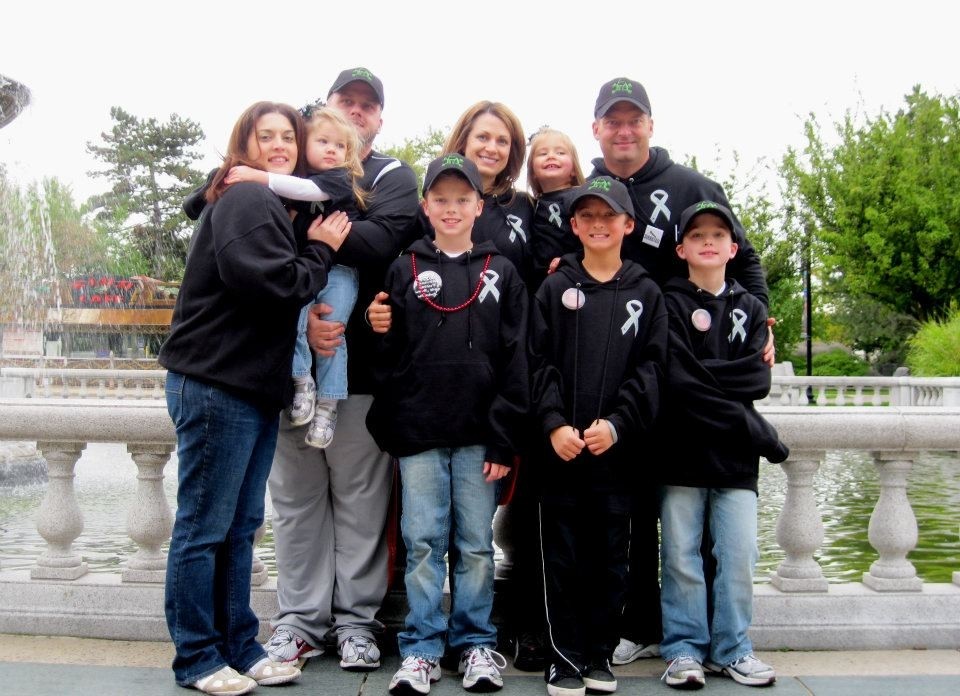 The family at the American Diabetes Association walk they do yearly for Brennan, who has type 1 diabetes. Top: Erica, Meadow, Tony, Ashley, Alexis, Keith. Bottom: Brennan, Kyle, Evan
And how long have you and Ashley been with your current spouses?
Tony and I have been married for four years after a long courtship. Ashley and Keith are going on eight years -- the longest marriage on record for both of them!
Tell us a little bit about your friendship and co-parenting relationship with Ashley.
She and I get along so well, we call each other "sister moms." Our daughters with our current husbands think they are sisters to each other, too, since they share their brothers.
Ashley and I really hold it all together for the love of Brennan and Evan (the kids we co-parent) as well as their various siblings. Part of the reason we get along so well is because we both have the same goal: we want to make sure nobody is left out, and we are all represented within the two households. As for our friendship, we are good friends because we complement each other.... She is the yin to my yang!
But because of how close we are, it really does get confusing for people to identify who's who in our family. Ashley and I have been mistaken for a couple and also plural wives. That's when we started jokingly referring to each other as "sister mom"!
What have been some of the biggest challenges of blended family life for you?
Getting equal amount of quality time with the kids and making sure they get as much time together as possible with their other siblings. It can be tough.
What makes you proudest of your family?
That even though it is not all happiness and sunshine, at the end of the day, we all love each other. We have a very special bond and can help support all members of the two families.
What advice do you have for parents of blended families who are struggling to keep the peace?
Get your priorities straight! You say you'd do anything for your kids -- then do it! Find your happy medium and make the most out of the situation you are in, that you helped create. We've learned that it really takes less time to work things out than to fight.
Scroll down for more photos of Erica and Ashley's family.
If you'd like your own family to be featured on a Blended Family Friday, please email us at divorce@huffingtonpost.com. We're looking forward to hearing your story!