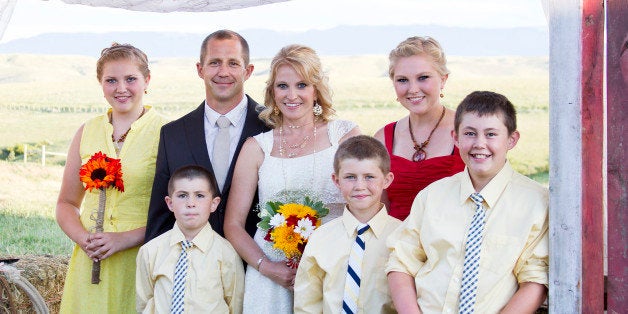 As part of our Blended Family Friday series, each week we're spotlighting a different stepfamily to learn how they successfully blended their two families together. Our hope is that by telling their stories, we'll bring you closer to blended family bliss in your own life!
This week's blended family story comes from Wendy Wood-Neeson. Though Wendy is the first to admit that blended family life is not without its hiccups, she'll also tell you that it's all worth it when her family of seven come together. "Our life is not perfect, we all have transitions, and moments of frustration," she says. "Our life is full and crazy and wonderful and best of all, we are sharing it together!"
Below, Wendy tells us more about her family, including how they deal with scheduling conflicts and what makes her proudest of her five kids.
Hey Wendy. Please introduce us to your family.
There are seven members in our family. My husband, George, and I have five kids all together. George has three sons from a previous marriage: Cade, 14; Bode, 11; and Gage, 9. I have two daughters from a previous marriage: Savanna who's 18 and Madison who's 15. George works as a firefighter/EMT and I am a family nurse practitioner.
How long have you and George been together?
Almost three years. We met through a mutual friend in January 2011 -- although it seems that our paths should have crossed earlier, as I was in the same elementary school class as his little sister, we both worked in the medical field, and we only lived a few miles apart. We have been living together since January 2012, and "officially" became a family just this past July 5, 2013. But if you ask anyone of us, we were a "family" even before we started living together or signed the marriage certificate.
What are some of the challenges you've all encountered as a blended family?
One ongoing challenge of our blended family is visitation and scheduling. The girls live with George and me full time and the visitation schedule with their father is flexible, which has worked well. On the other hand, the boys are not with us full time, but they live in the same town as we do, so distance is not an issue when it comes to visitation. Their visitation schedule is very rigid with no flexibility. With seven of us in the house, and a few schedules having no flexibility, it has at times been challenging to plan activities and make sure that we always have family time. Our priority is to have one family dinner, one family movie night, or one evening in the front yard playing together during the week. When we're all together, it's easy to see that dealing with some rigid scheduling is all worth it. Nothing in the world is better than being with your family: laughing and smiling and building memories. No challenge is too big that it can not be overcome by simply being together and making each other a priority.
What are some of the perks of blended family life?
One of the best things about being in our blended family is that we have been able to challenge, complement and complete each other! For instance, recently the boys took us to a monster truck show and then turned around and helped us shop for a prom dress for Savanna! What a crazy weekend and a way to blend our two worlds! A cross-country trip to Disneyland? We did it, and we all survived! Camping and hiking and "roughing it" was not really something the girls and I did, but now it is a family activity. George and the boys did not spend much time around horses, but since that is an activity the girls and I do, they accepted the challenge and now that is part of their world too! Bode even won a round of steer riding at the rodeo this year. And just like a family does, we were all there cheering him on and watching him "cowboy-up"!
Another perk? George and I have both been divorced before, and as a result of that our children were not able to see firsthand a loving relationship between two people. Without some type of role model, they may have grown up to repeat a divorce pattern that neither George nor I want for them. Now, they are able to witness affection, compassion, and compromise and perhaps, as a result, there is a chance that as they grow into adults, they will know that these things do exist and these things can be achieved in their own relationships.

What makes you proudest of your family?
I love watching how each and every one of the children take care of and support each other, just like "real siblings" do. Don't get me wrong, that also means that they argue over things like who is supposed to do the dishes, but they are also the first to support and encourage and be there for each other.
It is also nice to see that they like to be with each other and support each other. Even with our oldest just starting college, she made sure to take time to attend our little guy's football game, to support her "little brother." It makes me proud to know that everyone knows that they are an important part of the family, and that everyone makes sure that everyone is included.
I am also so proud of my husband for being the head of our amazing, wonderful, family. He has taken on this responsibility with more compassion, love and kindness that anyone could ever imagine. It amazes me how all five children look at him with such respect. He is the one that any of them can go to with any problem or concern and he will help them through it -- from a flat tire, to a math homework problem, to a friend problem at school, he is the one with the patience and insight to guide them through it.
What's your best advice for blended families struggling to "blend"?
Be it by chance, by fate, or by choice, every member of a blended family has so many great gifts to offer; take time to treasure and nurture each of those gifts. As a parent of a blended family, you have been given the greatest opportunity of all: you have the opportunity to shape the character of your children and stepchildren simply by the way you act and react to the world around you. Be selfless, be positive, be kind. They will live and learn by example, so make it a good one. This is now your family, and you can create your own happiness!
If you'd like your own family to be featured on a Blended Family Friday, please email us at divorce@huffingtonpost.com. We're looking forward to hearing your story!
Click through the slideshow below the see photos of Wendy and George's family.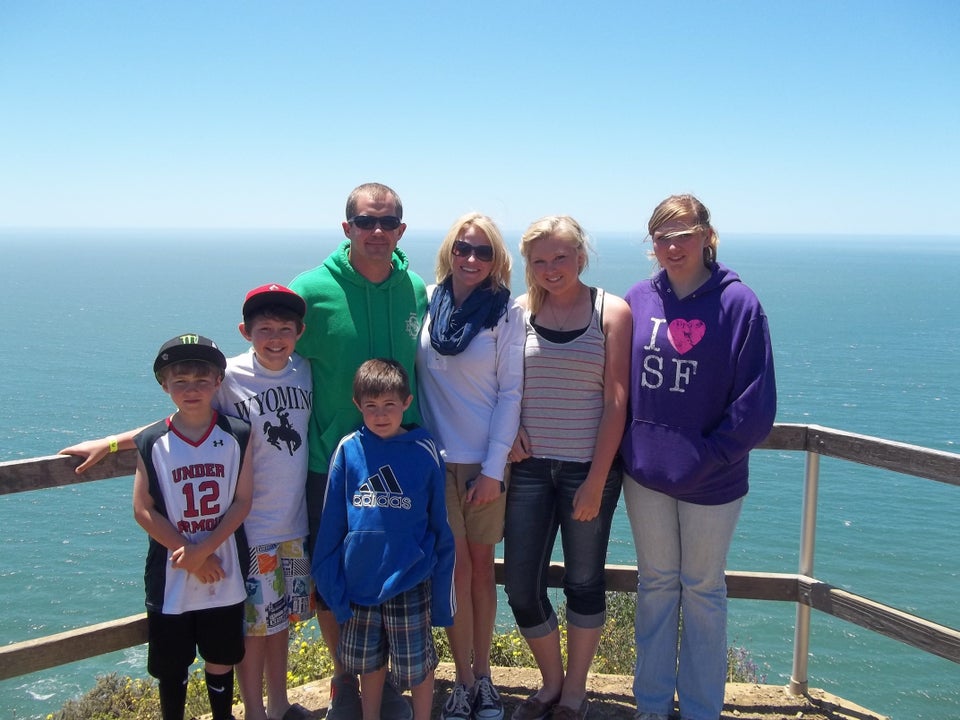 Meet Wendy And George's Family
Related