As part of our Blended Family Friday series, each week we're spotlighting a different stepfamily to learn how they successfully blended their two families together. Our hope is that by telling their stories, we'll bring you closer to blended family bliss in your own life!
Today's post comes from Amy Arndt, a stepmom from Austin, Texas, who blogs about blended family life and all the craziness that comes with it on her blog, Never Wear Anyone Else's Hat. Below, Amy shares her advice on everything from stepparenting to making nice with bioparents for the benefit of everyone involved.
Hi Amy! Want to introduce to your family?
Sure! There's five of us in all. Me, my husband, Tim, and our kids: Matthew, 19, Stephanie, 18, and Emily Rose, 10.
Tim and I have been married for 11 years. Matthew was 5 and Stephanie was 4 when Tim and I started dating, so I cut my parenting teeth by practicing on them. They were great teachers.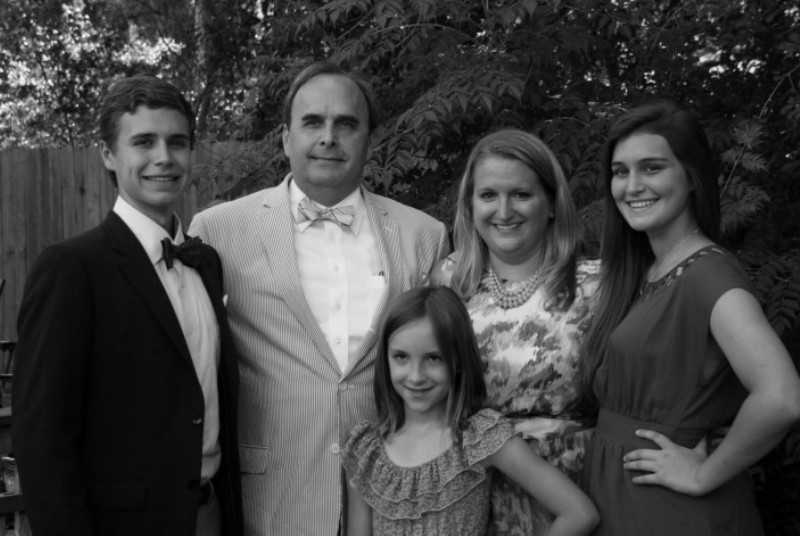 What do you and your spouse enjoy most about blended family life?
Tim and I believe there are no limits to love, which always gave Matthew and Stephanie permission to love both of their biological parents, their stepmother and their sister. When Emily Rose was born, my priority was to be sure that Matthew and Stephanie never felt like stepchildren. We're all very close as a result, and we cherish the time that the five of us spend together. Now that Matthew and Stephanie are in college, our time is limited, so we're thankful for our iPhones!
What have been some of the biggest hurdles for you and your family?
When divorces aren't amicable –- and sadly, very few of them are –- parents communicating between households isn't easy. Pair that with a court system and a general societal view that favors mothers in almost all cases, it's no wonder so many fathers feel pushed to the side. We advise all newly-divorced dads to resist the temptation to run and stay in the same neighborhood. Show up at school. Fight for father's rights. Take the high road. It's not always easy, but if you put your kids first, and don't sweat the daily frustrations, you will develop a relationship with your kids that will last a lifetime.
What makes you proudest of your family?
We're all helpers, and Tim gets the credit for that. Because of his example, our kids are constantly helping those in need of help. I'm proud that their first inclination is to put others before themselves.
What advice do you have for other blended families who are struggling to keep the peace in their family?
When I ponder a peaceful family dynamic, I can't help but laugh. We're a very loud, opinionated family. But we work hard at open communication, even if we yell a little in the process. I advise anyone who is moving into a blended family situation to resist the temptation to say ugly things about "the other side." It's not a competition, and if you go at it from a competitive standpoint, the guilt and manipulation will come back to bite you later. At school functions where the kids are forced to engage with two sets of parents, do all you can in your power to make things comfortable for your children. Be okay with sharing, and your kids will benefit every time.
Scroll down for more photos of Amy's family.
If you'd like your own family to be featured on a Blended Family Friday, please email us at divorce@huffingtonpost.com. We're looking forward to hearing your story!