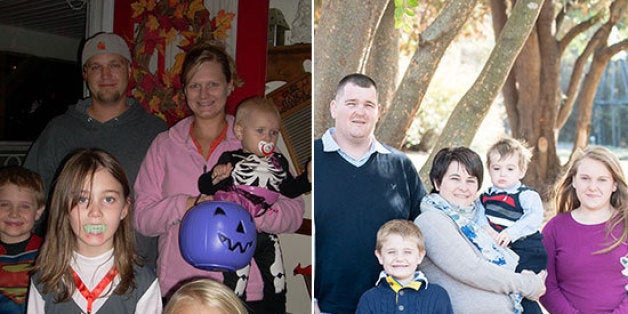 As part of our Blended Family Friday series, each week we're spotlighting a different stepfamily to learn how they successfully blended their two families. Our hope is that by telling their stories, we'll bring you closer to blended family bliss in your own life!
This week we hear from Mindy and Crystal, a biomom and stepmom who keep their co-parenting bond strong for sake of their kids. Below, they share with us how they got to that point and tell us how heartbreak brought them closer together.
Hi, Mindy and Crystal. Want to introduce us to your families?
Mindy: Sure. My current husband, Justin, and I have a two-year-old son together named Aiden. Justin and I have been together for five years and married for three. Dustin is my ex and we have two children together: Hailey, who's 13 and Ryan, who's 8. I also have a 16-year-old son named Caleb.
Crystal: I have seven total in my family. Dustin and I have three kids together: Cloe, who's 7; Saylor, who's 4; and Tessa, who's 1. Then of course there's Hailey and Ryan, Dustin's kids with Mindy. Dusty and I have been in a relationship for five years and married for two of them.
Mindy, when you first contacted us, you mentioned that you and Justin are close friends with Crystal and Dustin. Has that always been the case?
Mindy: I have to admit, the first two years were rocky. We had to learn how to raise kids in two households with multiple parents. The last three years have been wonderful. We have been able to take control and be four loving parents, which is saying a lot because the last few years have tested our families.
In early 2012, Crystal and I were both pregnant with girls. In June 2012, Justin and I had a stillborn daughter we named Laynee Mae and in August, Dusty and Crystal gave birth to a healthy beautiful little girl. It was hard for Ryan to understand why his dad was able to give him a healthy baby sister but his mom wasn't. In November 2012, I was diagnosed with cancer. I was so scared at that moment. I remember we were all fighting so hard to get through the rest of the year. I'm in remission now and we have became so much closer this year because of all we have been through. I am so grateful that Crystal and Dustin's family are in our lives to help us through it all.
Crystal: I agree; I love how we all get along and stay strong for each other through the hard times. I also think we can also be proud of the fact that all our kids are doing so well in school, in spite of the recent hurdles. They work very hard and are always coming home with new accomplishments that amaze me.
Can you both tell us a little bit about why maintaining a close co-parenting relationship has been important to you?
Crystal: It is important for the kids to see us all communicating and getting along. We are their role models and we should act the way we want them to act. We stay close because we have had some very tragic events happen within both sides and we have to keep each other strong enough to help the kids get through those events. It is hard raising kids and I consider our family lucky to have four parents on the same page helping each other raise our kids.
Mindy: I think Crystal answered this best. We are one big family, I don't see how any of us would have been able to get through the last two years without the other family standing strong behind us. Our kids are the most important thing to all of us. We are very lucky to have each other.
What are some of the biggest challenges of blended family life?
Mindy: I'd say it's the kids having different rules at each household.
Crystal: Yes, the kids going back and forth and adjusting to different sets of rules can be rough.
What's the best thing about being part of a blended family?
Mindy: The kids are able to have a large family and siblings to grow up with -- I love that.

Crystal: For me it's having a very large support team for all of us, especially the kids.
What's your best advice for parents struggling to keep the peace in their blended families?
Crystal: A good relationship is never out of reach, it just takes everybody wanting the same thing for the children. Their happiness is more important than making everything a competition about who is the better parent. It takes working together and communicating. You really have to talk things through and consider what is best for the children.

Mindy: I find it interesting when I hear other parents speaking of the battles they are fighting with their exes or baby mamas. I always tell each of them the same thing: give it a little time, stop arguing over petty things, take a step back and do what's best for the kids.
Parents also need to know that kids won't hesitate to play each parent against each other. When our daughter, Hailey, first learned that, it was bad news for us. She would run home-to-home and say 'mama said this' or 'daddy did this.' Once we learned what she was up to -- that she had been out-smarting us all, basically -- things changed quickly. We communicate much better now. We now call each other up to set up guidelines for when the kids should be grounded and work to coordinate birthday parties and holidays. The parents are now in charge and that makes a huge difference.
Scroll down for more photos of Mindy and Crystals' families
If you'd like your own family to be featured on a Blended Family Friday, please email us at divorce@huffingtonpost.com. We're looking forward to hearing your story!